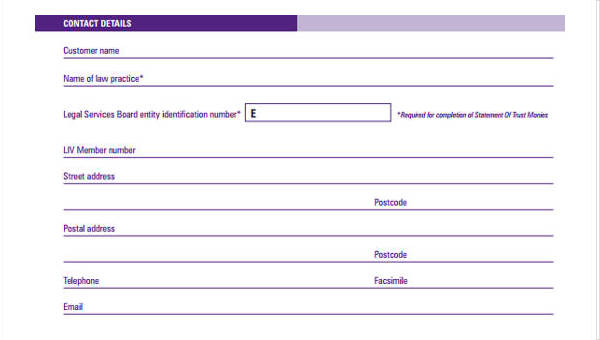 There are many uses for Accounting Forms, but they are most commonly used for handling finances of any kind of business.  That means looking into just how much a business makes, and all the expenses that goes along with it. Knowing both can help ensure the success of a growing business.
There are many different Forms for Accounting, and each of them has their own specific purpose. It all depends on how one wishes to use any of them. While looking through each and every Accounting Form we have, you may be able to get a better understanding as to what each of them can do for you.
Estate Accounting Forms
Informal Estate
Estate Accounting Release
Business Accounting Form
Small Business
What are Genuine Accounting Forms?
Genuine Accounting Forms are forms that are specifically made to handle any  kind of business's finances. As the name suggests, these are genuine forms that specify the details of everything that involves a business within the financial department.
In the event that you need to be able to show genuine proof of all the income and expenses you've made, then have these forms signed and authorized to prove its officialism. You may never know what situation you might yourself in where you'll need to show the different aspects that make up your financial stability.
What is a Representative Payee Accounting Form?
These are Printable Accounting Forms that anyone can use in the event that they need to be the representative of any company. These representatives aim to record the payments of the company that he or she represents and submit it to the proper authority figure.
Usually these people can do this online, but there is an age requirement before one can do so, where you must be at least eighteen or older. In this particular situation, the representative must then fill in all the information required in the forms, such as the name of the company along with other specific details.
Cost Accounting Forms
Cost Accounting Registration
Cost Accounting Exam
Cash Accounting Forms
Cash Box Accounting
Daily Cash
Disclosure Accounting Forms
HIPAA Disclosure
Privacy Act Disclosure
Financial Accounting Form
What is the Difference Between Cost Accounting and Financial Accounting?
There is a striking difference between the two. Financial Accounting focuses on just about everything that makes up a financial position of the whole business. Cost Accounting, however, goes into much further detail than financial accounting. Cost Accounting can include details such as the price of individual products, the amount of customers, other payments such as debt or lease payments and so on.
While Financial Accounting focuses on what the business makes, Cost Accounting does much more than that. Cost Accounting also considers operational information. This is information that the accounting teams have no direct control over, which is why that they have to guarantee that they record these pieces of information.
While Financial Accounting records any transaction that has already been completed, Cost Accounting just about does the same thing, but it can also be used to provide projections for future reports. If the transaction has already been completed and needs to be recorded, then it is considered to be under cost or financial accounting. Cost accounting takes things a step further by being prepared for future expenses and income.
Financial Reports are mostly used for those outside of the business. This usually includes people such as investors or agencies that would like a full detail of your financial status. Cost Accounting mostly focuses on reports that can be used by management in any business to ensure that the business runs as smoothly as possible.
In order for these people to make either of these reports, they will need the right forms to do so. We have accounting form templates for you to choose from on where you may print out a Financial Accounting Form or Cost Accounting Form.
Guardianship Accounting Form
Monthly Accounting Form
Probate Accounting Forms
Probate Final Accounting
Probate Estate
Payroll Accounting Form
What is Substance Over Form In Terms of Accounting?
Lots of accountants take this concept seriously. This means that any financial statement that's made should give a clear and precise picture of every important detail of a transaction. The point of these is to show economic substance, rather than just the legal form of a transaction. You are going to want to make a clear and accurate report of any transaction, because it may just end up being useful in certain situations that involve yours or someone else's financial transactions. So when using forms such as Blank Accounting Forms, remember this principle.
What is the First Form of Accounting?
The earliest record of any kind of accounting was done by Luca Pacioli. He was the person who introduced double entry bookkeeping. Although other businesses and governments have already began to record any business transactions, it was Pacioli that explained in great detail the system of debits and credits found in journals and ledger.
Up to this day, these are still the basis for all accounting systems used by just about every government in the world. Every form such as Basic Accounting Forms are all based off the system that was first introduced by this man, so every accountant should be grateful for Pacioli's contribution.
Rental Accounting Form
Rental Final
Simple Accounting Form
Online Accounting Form
Trust Accounting Forms
Trust Waiver
Annual Accounting Form
Sample Accounting Form
Basic Accounting Form
Accounting Form Guidelines
Here are some guidelines when handling any kind of accounting form:
Always put down the date of sale. You may need to know when something was purchased, as it could help you verify when these transactions happened.
The name of the person who purchased the product. This is to keep track of purchases and their purchaser in the event that this information is needed.
An Accurate Description of the product being sold. When doing this, you may have to take into account as to the kind of product, its brand, and quantity of the purchase.
The amount of revenue you've earned from the sale. This is especially important because it lets you know how much you gained from the sale. Even if no profit was made and you just barely managed to break even, it is still important to place it in these forms.
So no matter what kind of Accounting Form it is, whether it's Annual Accounting Forms or even Free Accounting Forms, it's always best to follow these guidelines. They'll be very helpful in making sure that you make an accurate accounting form.