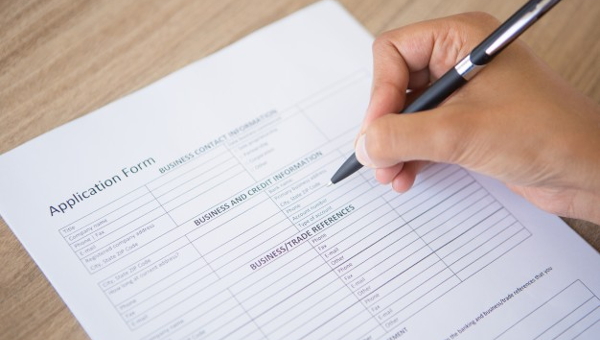 Application forms are the quickest method of gathering and obtaining data or information about an individual. With the use of an application form, employers and companies are able to collect accurate data that can be properly documented and organized for filing or reference purposes.
An Application Form is a form that requires applicants to provide details pertaining to their personal information, which will be used as a relevant source of information that is directly useful for what the subject is applying for. You can print or download our sample application forms which you can use at your company or organization.
Basic Application Forms
Basic Payment Scheme Application Form
Basic Rental Application Form
Credit Application Form
Employment Application Forms
New Field Staff Employment Application
Basic Employment Application Letter
Application for Staff Employment Free
Basic Job Application Forms
Basic Job Employment Application Form
Volunteer Job Application Form
Dental Job Application Form
Disclosure Application Forms
Disclosure Certificate Application Form
Financial Disclosure Application Form
Personal Disclosure Application Form
Credit Card Application Form
A Credit Card Application Form is a type of form that needs to be filled out by individuals who wish to apply for a credit card. A credit card provides you the privilege of making purchases by borrowing money from your bank. Credit card loans are usually payable within a 25- to 30-day period and merit an interest if you pay the amount due beyond the specified grace period.
Applying for a credit card has its perks because having one allows you to make huge purchases while paying it off through installments. It also makes budgeting easier, allows you to build up your credit score, which will be essentially useful when you want to make a loan, and it's much more convenient to carry around versus having to carry cash.
Job Application Forms
A Job Application Form is a recruiter or an employer's best line of defense against applicants who make false claims or exaggerate details in their resumes. A Job Application Form allows an applicant to provide details about himself that are considerably relevant to the work position that the applicant is vying for.
The contents of a resume and a Job Application Form are similar; identical even. However, a resume is typically provided by an applicant while a Job Application Form is provided by an employer. Despite the similarities, the uses of each one are slightly different. While resumes are tailored by job applicants to make details fit according to the type of impression they want to give employers, Job Application Forms are designed to detect any type of information provided in a resume that may have been exaggerated or is not real. Also, the information indicated in an application form is almost always used by human resources for reference purposes, especially when the applicant gets hired.
What Is the Importance of a Job Application Form?
Provides Quick Processing of Work Applicants. Using a Job Application Form in the recruitment process allows recruiters and employers to have quick and easy access to information that is relevant to an applicant's set of skills and abilities as well as his work experience. This allows employers to understand a candidate's background and assign him to a department or a team where he can optimally use his strong points, his skills, talents, and abilities.
Enables Employer to Verify Employee Information. Employee Verification is the process of conducting a thorough check on the validity of the information that is provided by an applicant in his resume or in his Job Application Form. You'd be shocked by the number of applicants who falsify the information they indicate on their resumes and conceal ugly employment backgrounds during interviews, or applicants who sweep bad employment history under the rug when they are interviewed. Using a Job Application Form allows employers to gather sufficient date that is needed to conduct a screening and verification of an employee's information.
Employee Verification can either be conducted with the aid of a third party, or employers and recruiters can conduct verification on their own by contracting the applicant's previous and current employers.
Provides a Standardized Format for Data Collection. A Job Application Form offers uniformity, which means that recruiters will not have to go through the trouble of jumping from one page to another to locate a piece of information that they are looking for. Because Job Application Forms follow a standard template for all employees, recruiters will eventually know its different sections by heart, making it easier for them to find what they need, and helping them save on time.
What Are the Contents of a Job Application?
There are no specific guideline to follow when making a Job Application Form. The contents of a Job Application usually depend on the type of company and the position that is being applied for. However, application forms commonly require an applicant to provide his personal information such as his name, date of birth, age, home address, e-mail address, phone number, mobile number, etc. It should also contain the position being applied for, the applicant's educational background, and the applicant's work history.
Internship Application Form
Internship Programme Application Form
Internship Job Application Form
Internship Student Application Form
Restaurant Application Forms
Basic Restaurant Employment Application Form
Restaurant Group Application Form
Restaurant Application for Employment
Volunteer Application Forms
Non-Profit Volunteer Success Application Form
Volunteer Registration Application Form
Volunteer Personal Application Form
Membership Application Forms
Rotary Membership Application Form
Membership Registration Application From
Basic Individual Membership Application Form
Sponsorship Application Forms
Individual Student Educational Sponsorship From
Development Application Fee Sponsorship Application Form
Major Events Sponsorship Application Form
Rental Application Forms
A Rental Application Form is a vital tool used by landlords to gather data about a person who is applying for tenancy. This is also used by a landlord to conduct screening or verification processes on an applicant to see if he is eligible for tenancy and if he has the capacity to pay rent.
Once an applicant fills out a Rental Application Form, the landlord then runs a background check on the applicant to make sure that he is credible enough. Background checks on a renter usually entail the following:
Although not all states allow landlords to peer into an applicant's credit history, some states actually allow one to do so. By checking on a renter's credit history, landlords will be able to gauge if a renter who is applying for tenancy can pay his rental dues on time. More often than not, a person whose credit history is up to date has more chances of paying his rental dues on time compared to an applicant whose credit history is bombarded by late payments and penalties.
As with credit checks, verifying a renter's criminal record varies according to the laws governing a particular state. It is best to check on your state laws prior to investigating if an applicant has committed a felony or not. Looking into a person's criminal record allows a landlord to see if an applicant has committed a felony. Some states do not allow landlords to reject a tenant based on their criminal history. However, for some people, knowing a renter's criminal history can be a precautionary measure. Some forms directly ask a tenant if he has been involved in any legal proceedings related to criminal activities. It is sometimes best to be upfront with your applicants and let them know that you are verifying their identity for your own best interests.
Rental History
A person's rental history allows landlords to draw up an image of the type of tenant the applicant will be. Rental Application Forms usually require applicants to indicate the names, business address, and the contact information of their previous or current landlords. This is for the purpose of connecting with them to verify if they are privy to the fact that the tenant is planning to move out or if the tenant has a history of eviction or has been sued for property damage.
These questions are important in order for you to see the kind of tenant your applicant is. Will he be an asset or a liability? Will he be able to maintain a peaceful relationship among you and his neighbors? Can you be ensured that you will not have to constantly nag him to pay his rental fees?
Employment Background
Gathering details about a tenant's employment is another way for you to make sure that he has the means to pay you. By making sure that an applicant has a stable job that he has had for at least 6 months, you can at least be sure that he won't suddenly be unemployed and won't be able to pay you.
Confirming the information relating to the employment status of an individual can be done in several methods. You may contact previous employers directly, you can ask for a copy of the employee's Certificate of Employment, or you can also require them to submit a copy of their payslip for the past 3 months at least.
After a tenant has filled out a Rental Application Form, the first step you need to do is to do a background check and a credit check on the applicant and see if he has the means to pay his monthly dues and if he meets the specific criteria that you are looking for in a renter.
Background checks typically include the checking of their credit history, looking into criminal records, connecting with their previous landlords, and determining if the applicant has issues with late payments, as well as contacting their supervisors to verify if the applicant has a stable job.
How Do You Determine if an Applicant Qualifies for the Tenancy?
Has the Capacity to Pay. Land-lording is a form of business, and the business relies on payments made for rental. Dwelling in a rental space means that you have to make a payment for it because residency doesn't come free. A landlord needs to make sure that the applicant has a stable job and has the capacity to pay his monthly dues.
Maintains a Good Credit Score. A person's credit history is a good place to look at if you want to make sure that the person has a habit of making late payments or not. A renter who has a good credit standing means that he is able to manage his finances properly.
Has a Stable Source of Income. The rule of thumb is that a tenant's income has to be at least two or three times more than the amount of rent due. This allows the tenant to pay his financial obligations as well as his personal expenditures.
What to Include in a Rental Application Form
Tenant's Personal Data – Your Rent Application Form should require an applicant to provide his personal details such as his name, date of birth, and contact information.
Employment History – This part of the form requires an applicant to provide a list of his current and previous employers, the contact information of his current and previous supervisors, his work address, and his salary information. The rule of thumb is to let them indicate their employers or supervisors going back to at least 5 years. It is also wise to require a copy of the employee's payroll slip in the last 6 months.
Rental History – Provide a portion of your form that requires the applicant to list down his rental history – going back to at least 5 years and include the names, the service address, and contact details of the previous landlord. This information will be necessary for you to check if an applicant has a history of eviction, incurring damage to property, or late payments.
HR Application Forms
HR Job Application Form
Standard HR Application Form
HR Business Application Form
Club Application Forms
Student Sample Club Membership Application Form
Golf Club Membership Application Form
Citi Club Membership Application Form
Vendor Application Forms
Vendor Registration Application From
Vendor Application Event Form
Festival Craft Vendor Application
College Application Forms
Universal College Application Form
Basic College Application Worksheet Form
College Scholarship Application Form
Disability Application Forms
Application for Disability Insurance Benefits
Disability Allowance Application Form
Social Security Disability Application Form
Apartment Application Forms
Rental Apartment Application Form
Apartment Lease Application Form
Apartment Credit Application Form
Job Application Form Sample
Volunteer Application Forms
Nonprofit organizations need to be especially cautious with the type of people who volunteer for them, especially if the organization's cause is focused on children or the elderly. Organizations should properly screen applicants and conduct background checks before accepting their application. A volunteer application form can be used to gather data from candidates who wish to apply for volunteer work.
Be sure to use the accurate type of application form so that you can collect data that is directly relevant to what the candidate is applying for. Download our wide array of sample forms to help you cut costs and save on time.