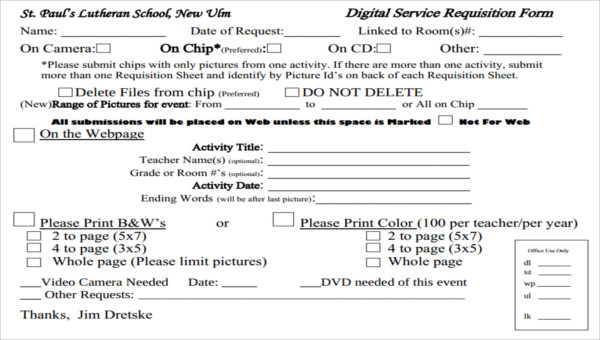 When you think of the word requisition, then this means that you're making a formal request for something that you need. A good example would be a Purchase Requisition, in which case, means you're requesting for any product or service you need purchased.
There are many different types of requisitions out there. There are even Custom Requisitions which allow you to make custom requests, such as when you want to put in the specific details as to the kind of shirt you want, for example. And in order for these requisitions to be taken into serious consideration, there are forms available whose intended use is to do just that.
Food Service
Material Service
Civil Service
What is a Service Requisition?
A Service Requisition is something that just about anybody makes in the event that they want a certain type of service to be provided. These are requests by people for when they want to get something done. A good example would be through the use of food requisition forms, in which people try to request the services of any food delivery. All these people have to do is specify what they want, and so long as the order is reasonable, then there should be no problems in pushing through with the request.
How to Create a Service Requisition Form?
When creating a Requisition Form, you'll have to take into account the following information:
The name of the person requesting the service
The date of the requisition
The type of service needed
The company of whom the service is being requested
If it's for something like staff requisition form, then it's information that concerns employment. Here's what you should indicate.
The position that needs to be filled.
The department of the open position.
The type of employment, such as temporary or full time.
The name of the supervisor asking for the opening of the position.
Warranty Service
Internal Service
Digital Service
Tips on How to Complete a Service Requisition
Here's a few things that you can follow when completing one of these forms.
Always make sure to put in your information completely. This includes your name, address, and contact information. If it's for job related purposes then indicate your employee I.D number, along with your title and the department you're from.
Clearly state what it is you want. If you want to ask for something specific like materials, you'll have to be specific by including important details regarding it. If it's for a service, make sure to specify the date of when you want the service and the type of service you want.
Use the right form for the right kind of request. For example, if you lack stationery and you need to order more, you can use stationery requisition forms. Always remember to use the right form for the right purpose, because it would be rather problematic to fill it out, only to find out it's the wrong kind of form.
So in the event that you need to make any kind of requisition, then be sure to use any of our forms available here. They'll prove to be very useful for when you need to make a specific order.