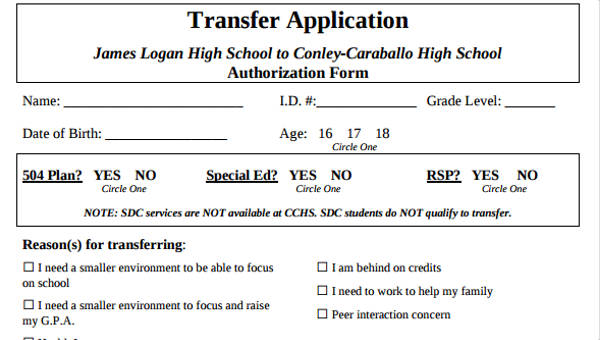 A school transfer form is a type of form being used by either the students or their parents to request the transfer of credits from the previous school to the next school the student will enroll in. This type of form is similar to a CREST Transfer Form where the purpose is to transfer the title of one thing to another.
A school transfer form behaves similarly to a Deed Transfer Form as well this is because of the act of transferring a title from one organization to another organization. A school transfer form also transfers also the student themselves. The reason for transferring may differ from student to student, but every student has their reasons.
High School Transfer
Primary School Transfer
School District Transfer
School Transfer Request
School Transfer Application
What is a Good Reason for a School Transfer Form?
When transferring from one organization to another via the usage of a transfer form in pdf format it is required that you state the nature of why you request to transfer from the previous organization. Here are some good reasons for requesting a school transfer:
The student is being harassed or tormented by their classmates. It is inevitable for some students that they would be harassed by other students this type of harassment is known as bullying.
The parents are required to move to another city due to financial or business issues. There will be some cases where the parents will have to move to a different city either because their company is requiring them to transfer or because the cost of living is reduced there.
The school has been involved in some shady activities. Schools that have bad reputations are often avoided from parents.
Religious reasons.
How Long Does the School Transfer Take?
Depending on when you submit your School Transfer Form the processing time may vary. This is due to the fact that the request for transferring to another school will often require giving sufficient reason to do so.
However, that will still require you to submit the proper requirements such as the School Transfer Form, (If below eighteen years old) a permission letter from your parent or guardian, or have your parent or guardian submit it themselves in person.
The actual processing of the transfer will normally take from a couple of weeks to even a few months, this is due to the processing of the request and to determine if the reason is legitimate.
School Transfer
School Student Transfer
School Material Transfer
Basic School Transfer Form
Simple School Transfer Form
Tips and Guidelines for Requesting a School Transfer
When requesting or asking for the transfer to another school there are some guidelines everyone must follow, these guidelines being:
Always be formal when submitting the Student Transfer Form and Transfer Request Form to the secretary of the principal.
It is best to shift or transfer when you are still a freshman, and not a senior level student.
Keep track of your process by checking up on the office as often as possible.
Check your format and review everything you have written in your school transfer form.
Wait two weeks after submitting your transfer form to request if you can submit the transfer form once again.
State as clearly as possible your reasons for transferring. This part is the important because if the reason you are stating isn't good enough, the school has the right to revoke the transfer request.