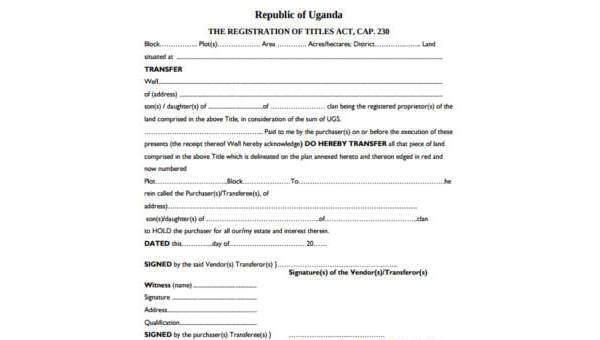 Titles, whether for a parcel of land or a vehicle, prove that you own something. If you have any title and it's under your name, then that means that thing (land, equipment, real estate, and basically anything else you can put your name on) is officially yours under the law and practically nobody can take that away from you.
However, there are those people who feel that they need to transfer the title to someone else. It could be for a number of reasons, from passing it down to a successor, or selling the title to someone else to make a hefty profit.
Either way, they'll need the necessary forms before they can do so legally, and with the help of Title Transfer Forms, they'll be able to do just that.
Transfer of Title Form
Vehicle Title Transfer Form
Title Deed Transfer Form
Title and Registration Transfer Application Form
Real Estate Title Transfer Form
The Different Types of Title Transfer Forms
There are various types of Title Transfer Forms that can be used to make sure that these people can properly and officially transfer titles under their names to someone they believe can be trusted. Here are some examples of these types of forms:
Vehicle Title Transfer Forms are the kind of forms that are used by those people who wish to transfer their vehicles (usually cars or motorcycles, but this can also apply to private planes and yachts) to anyone whom they feel can maintain them.
Equipment Title Transfer Forms are for those companies or people who wish to transfer their equipment to someone whom they know can handle and properly maintain them. There are some pieces of equipment that may be more dangerous than others, so it's best that these transfers are done with someone trustworthy.
Land Title Transfer Forms are used by people who are either planning on transferring land to someone they trust, or for those who are selling their land to someone else.
Equipment Title Transfer Form
Land Title Transfer Form
Title Transfer Request Form
Title & License Transfer Form in PDF
License Title Transfer Form
The Importance of Having Title Transfer Forms
These kinds of forms are very important considering that they contain the official name of the person who has all rights to own whatever's bound to the title. Let's say you see a second-hand vehicle for sale somewhere within you area. You make a deal with the buyer and you plan on purchasing said car. Before you can officially own it, you'll need the title that was under the seller's name so that you'll be able to transfer it under your name, and you'll need Vehicle Transfer Forms to do that.
These also help solve legal disputes. Let's say that a brother is suing you for claiming the rights to a land which he believes you don't own. You then proceed to show him these forms which clearly state that the land was transferred to you under your name, and any and all issues will most likely be easily resolved.