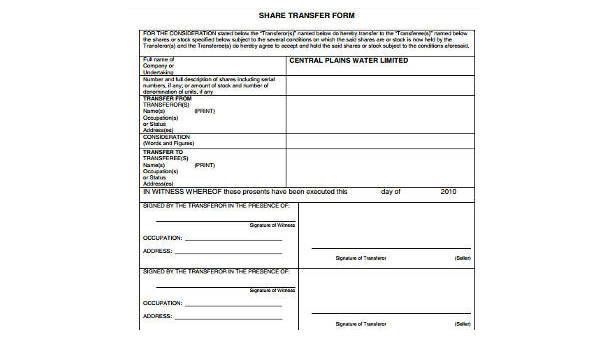 People always hand out things from one person to the next. They can hand something out as a form of good will, or they can just lend certain things to other people for a duration of time.
However, there are some things that you just can't hand over unless you have the proper contract. For example, if you were to transfer funds to another person via electronic means, you'd want to make sure that you only transfer the amount that both parties agreed on, right?
Or let's say there's equipment that only certain people can use. You'll want to make sure that the other person you're handing this kind of equipment off to knows how to handle it.
To help these people out, there are Transfer Forms that enable just about anyone to legally hand over anything they own.
Sample Wire Transfer Form
Sample Share Transfer Form
Sample Employee Transfer Form
Sample Transfer/Deed of Land Form
Free Transfer Request Form
The Different Types of Transfer Forms
There are lots of these kinds of forms that just about anyone can use when they need to transfer something to someone else in an orderly and legal manner. Here are some examples of these types of forms:
Stock Transfer Forms are the kind of forms that are used by those companies that need to transfer certain goods to another company. These help them determine what goods they'll be handing over and how much of these goods there will be.
Wire Transfer Forms are forms that are mainly used by those people who need to make transactions through electronic means. It helps them guarantee that the other person receives only the amount they agreed upon and nothing more.
Employee Transfer Forms are for those employees who request a transfer from one department to another. If such a request does not comes from an employee, then it is the company that decides to transfer the employee, either due to high-quality performance or the fact that that employee isn't doing so well.
Sample Transfer Request Form
Sample Material Transfer Form
Basic Stock Transfer Form
Transfer Form Example
Real Estate Tax Transfer Application
General Transfer Verification form
The Importance of Transfer Forms
You'd want to make sure that whoever receives whatever you're giving is the right person, right? You'd also only want to give it to someone who understands its worth and knows what to do with it.
Take, for example, when a parent decides to pass off one of his or her properties to one of the children. That parent will have to make sure that the child he or she passes it to is the right one, and thus they make sure to properly state such instructions in the Title Transfer Forms.
These forms help settle any legal disputes as to who owns which bequeathed property. It'll help anyone show that the property, object, or mount of money was officially handed to them if ever they are accused by anyone who thinks otherwise.