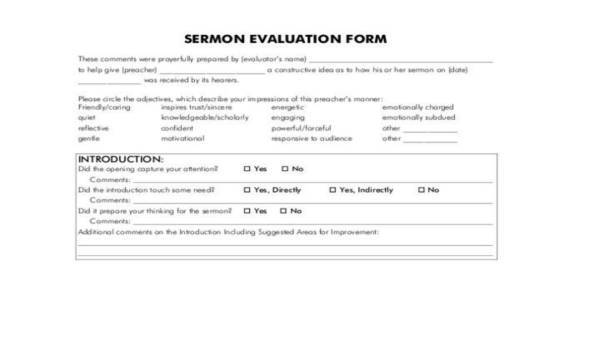 Sermons are delivered to provide lessons and guidance to the people who attend a church service. These sermons are teachings that are based on the passages which can be seen in the Bible. In every church, during masses, there's always going to be a sermon performed by a priest or pastor at one point. These sermons are very important in getting the point across to those who are listening to them, and it's important that the officiator is able to deliver it really well.
However, some people may feel like the sermon was lackluster, or that the point of the sermon wasn't carried out to the audience that well.
These sermons need to be properly evaluated, and one of the best ways to do that is by using Sermon Evaluation Forms.
Minister Sermon Evaluation Form
Sermon Evaluation Feedback Form
Homiletics Sermon Evaluation Form
Sermon Evaluation Form Example
The Various Types of Sermon Evaluation Forms
There are many different types of Sermon Evaluation Forms that allow different people, even those who held the sermon themselves, to assess just how well the sermon went and if the sermon was executed well or not. Here are some examples of these types of forms:
Sermon Event Evaluation Forms are used by those who want to assess a sermon that was held at certain events, like a religious school that held a gathering of a large number of students, with a sermon delivered by either one of the school's priest or a minister from another church.
Minister Sermon Evaluation Forms are used when trying to assess a member of the clergy, especially in Protestant churches, when they manage to initiate a service at any point in time during a mass.
Church Sermon Evaluation Forms are specifically used when trying to evaluate the kind of sermons that are held in churches. These are to determine if the sermon held by a priest was understandable and if their message was clear or not.
Sermon Evaluation Form Sample
Sermon Evaluation Form Preacher Example
High School Sermon Evaluation Form
Church Sermon Evaluation Form
The Importance of Properly Assessing Every Sermon
People need to be able to understand what they're listening to whenever they're invited to listen to sermons. A member of any religious order who performs a sermon must clearly express the message of their faith and be able to have people understand and even uphold the message.
This is also really important because it lets those people who performed the sermons see the different kinds of feedback in the areas they can improve in. Let's say a certain program happened and a minister who participated in it wanted to know how the people felt about his sermon. The priest or pastor looks through the Program Evaluation Forms and finds that the audience did not enjoy his sermon; hence, he uses these findings as a way to figure out his issues and learn from them to improve future sermons.