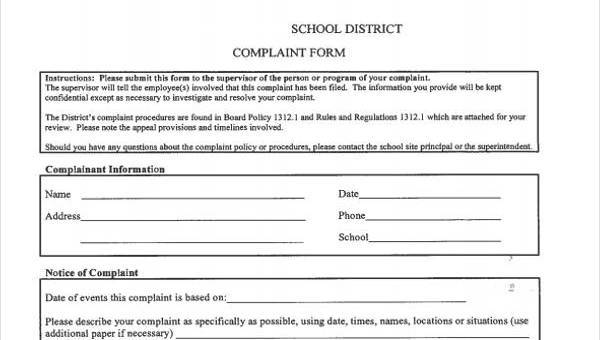 Schools are very important facilities. They make sure to shape children into huge successes by giving them the proper education they deserve.
However, there may be problems within schools that can hinder the educational progress of the students. One example would be a teacher who may not do his or her job properly by teaching the students irrelevant topics.
Parent's can use School Complaint Forms to formally address these issues.
School Bus Complaint Form Example
School/Parent Complaint Form
School District Complaint Form Example
Proprietary School Complaint Form
School Bullying Complaint Form Sample
School Student Complaint Form Sample
The Various Types of School Complaint Forms
There are Official Complaint Forms that can be used if someone has a problem with any aspect of the school. Here are some other examples of forms that can be used to complain about schools:
School Cafeteria Complaint Forms are used when students or even teachers complain about the quality of food and service within the cafeteria. They can even use Customer Complaint Forms to address this situation.
School Bus Complaint Forms are used by students or parents to complain about the school bus. These usually complain at the appointed time a bus arrives or the duration of when a bus drops off the students and much more.
School Bullying Complaint Forms are used to form official complaints for a certain student being bullied to the extent that he needs school assistance.
School / Parent Complaint Forms are used by parents to complain about certain aspects of the school, such as the school building or even its facilities.
School Teacher Complaint Forms are used by the students or the parents of students to complain about the performance of a certain teacher.
Student Complaint Forms are forms used by the students to complain about any detail of the school. It can be used to complain about the teachers, facilities, or even the cleanliness of the school.
Charter School Complaint Form
Primary School Complaint Form
Student Complaint Form Sample
School Name Complaint Form Example
School Teacher Complaint Form
Standard School Complaint Form
The Importance of Using School Complaint Forms
Parents and students alike shouldn't be afraid to complain about the different things that go on around school. They just have to make sure that their complaints are valid and understandable. It can range from the school facilities, equipment, teachers, and even the services they provide that both the students and parents can complain about.
If schools take notice of these complaints, they can see what's wrong and try to improve or change these certain aspects to satisfy all concerned. However, if they don't take these complaints into consideration, then they might just lose a number of students and they're reputation will slowly decline to a certain point that nobody would want to be affiliated with the school anymore.