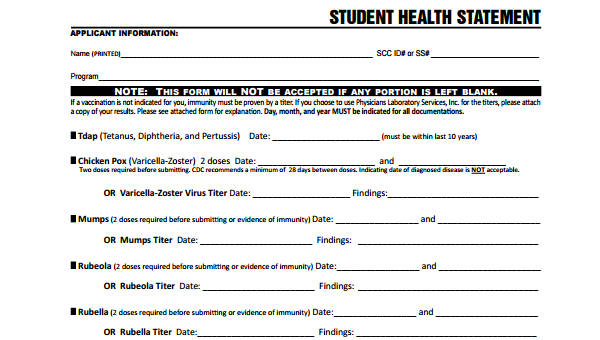 Statement Forms are used in wide varieties and in different fields of the industry. These documents are present in accounting, legal precedings, business, and even in the medical field. The form will have an individual's report that connects with the type and purpose of the statement form given to him.
A Health Statement Form or a Statement of Health (SOH) is used as a requirement by life insurance companies as a documented report of the member's health issues and illnesses. It is important that the previous and current medical condition of a person should be stated on the form to allow the company to know which type of insurance policy will meet his needs.
Health Insurance Marketplace Statement
Health and Safety Witness Statement
Child Health Statement
National Sheep Health Statement
Short Form Health Statement in PDF
Importance of Health Statement Forms
Health Statement Forms are important in knowing which among the available life insurance plans are suitable for an individual or a member. This form will also indicate the particular amount to be set as part of the insurance policy coverage. It will also have the benefits of the member to avail a certain number of days for free hospitalization which depends on the type of illness stated on the form.
Some parts of the form, when answered "Yes", will require the beneficiary to submit additional medical-related documents. One of these is a Health Surveillance Forms as a proof of evidence that a doctor had been administering a series of tests to the beneficiary.
How to Complete a Health Statement Form?
Step 1: Fill out your updated contact information.
Step 2: Read the questionnaire and tick the boxes for your answers.
Step 3: Write details on the space provided next to the questionnaire.
Step 4: State what type of transaction you are applying, either reinstatement or a top up.
Step 5: Sign the form.
Health forms are not only for people and living beings but also for things manipulated by men, such as a vehicle. A Health Check Form is a document used to indicate the health and safety of an equipment for usage of a person. This includes the wheels of a bike, or maybe the financial health of a person.
Short Form Health Questionnaire
Parent Health Statement
Health Claim Statement
Student Health Statement
Group Health Statement
Personal Health Statement
Health Statement Form in Word Format
10 Tips for Health Statement Forms
Fill out the form in a neat and clean manner.
Read and understand the guidelines set by your health provider.
Make sure that you know your insurance plans and benefits.
Always remember to indicate who your employers are.
Be honest in stating answers on the form.
As much as you can, indicate details for particular questions which requires further information.
In the event that you forgot your height and other physical measurements, estimate the nearest measurement that you remembered.
You can also ask for help from the health providers in terms of physical measuring devices to aid you in knowing your accurate height and weight measurements.
Indicate your requested coverage and the current amount on the beneficiary package or plan which you are enrolled in.
When the health provider will ask for additional documents, supply this paperwork on time and before the due date to allow a fast phased process of your insurance enrollment or reinstatement.
Statement forms may also be used for knowing an individual's personal history, finances, and properties. A specific form to state these type of data and information is a Personal Statement Form.