Every business always has products that they sell to customers. They need to figure out what type of product customers would want to ensure that they reach financial success. However, they need to find a way to  know what the people want to so they can give it to them.
So the best way to do that is to have their customers provide them with product feedback. By obtaining product feedback, businesses can easily understand how their products are satisfying their customers, or even finding out which of their products or parts of their products that the customers don't like. This can help them make very important decisions that could decide the outcome of their success.
Food Product Feedback Form
Customer Product Feedback Form
Product Trial Feedback Form
What Is a Product Feedback Form?
A product feedback form  is what businesses need in order to help them know how their customers feel about the different products that they're using. The main point of these forms are to let the customers assess the different parts of the product, and allow them to make comments or suggestions that could greatly improve the product, or to get rid of it to make way for a better one.
Businesses often make use of these, as it allows them to know more about their customers wants and needs, as well as helping them stay ahead from the rest of the competition in the marketing industry.
Different Types of Product Feedback Forms
Gaining the information you need could prove difficult of you don't know which feedback form to use. And there are many different types of  forms for getting productive feedback on your products. So to help you out, here are a few examples of these types of forms:
Product Trial Feedback Form. These are the kind of forms that are made use of by business managers for when they have to test out a certain product before they put it up on the market. What this form does is provide information as to whether or not a product is ready for sale by conducting tests. These tests often assess the product's durability, quality, longevity and more.
Product Quality Feedback Form. These are the forms wherein customers are able to provide comments about the quality of the product. With these forms, they are able to go into the specifics of how bad or good a product is. So if they have a complaint about your product's quality, then they'll be sure to let you know about it with this type of forms.
Food Product Feedback Form. These made use by those people who have made use of any food services.  This is generally used to assess the different type of food that these people received. So what these forms rate are the food's presentation and taste, as well as how the service itself was done.
Customer Product Feedback Form.  These are mainly used by just about every business. If you want to obtain customer feedback regarding your products, then the best way is to hand out these forms to customers directly. You can have these distributed to them either through physical copies or via e-mail. With this form, you will be able to gather how satisfied a customer feels about your product, as well as other things that the customer may point out such as problems in your products that you never knew existed.
If you would like to know more about the different types of these forms, then you may go through any of our available product feedback forms in Word format to help you gain the information you need to efficiently utilize all of them.
Product Quality Feedback Form
Product Client Feedback Form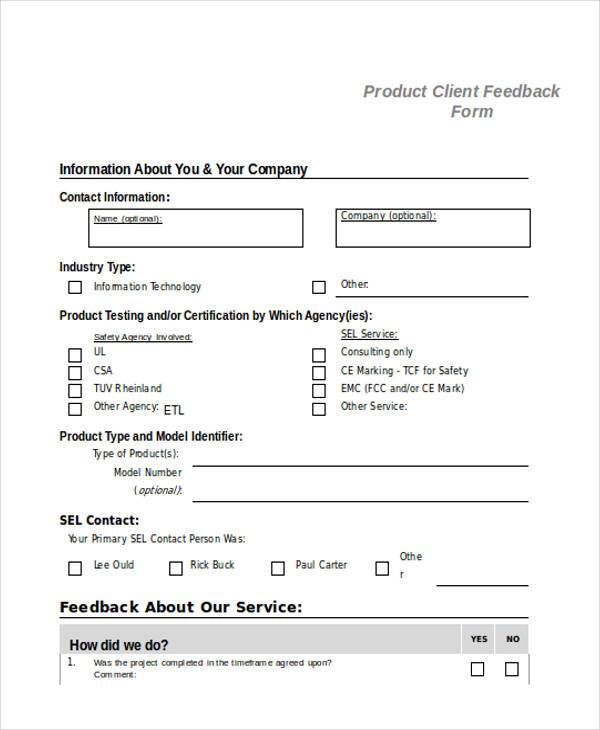 Product Demo Feedback Form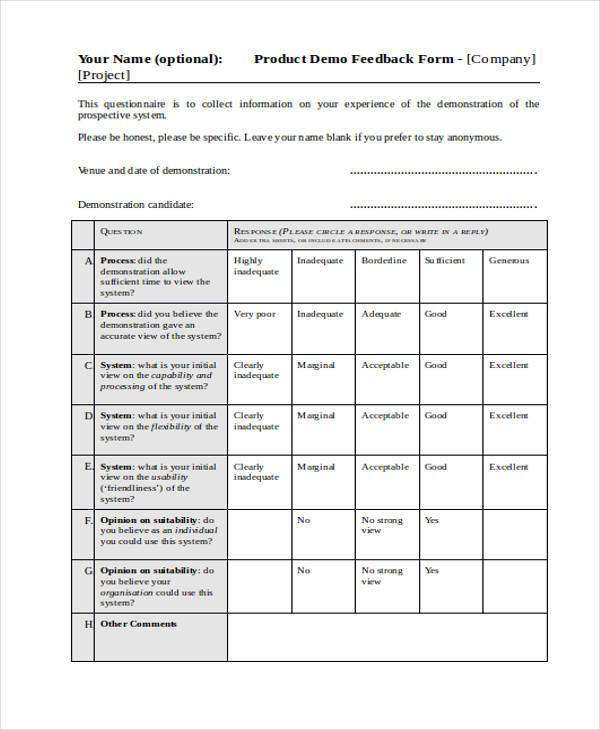 Ways to Get Feedback For Your Product
As a manager, you'll need to know about the different methods you can use to acquire feedback that can help you. So here are a few examples:
Through surveys. Customer feedback surveys are a great and cost effective way for you to gain the information that will help your business out. Through this method, you will be able to make a set of questions that can be reused as many times as on pleases, and hand them out to customers.
And you must also consider the fact that customer surveys can be both handed out via a physical copy, or by sending it in an e-mail where customers can easily respond. Just remember not to bombard your customers with long or too many surveys as it might make them not want to respond.
Through a social media page. Business owners today know that social media sites are one of the best ways to market or gather information form their customers. The reason behind this is that it is easily accessible, and almost everyone nowadays is online.
So creating a social media page can help benefit the business by giving customers quick access to your business. You can create polls on what customers think about your products wherein they can give you the information you need, and you will be able to see the different suggestions that each of them  have.
Through interviewing the customer. This is an approach that not many businesses utilize, but it's also one of the most underrated and useful method to gain what one needs to know about the product of his or her business. By conducting an interview with a customer, the interviewer can go into detail as to what customers want.
It also helps to interview other customers as one may figure out the different needs of the different customers that does business with his or her company. So remember that a proper interview can provide feedback on what different customers like and dislike about your product.
New Product Feedback Form
Insurance Product Feedback Form
Product Feedback Form in PDF
Product Feedback Form Example
Sample Product Feedback Form
Ways to Create Effective Product Feedback Forms
Follow these tips to ensure that that your product feedback form is as effective as it should be in gaining information from your customers.
Keep it as short as possible. Your customers don't actually have to fill out these forms, this must be available as an option to them. So the ones that do answer are doing you and your business a favor. So when handing your customers the forms that will get you the feedback you need, then make sure not to ask too many questions. Because if you do, you may just make your customer not even consider answering it. So just ask the right amount of questions that will help you get the information you need.
Make sure that your questions are easy to understand. If you're going to create a customer survey form, then be sure to that you're clear about what you want to know. Be direct by asking questions like "What did you think about the quality of the product?" or "Was the product able to help you with your home cleaning needs?". And always try to refrain from asking yes or no questions. Try to make them open ended because this way, your customers will be able to respond to you easily and give you more information that you need.
Provide your customers with a rating scale. Having your customers grade with a rating scale makes it easier for them to rate your products. Generally these rating scales are from 1 to 5 ( 5 being high and 1 being low). This method can help customers by giving them the different choices that will help them specify how they feel about your product. This also makes it so much easier for managers to assess the results of the different feedback forms that have the rating scales applied to them.
Open a suggestion section. If want your customers to know help you figure out how you could improve your products, then one of the best ways would be to let these customers offer up their ideas that could actually benefit your business. With a suggestion option, your customers might give you information that could end up being useful in your business's path to success. By gaining these suggestions, you'll be able to improve your products and showing that you took your customers suggestions will tell them that you value their opinions.
Give them the option to voice out their complaints. This is very similar to the suggestion option, but this is where customers can post the problems they have with your products. This is very important for every business as knowing what issues their customers are facing with their products can help them out tremendously as they are given the chance to look into these problems and fixing them. By going through these problems, businesses are able to ensure that they will be able to retain their customers by looking into their complaints about certain products and finding solutions to them as quickly as possible. Because if one just allows these problems to continue, then most likely their customers would rather go to other options where they can get better quality products.
Every business owner must remember that what their customer's want matters. So it is up to them to make sure they gather feedback on the products that they are selling to these customers. So if you're a business owner, make sure to follow the information above to ensure that you get what you need to know about your products and how your customers think about them.