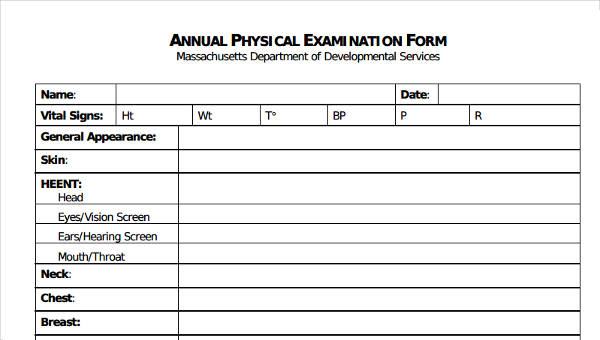 Keeping your body healthy is essential as your body sets up everything about you. Athletes go through regular sports physical exams to test if they are physically fit. Active or not, it's best if you know your body well through getting a physical examination for medical purposes and preventive measures.
A Pre-employment Physical Exam on the other hand, is conducted for individuals before their employment. Several tests including a review of your medical history, blood, urine and stool test may be done during this exam. Most companies require this is to ensure that employees are physically fit for the work.
Commercial Driver Physical Examination Form
Annual Physical Examination
Immigrant Physical Examination
Employee Physical Examination
What is a Physical Form?
A Physical Exam Form are medical forms required to be filled out when you come in for your physical exam. Basically it should include the following details:
Updated health history
Vital sign checks
Visual exam
Physical exam
Laboratory tests
Most full physical exams are performed as a routine in the doctor's clinic. If in the event that there are any recommended additional screenings or imaging tests, they may be completed at an imaging center or hospital. Blood test draws can be done at the doctor's office before samples are sent to a lab for analysis. There some medical institutions have centers which caters to everything that might be required during a Physical exam.
Where Can I Get A Physical Exam Form?
When you get hired for work, the Human resource department from your office will provide you with Pre Employment Physical Forms for you to follow and show to a medical center. But for casual people wishing to obtain physical exam forms, you can just get these from any medical institutions when you are about to proceed with your physical exam. You may also download these forms for free online. Our website offers a vast choice of physical exam forms for you to choose from, depending on what you need.
Sports Physical Exam
General Physical Exam
Foreigner Physical Examination
Helpful Tips For Scheduling Your Exam
Scheduling your physical exam is easy, especially when you have already prepared your physical forms, like a Work Physical Form. You can also obtain a Generic Physical Form to be prepared as well. Below are some helpful tips you might want to know.
Develop self-awareness. Among anyone else, the best person who knows your body is yourself.
Set a date and time for your Physical exam. While you can just choose to walk-in for physical exams at your most convenient time, it is always best to call the clinic beforehand and make a schedule.
Set your agenda. Know and get what you really need. Other tests may come in packages but you may only need one of these tests, it's best that you know which ones you should have so as not to waste time, money, and effort.
Don't be late. As cliche as it may sound, time is gold. So when you are scheduled for an exam, be sure to arrive 10-15 minutes before the set schedule so as not to delay anyone.
The doctor may request for you to return to his office after few days or a week to discuss test results. Always remember that a physical exam is a chance for an adequate and frank discussion about health, habits, and an individual's healthy future.