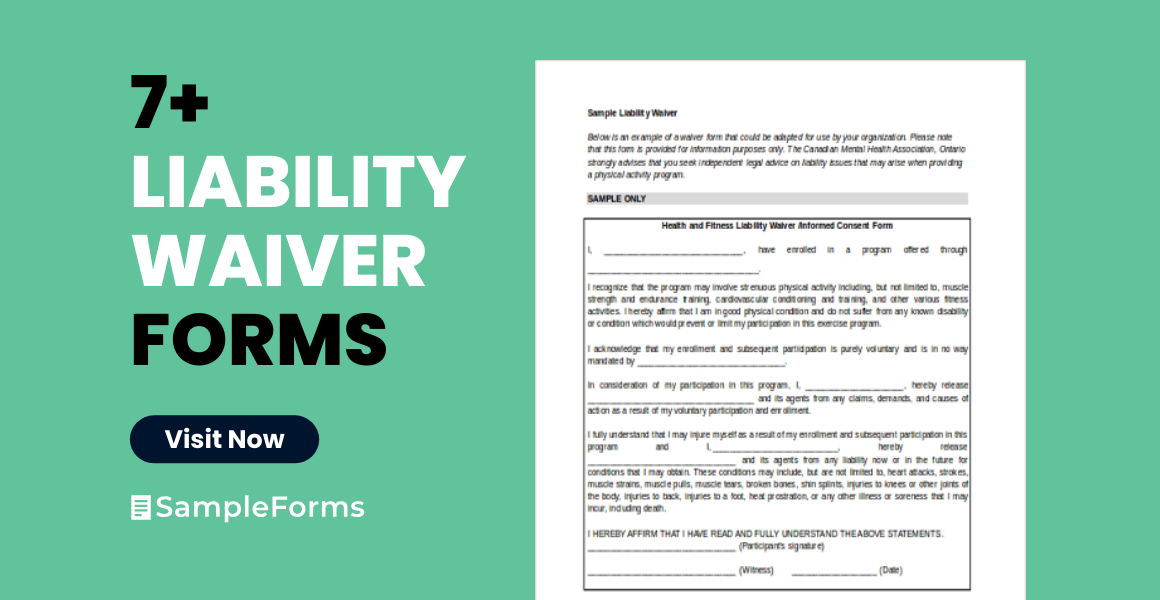 Release of liability forms are issued in anticipation of accident or personal injury. For any event with a chance of risk, this document (when agreed on and signed) protects the organization hosting the event from being sued if some unexpected misfortune happens to the participants. Waivers also keep everyone on the same page concerning the risks involved and may even lower the number of incidents.
If you run, host, or sponsor such an establishment or are organizing an event with unavoidable hazards, these free sample Liability Forms will help you draft your own waivers and help keep you secure.
Liability Insurance Waiver Form
Sample Liability Waiver Form
Free Contractor Liability Waiver Form
Property Liability Waiver Form Example
When to Use Release of Liability Forms
You will want your participants to sign a general release of liability form if you are aware of the risks of the activities that you are offering to them. Though there are safety and quality measures that are applied in the execution of these activities, it is still essential to understand that some danger and negative results can be an effect of the carelessness of the participants. Mostly, owners of businesses that provide high-risk activities like scuba diving and mountaineering use this form. However, there are also organizers and hosts of programs including paint ball games, marathons and field trips that can benefit from the usage of this particular form.
You do this primarily for 2 reasons:
To protect yourself from liability
To ensure that you have a temporary authority to have medical equipment requested should emergency and unexpected occurrences take place
You can require such a form to be signed before people can enter the premises and make use of the facilities or participate in events. You would do well to put together a conclusive Liability Release Form well before the first clients.
However, note that a release form will not help you if a preventable accident occurs due to negligence on the part of you or your business.
This is also known as a liability waiver or a release form (for liability, of course, not claims). A Commercial General Liability Form would protect your business from legal action holding you accountable for client or employee physical injury. Essentially, these are ways to keep your hands clean.
Sports Liability Waiver Form
Generic Waiver of Liability in Doc
Youth Waiver of Liability Form Example
Meditation Liability Waiver Form
Additional Resources Related to Liability and Risk
Can't find what you're looking for? SampleForms.com offers more samples on waivers and liability forms, in case you are looking for more free samples of a Release of Liability Form.
Be sure to look up these related topics related to waivers:
Hold Harmless Agreement Forms. This is an agreement where both/all parties in the agreement agree to not hold each other accountable for certain expected losses and damages.
Incident/Accident Report Forms. Even when liability waivers are signed and you are not legally persecuted for personal injury, it is often the case that an incident report still needs to be filed to prevent similar future complications. Our collections of incident and accident report forms for a variety of situations, from corporate to vehicle accidents, can help you with that.
Bonus
If you have a slight (but not disqualifying) medical condition and still wish to join the military (for example), you might want to see if a Medical Waiver Form will help you out.