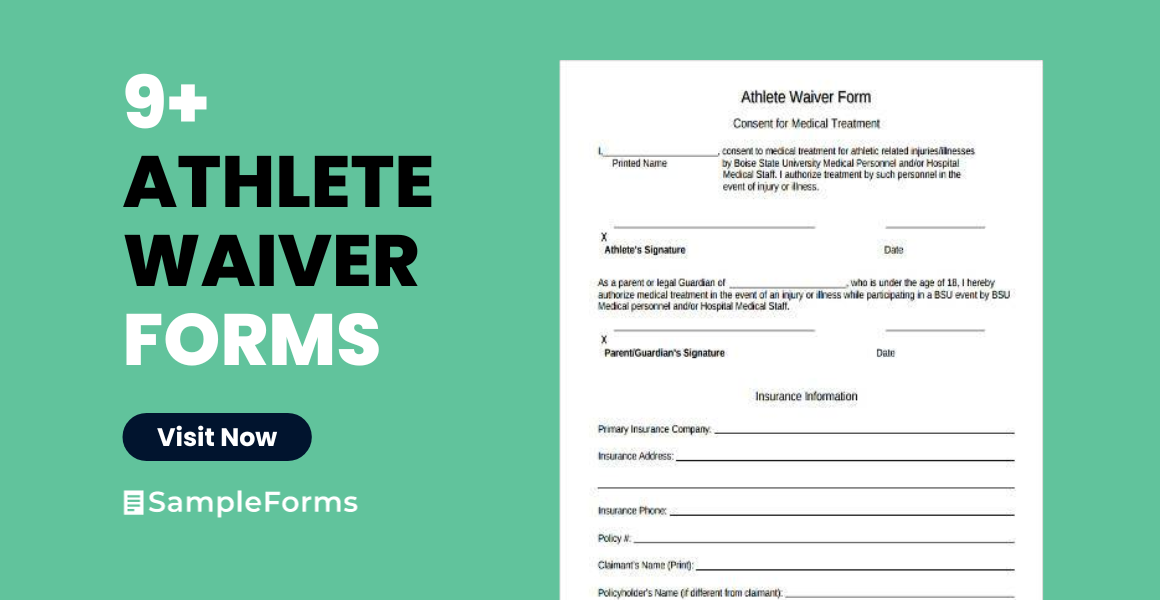 Athletes are professionals who have trained nearly their entire life for a sport that they love. They aim to do way better than the average person, and they hone their skills and abilities to the point where it goes beyond what the average person can do. Athletes participate in events that can help them show off their skills and prove that they're one of the best in whatever sporting event they participate in.
However, before these athletes can participate in any event, they'll need the proper forms. They'll need to give their consent and understand the different rules and regulations along with how they'll be protected by the event sponsors.
That's why there are forms such as Athlete Medical Waiver Forms that can help them out with such matters.
Athletic Participation Waiver Form
Athletic Event Participation Waiver Form
Athletic Injury Claim Waiver Form
Athlete Insurance Waiver Form
Student/Athlete Participation Form
The Various Types of Athletic Waiver Forms
There are many different types of these forms that allow athletic competitions to give their participants a heads-up of how they'll be competing along with the rules and regulations. Here are some examples of these types of forms:
Athlete Waiver of Liability Forms are the kinds of forms used by athletic competition sponsors to ensure that the athlete is aware that the former are not liable for any injuries or any other problems that an athlete may encounter.
Athlete Insurance Waiver Forms are forms that make sure every single athlete participating in a given sporting event has the proper insurance in case they sustain any injuries that were caused by an accident during the event.
Athlete Event Participation Waiver Forms are used by those athletes who wish to participate in any form of sporting event. These help make sure that the athlete gives their consent and understands that they know what they're getting themselves into upon participating.
Printable Athlete Waiver Form
Athlete Waiver Form in PDF
Athlete Waiver Form Example
 Athlete Waiver Form in Word Format
Free Athlete Waiver Form
The Importance of Having Athletes Sign Waivers
Sponsors of athletic events always have to make sure that participating athletes sign waivers to make the latter aware of what exactly they are getting into. These forms help them tell the athletes that the sponsors are not responsible for anything that may happen to them while they're participating. Specific terms are properly stipulated in Athlete Liability Waiver Forms, examples of which you can find and download here.
These forms can even help out the athletes themselves. There may be some events that prevent athletes with conditions from participating. An athlete can use a participation waiver to show that even though he or she has a medical condition, he has been cleared by medical professionals to participate.
So if you're an athlete, go through these waivers and consult your physician before you join in on any sporting events.