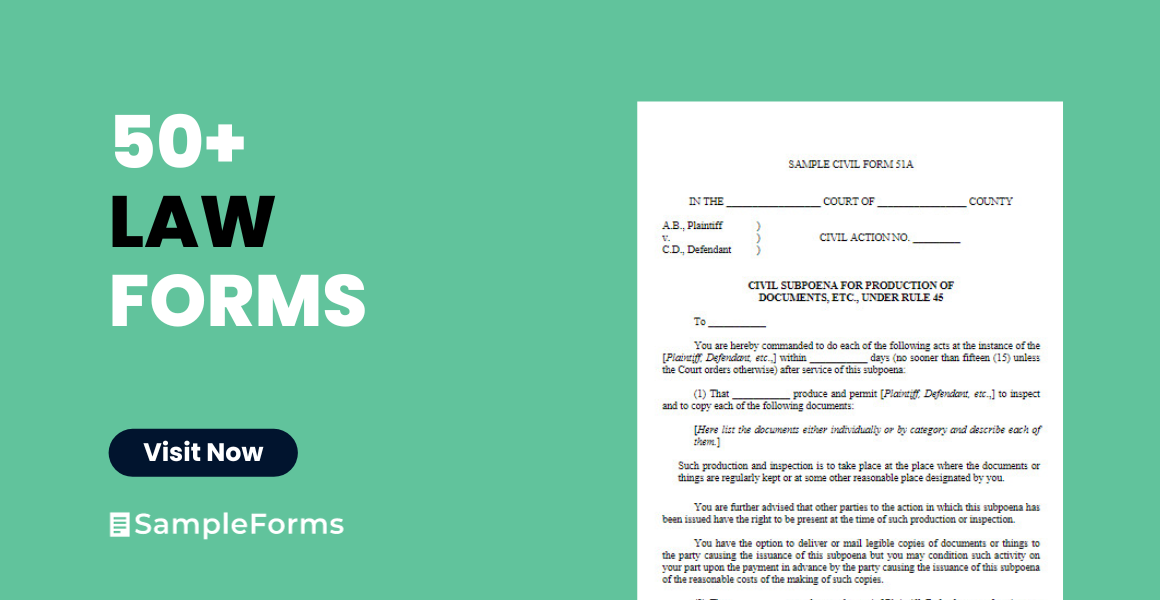 A law form serves as a crucial instrument in the legal realm, ensuring standardized communication and documentation between parties. These structured documents vary in type and purpose, encompassing everything from contracts to court submissions. For instance, a will or lease agreement are common examples. Crafting a law form demands precision, a deep understanding of legal stipulations, and clarity in language. When created effectively, these printable forms can seamlessly facilitate legal procedures and safeguard rights, making their design an art in its own right.
What is a Law Form ? – Definition
A law form is a standardized document or template used within the legal realm to facilitate various legal processes and transactions. It is designed to ensure consistent documentation and communication between parties, and it often contains specific fields or clauses to capture necessary details or to meet legal requirements. Law forms can be used for a multitude of purposes, ranging from contracts, wills, and affidavits to court filings and official submissions. Their primary function is to provide a structured framework that aligns with legal standards and principles.
What is the Meaning of a Law Form?
The meaning of a law form pertains to its role and function within the legal system. At its core, a law form is a tool that aids in capturing, presenting, and documenting legal information in a standardized manner. It ensures that specific criteria and legal terminologies are met, allowing for uniformity and clarity in legal transactions and procedures. Whether it's formalizing agreement form, asserting rights, or submitting official documentation, a law form translates complex legal requirements into a structured and comprehensible format, streamlining processes and reducing ambiguities.
What is the Best Sample Law Form?
Determining the best sample law form depends on the specific legal context or requirement in question. Different situations or legal tasks will necessitate different forms. One universally recognized and frequently utilized form is the Last Will and Testament.
LAST WILL AND TESTAMENT OF [Your Full Name]
I, [Your Full Name], of [Your Address], being of sound mind and memory, do hereby declare this document to be my last will and testament, revoking all previously made wills and codicils.
1. EXECUTOR: I appoint [Executor's Full Name], of [Executor's Address], as the executor of this will. If [Executor's Full Name] is unable or unwilling to serve, then I appoint [Alternate Executor's Name] as the alternate executor.
2. BEQUESTS:
I direct my executor to distribute my estate as follows:
(a) To [Recipient's Name], I bequeath [specific asset or amount or percentage of the estate].
(b) To [Another Recipient's Name], I bequeath [specific asset or amount or percentage of the estate].
… [Continue listing bequests as necessary.]
3. RESIDUAL CLAUSE: All remaining assets not specifically bequeathed shall be distributed to [Name], of [Address].
4. SIGNATURE: In witness whereof, I have set my hand to this will, this [day] of [month], [year].
---
[Your Full Name]
Witnessed by:
---
[Witness 1 Full Name] [Witness 2 Full Name]
---
This is a basic, general template of a sample Last Will and Testament. Depending on jurisdiction, specific needs, and complexities, the content and structure can vary. Often, it requires notarization and might have other witnessing requirements.
It's essential to remember that while a Last Will and Testament is widely used, the best form always depends on the specific legal context. For any legal document, consultation with a legal professional is vital to ensure accuracy, comprehensiveness, and compliance with local laws. You should also take a look at our Legal Application Forms.
FREE 50+ Law Forms
51. Civil Penalties and Fines Form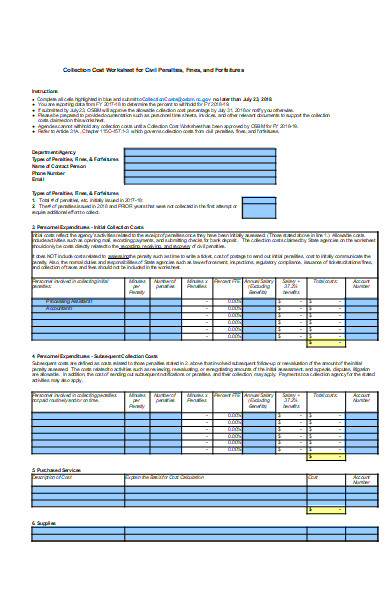 How do I create a law form for my business?
Creating a law form for your business is a crucial task that requires precision, understanding of legal requirements, and careful drafting. Here's a step-by-step guide to assist you in creating a law form:
1. Determine the Purpose:
Clearly define the purpose of the form. Are you drafting an employment contract, a vendor agreement, a non-disclosure agreement, or some other form? The purpose dictates the content and clauses to be included.
2. Research Legal Requirements:
Different types of forms have specific legal requirements. Ensure you are familiar with local, state, and federal laws relevant to your business and the form's purpose.
3. Use Templates as a Starting Point:
While it's advisable not to rely solely on templates, they can be a good starting point. There are many legal form templates available online or in software like Microsoft Word. Make sure any template you use is suited to your jurisdiction and is up-to-date.
4. Draft the Content:
Include all necessary fields and clauses. This might involve:
Parties involved (e.g., employer/employee, vendor/purchaser)
Terms and conditions of the agreement or relationship
Obligations and responsibilities of each party
Duration and termination conditions
Confidentiality clauses, if necessary
Dispute resolution mechanisms
5. Make It Clear and Concise:
Legal language can be complex, but aim for clarity. Avoid unnecessary jargon. The form should be understandable to all parties involved, not just lawyers.
6. Include Protective Clauses:
Depending on the form's nature, you might need to add clauses that protect your business, such as indemnity clauses, limitation of liability, or clauses about governing law and jurisdiction.
7. Seek Legal Counsel:
Always consult with a legal professional to review the form. They can ensure it's compliant with current laws, that all essential clauses are included, and that the language used is appropriate.
8. Pilot the Form:
Before officially adopting the form, test it in a real scenario (e.g., with a new employee or vendor). This can help identify any gaps or ambiguities.
9. Regularly Review and Update:
Laws and business needs change. Regularly review and update your forms to ensure they remain compliant and relevant.
10. Implement Digitally (If Applicable):
For businesses operating partially or fully online, consider creating digital versions of your forms. Tools like Adobe Sign or DocuSign can help in creating electronic forms that can be filled and signed digitally.
11. Ensure Safe Storage:
Whether digital or paper, ensure that filled forms are stored securely, respecting any confidentiality or data protection regulations applicable.
Remember, a law form isn't just about fulfilling a legal requirement; it's a tool to clearly define and protect the rights, responsibilities, and relationships between parties. Taking the time to craft it carefully can save significant time, money, and potential legal challenges in the future. Our Sample Legal Forms is also worth a look at
Where can I find templates for standard law forms?