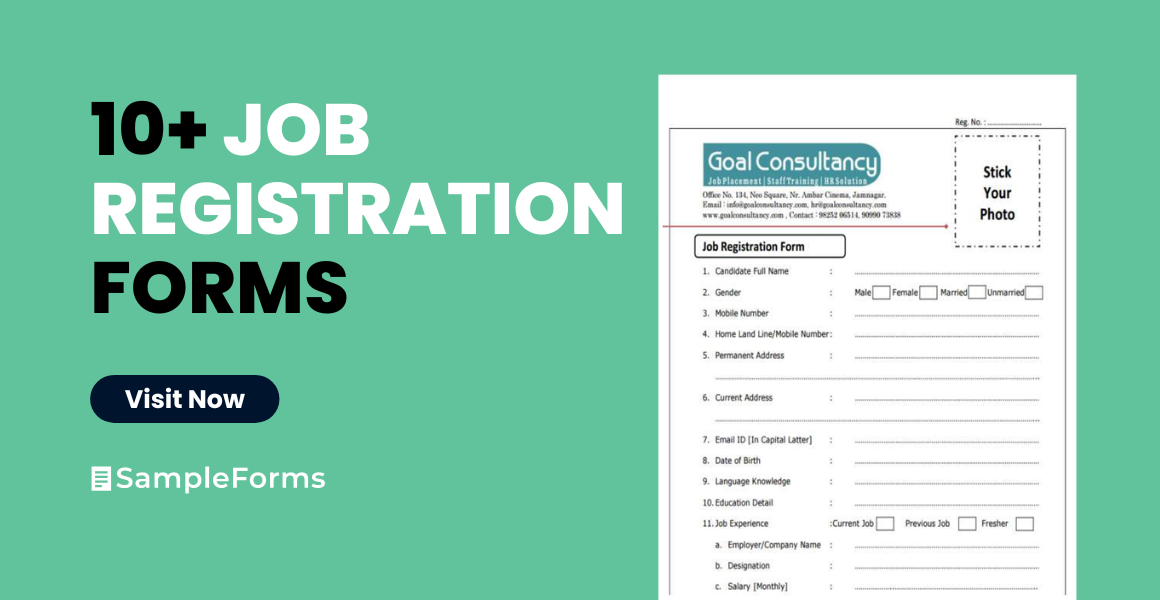 Having a job is what gets people by in life. If it's a proper job, then there's always monetary compensation for the services you provide. And depending on what kind of job you have, it could lead to more money. If it's not about the money, then people find jobs they love because it has always been something they wanted to do for a living.
However, before they can start working or before they can even start learning about these jobs, they'll have to obtain the proper registration papers. That can easily be accomplished with Job Registration Forms, examples of which can be found below.
Employment Job Registration Form
Job Application Registration Form in Doc
Apprenticeship Job Registration Form
Student Employment Job Registration Form
Informs Job Fair Registration Form in PDF
The Various Types of Job Registration Forms
There are many different types of job registration forms for those people who want to make sure they can learn all about the job or even the possibility of being employed. Here are some examples of these types of forms:
Employment Jobs for Student Registration Forms are the kinds of forms that are used by those students who wish to register for employment at certain establishments that are hiring students.
Employment Job Registration Forms are forms used for just about anyone who wants to be employed at certain establishments for just about any kind of profession.
Apprenticeship Job Registration Forms are forms for those people who want to register as an apprentice. These are usually used when a person finds a profession very interesting to the point where he would choose someone from the profession to mentor them.
Engineering Job Fair Registration Forms are used to make sure that any person who wants to participate in any engineering job fair is properly registered before checking out the different possibilities in the field of engineering.
Job Fair Placement Registration Form
Student Worker Job Registration Form
Job Seekers Registration Form in PDF
Job Consultancy Registration Form
Engineering Job Fair Registration Form
Business Job Registration Form
The Importance of Having Job Registration Forms
These kinds of forms are very important because these let companies know who are interested in applying for a position in their company. If it's not for a company, then it's for a school to figure out which of their students are willing to participate in learning the skills of any profession by the means of Employment of Student School Registration Forms.
These are really helpful for those who are in charge of employment or those who are in charge of organizing job fairs. These let them obtain some information of those who registered and provides a record of who are participating.
So always remember to sign up and register if you plan on getting a job or at least plan on learning about one.