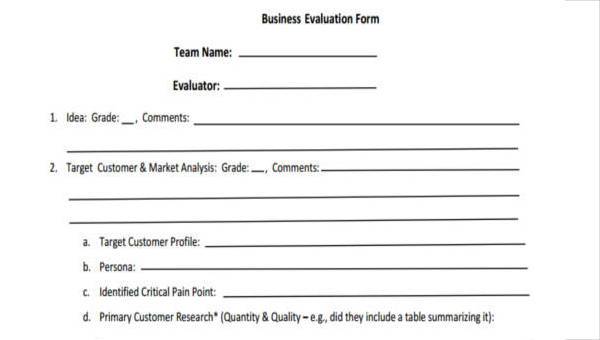 Businesses are popping up everywhere, a fact largely attributed to the global economy growing at an unprecedented rate. People can establish their own business really easily so long as they have the proper forms and funds.
However, how do these people assess how well their business is doing? How do they determine what needs to be changed or what they have to improve to keep their business going?
Company owners use Business Evaluation Forms to answer these questions. They have to make sure that their business becomes successful, and thus they have to conduct a proper evaluation.
Small Business Evaluation Form
New Business Evaluation Form
Business Presentation Evaluation Form
Business Immigration Evaluation Form
Business Evaluation Form in PDF
The Different Types of Business Evaluation Forms
There are lots of forms that can help business owners assess how well, or how horribly, their own business is doing within their industry. Here are some examples of these forms:
Business Peer Evaluation Forms are used by business owners to assess other companies that they have relationships with. If they feel that the other company isn't providing them with the services they need, they can choose to cut ties with that company.
Business Training Assessment Forms are used to assess how well employees are trained to perform the services of the company.
Business Self-Evaluation Forms are forms used for business owners to conduct a self-evaluation of how the company services are being carried out by staff and if the company is doing well in the market or not.
Business Plan Evaluation Forms are used to check on the business plan of the company and if the owner wishes to make changes to the plan or not.
Business Manager Evaluation Forms are used by employees or business owners to assess the managers of certain departments.
Small Business Evaluation Forms are forms used to assess those people who own small businesses and find out if they are doing well in the industry.
Business Self-Evaluation Form
Business Plan Evaluation Form
Business Manager Evaluation Form
Business Internship Evaluation Form
Business Evaluation Form Example
General Business Evaluation Form
The Importance of Evaluating the Business
Business evaluation is an effective analytical process for assessing overall business performances, opportunities, risks, and so much more. This particular process involves strategic planning, policy or process development, and understanding business requirements.
A well-written business evaluation helps in realizing the ongoing process and the success of the business. It places an emphasis on every single aspect of the business process through which new opportunities can be created.
A very thorough business assessment is also effective in detecting the different kinds of problems of the business process and provides effective solutions for improving it for future endeavors.
In short, company owners need to make sure that they evaluate their business properly if they want to make sure that it becomes or stays successful.
.