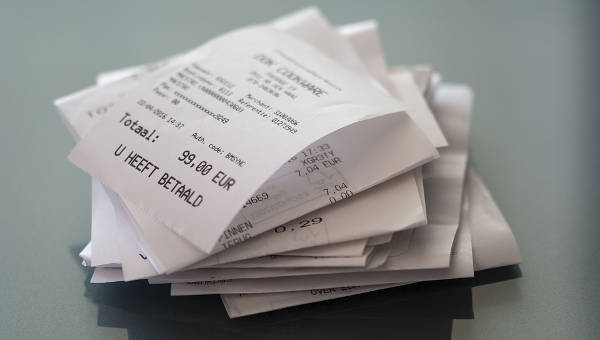 A company and its employees are expected to practice an systematic and organized approach to whatever tasks or work they are assigned to. The finance department helps keep the company's funds and inventory in check. A method of keeping track of the inventory and the funds is by having employees write a receipt form for every transaction done.
Depending on the location of the business, it is an obligation on their part to always provide the customer with a receipt. Failure to do so might incite legal conflict since there are laws in line with the obligation. Whether it is a delivery receipt form or just a standard receipt form, it must be handed out for every transaction that occurred.
Printable Blank Receipt
Printable Blank Rent Receipt
Printable Blank Sales
Printable Blank Cash Receipt
Blank Rent Receipt
What Is a Car Blank Receipt?
Vehicles are considered to be a practical purchase for many people because the product is useful and necessary for any daily activity in one's life. With vehicles like cars being of great cost and value, it is important for business owners in this field to keep track of and record all cars that have been sold, the corresponding selling price, and the buyer of the vehicle.
All these details are indicated in a blank car receipt. Depending on the preference of the business owner, the car receipt might be in the form of Printable Receipt Forms or be manually recorded on a receipt pad.
How to Get a Blank Taxi Receipt
Not all citizens of the general public have their own private vehicle, so they heavily rely upon various methods of public transportation especially if the destination is too far for them to reach. One of these methods of public transportation that is commonly sought for is the taxi.
Taxi drivers are tasked to drive customers to their destination and are payed according to the fare meter when it reaches the destination. Taxi drivers should keep track of their transaction with the use of receipts. Blank taxi receipts may come from Sample Receipt Forms found online or processed through a receipt dispenser feature in the fare meter.
Restaurant Receipt
Hand Receipt
Delivery Receipt
Blank Receipt for Taxi
Donation Receipt
Tips for Filling Out a Blank Receipt Forms
If a business company or an aspiring entrepreneur does not incorporate the use of receipt forms into their business routine, they will have a difficult in recording their inventory, recovering details accounts of funds from a particular time period, and accumulates disorganization within the business' finances and stock of products.
The importance of issuing or handing out receipts has even been recognized by various government agencies. These agencies have formulated a law that any business is obligated to provide a receipt form for any transaction that has been made.
The effort of providing receipts makes the work of the finance or accounting department easier. This department is in charge of handling the finances of the company as well as the financial documents that come with it. Receipts contain information that helps in providing details in various financial statements and financial reports.
Payment Receipt Forms, Sales Receipt Forms, Medical Service Receipt Form, Product Receipt Form, and other types of receipts have their definitive differences in some of their content and overall display or format of the receipt form. However, there are details from all the various types of receipts forms that are the same or at least similar.
A blank receipt form is a perfect canvas since it can be used for any kind of business venture. To make the blank receipt form can become more customized if the logo of the business is present along with its general information such as the name, address, and contact information.
After that, the receipt lists down the customer's name, the date of the purchase, the products or services rendered, the total amount of what has been bought, rendered, or rented, the additional tax rates and the method of payment used.
All these types of information should all be listed down legibly and clearly.
Printable Sales Receipt
Cash Receipt Deposit
Free Blank Receipt
Blank Replacement Receipt Form
How to Create a Blank Receipt
In recent times, along with the progression of technology, Cash Receipt Forms and other types of receipts are automatically dispensed by a machine that is stationed beside the cash register or is a feature of the register itself. There are some business owners who still manually input information of the transaction on a receipt pad.
If one wishes to create their own receipt form, he or she must keep in mind that it should all the necessary information that a receipt usually has. Receipts are usually on paper that one-fourth in size or smaller. It contains boxes or sections for each information needed. These sections include the date, receipt number, products bought, and the amount to be paid along with the taxes.
What is a Blank Cash Receipt Form?
Money is an essential and valuable asset that a lot of business owners and entrepreneurs should keep an eye on. If there are problems with the company's funds, the entire business may be put into a compromising situation. For this unfortunate situation to not happen, businesses should use receipts form such as Missing Receipt Forms and Blank Cash Receipt Forms.
With missing receipt forms, any receipts that have been lost and receipts can be compensated by filling up this form. In a blank cash receipt form, a format is given and the information is just simply written. This receipt form focuses on the payment to be given.
Sample Receipt
Blank Lost Receipt
Missing Receipt Form
Blank Ticket Receipt Form
Prize Receipt
How to Print Out a Blank Receipt
As time progresses, businesses adapt themselves to the changes that come with time. They make sure to update aspects of the business in order to keep and not get left behind or trampled by much more advanced competition.
Businesses and companies also look for new innovations that can aid in the convenience of some processes done within the business. Old-fashioned and traditional may be preferred by some but the incorporation of technology into a business has proven to beneficial in so many ways.
One way technology has benefited a business is through its incorporation with the business' financial processes and records. A lot of documents can be found in this aspect of the business so it would be ideal to adapt a systematic and organized method to put all of them in their rightful places.
Receipts have been used constantly and are considered to be staples of the companies financial records. The receipts aid in retrieving information from various transactions. The use of receipts have made the work load of the finance department lighter and more tolerable.
Online forms and software programs have been utilized in recent times. This would mean that by going to a website or a software program, one can find Free Receipt Forms, Donation Receipt Sample Forms, and the standard receipt form. The person encodes the information unto the receipt and once completed, presses the print button.