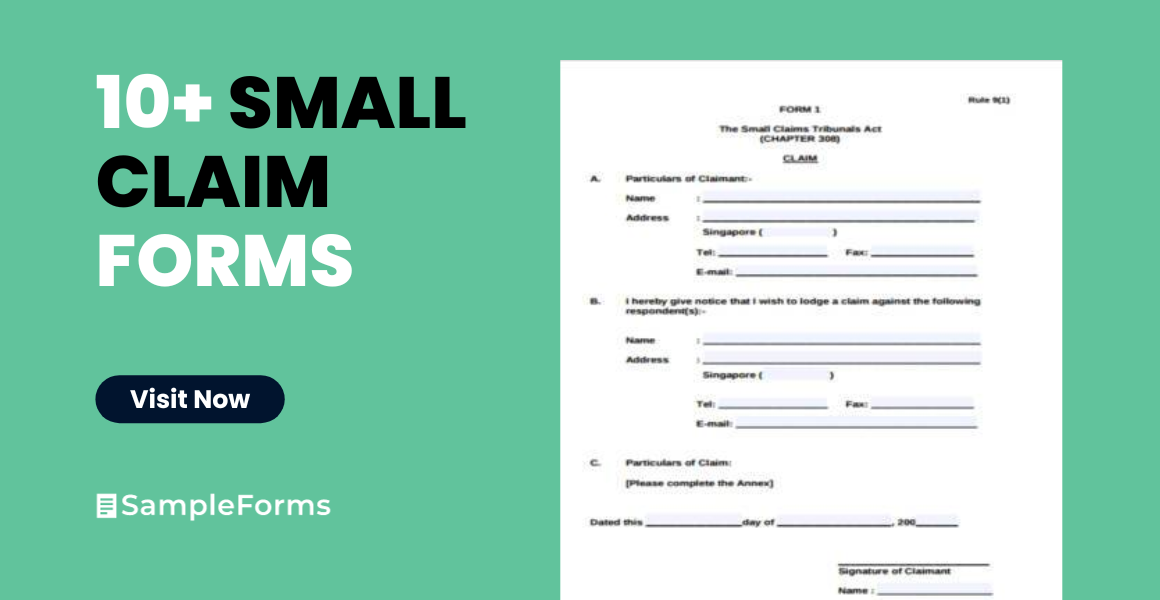 You wish to collect the loan your friend asked months ago, but she refuses to pay. Someone crashes your car and refuses to pay for the repairs. It's been almost a year, but your customer has not paid the rest of the amount he owes to the service you've provided him. The new computer you bought is still within the warranty period, but the store refuses to repair or replace it.
Have you encountered situations like these but are reluctant to take it to court due to the expenses you will need to pay for a lawyer and to file the case? The law is lenient in regard to these legal situations which are called small claims. It's inexpensive and the most practical way to collect the money or service promised to you. Even if you believe that you are unable to lead a normal life or find a job, you can still pursue this case with the help of Disability Claim Forms.
Small Estate Claim Form
Small Claim Tribunal Form
Small Claim Application Form
Small Claim Notice of Appeal Form
Small Claim Proof of Service Form
Small claims courts are basic, prompt, and informal courts that help plaintiffs (people who are suing) claim sums of money limited to $3,000 and $10,000, through a quick hearing and decision without the need for legal representation. These courts can be found in Australia, Brazil, Canada, Great Britain or UK, Hong Kong, Israel, New Zealand, Philippines, Singapore, South Africa, and the United States of America.
Before filing a case to the small claims courts, the actions or purpose of the claim must be seen as applicable to the civil aspect of solely a payment or reimbursement of a sum of money, or criminal actions either filed or reserved in court:
A. Money owed under the type of contracts:
Lease
Loan
Services
Sales or Mortgage
B. Damages turned up by:
Fault or negligence
Quasi-contract
Here's an example scenario for when one can go to a small claims court: Under the contract with your healthcare provider, hospital room expenses will be fully covered, but you found out that they've only paid 25% percent when you receive the hospital bill. Medical Claim Forms are what you need to fill out for the procedure of this case in the small claims court to specify legal actions needed to be addressed in your case.
Small Claim Affidavit Form
Small Business Claim Form
Small Claim Court Form
Small Claim Form in PDF
Small Claim Form Example
Simple Small Claim Form
Due to such cases being civil in nature, they must be filed in the city of either of these three places:
Where the plaintiff resides
Where the defendant (the person being sued) lives
If the plaintiff is employed in banking, a lending business, or any similar activities and the defendant happens to live in the city where there is a branch of the plaintiff's working place, that place is acceptable
There is no formal pleading required other than filling-up prepared forms to state the necessary information of the plaintiff's case and including a copy of agreement to support the plaintiff's claim that will then be part of the evidence of the case. (For example, one can present samples of Travel Expense Claim Forms for a reimbursement of business trip expenses that were supposed to be paid by the company, but which the individual ended up paying himself). The intervention or the presence of lawyers is not mandatory, but bear in mind that the plaintiff is already given Special Power of Attorney. Disputes are resolved quickly and inexpensively since cases in small claims courts are tasked to be decided on the first hearing.