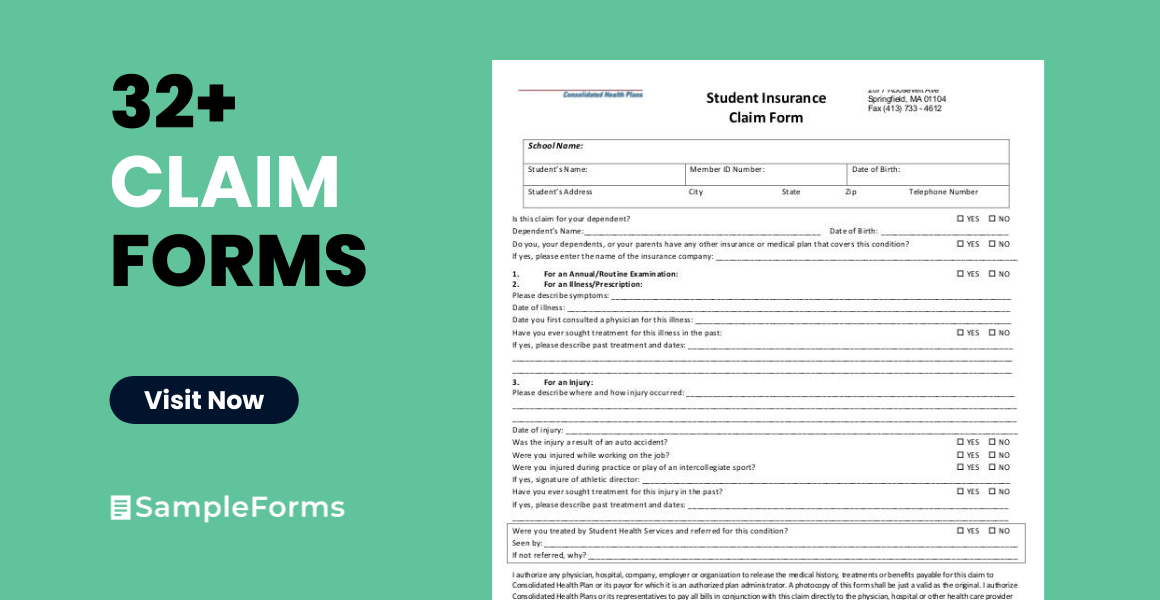 A Claim Form is used by companies, organizations, and individuals who provide compensation or reimbursement for their employees and members for certain expenses incurred by them, so long as these expenses meet certain criteria. One example is the use of Employee Expense Forms for the reimbursement of expenses incurred by an employee for a business purpose. In order for the expense to be reimbursed, it has to be for a business purpose, and a way for the employers to ensure that is by the use of a Claim Fillable Form. See our sample selections below and find one that suits the needs of your organization.
What is Claim Form?
A claim form is a document used to request payment or compensation from an insurance company, government agency, or organization. It typically requires the claimant to provide detailed information about the incident or circumstances leading to the claim, such as dates, amounts, and relevant personal details. The printable form serves as a formal request for reimbursement or coverage of expenses, losses, or damages incurred by the claimant, and is a crucial step in the claims process.
What is the best Sample Claim Form?
A well-structured Sample Claim Form typically includes the following sections:
This template can be customized according to the specific requirements of the claim type and the organization handling the claim. It's designed to collect all necessary information in a clear and organized manner.
32+ Claim Form Templates in PDF | Excel | MS Word
Expense Claim Form Templates
Free Expense Claim
Expense Reimbursement
Travel Expense Claim
Mileage Claim Forms
Mileage Reimbursement Claim
Mileage Record Claim
Business Mileage Claim Form
Warranty Claim Forms
Jewelry Warranty Claim
Warranty Claim Template
Insurance Claim Forms
Home Insurance Claim Format
Health Insurance Claim
Student Insurance Claim
Ensuring That Your Claim Is Approved
Each Claim Form is different and there are various requirements specific to each type of Claim Form, but in every case involving a Claim Form, certain documents have to be presented to substantiate the claim. It is important to make sure that you have all the necessary documents needed for the claim you are going to file. For example, for an Expense Reimbursement Form, you would need to present detailed receipts of the purchases you made to substantiate your claim. For Medical Expense Claims, you would need to present your patient health information to prove that you did get medical treatment for a medical condition.
Aside from presenting the necessary documents to substantiate your claim, it is also important to make sure that all information on your Claim Form is complete and accurate. This is another way to increase the chances of your claim being approved. It is such a hassle to appeal a decision for a claim if you do not agree with it, so it is important to do all you can to ensure that your claim will be approved, and that includes the two aforementioned guidelines. You may also see our other Claim Form Examples for more reference.
Tips in Writing a Claim Form
If you are a company that provides insurance or one that provides reimbursement for employee expenses for business purposes, then it is important that you come up with Claim Forms that are user-friendly. This means that the forms you come up with have to be easy to fill out. You can also see our Free Claim Forms for more samples and information on other kinds of Claim Forms.
Subsections: The information on your Claim Form has to be divided into proper subsections so that the claimant can fill it out easily. Organizing the information on the form will also help you easily understand the claim being filed by the claimant.
Formatting: Headings should be distinct and in bold format so that they are easily singled out. It can be easy to get confused in a sea of information that has to be filled out, so this step would really help you and your claimants when filling out the forms.
Instructions: There are Claim Forms that can get very long, and it is easy for anyone filling it out to be confused as to what to do. It would help if general instructions are provided either at the beginning or at the end of the form, or if minor directions are provided within the form to provide further guidance.
Travel Claim Forms
Overseas Travel Insurance Claim
Sample Travel Guard Claim
Sample Travel Claim
Accident Claim Form Templates
Notice of Accident Claim
Vehicle Accident Claim
Personal Accident Claim
Student Accident Claim
Business Claim Forms
Business Staff Expense Claim
Editable Business Insurance Claim
Business Claim Request
Expense Claim Forms
Expense Claim Forms are used by business organizations and educational institutions for the reimbursement of business expenses incurred by their employees. Business expenses are essential for the daily operation and improvement of a business. Businesses incur all sorts of expenses every day. One of these are travel expenses, for which Travel Expense Claim Forms are used. There are times when an employee has to travel to meet with a client, to branch out a business, or to attend seminars and conferences. All of which can contribute to the development of the company, so if an employee uses his own savings for such expenses, then it is only right that he be reimbursed.
Aside from providing reimbursements, an Expense Claim Form can also be used to ensure that all the expenses incurred by employees are feasible, practical, and within the company's budget. The funds in a company or organization are not unlimited, so it is very important that if they should expend any funds, it is justified and worth it. Business Expense Claim Forms also ensure that the expenses and the purpose of the expenses are reviewed by the appropriate and appointed departments to review certain expenses. This is because each of these department heads are required to affix their signature on the form.
You may also see our Small Claim Form, which are used in reporting certain expenses incurred over a certain period of time. This can assist a company in the assessment of their profitability and financial stability.
Mileage Claim Forms
There are instances wherein an employee has to use his own car or a company car to travel for a business trip. Either way, a Mileage Claim Form or Mileage Reimbursement Form is used to track the mileage of the car that was used for business purposes. This is because the employee will have to be reimbursed for fuel, parking fees, and toll fees. The reimbursement of the fuel will depend on the number of miles driven for the trip. You may also want to see our article about Mileage Tracker Forms, which can be used to track the number of miles driven for a specific company vehicle over a specified period of time. These records can be used in calculating the expenses for transportation, which would be included in a company's business financial statement. This can be done annually or quarterly, depending on the preference of the company.
Standard Damage Claim
Damage Claim in PDF
Medical Claim Forms
Medical Expense Claim
Private Medical Claim
Major Medical Claim
Reimbursement Claim Form Templates
Member Reimbursement Claim
Prescription Reimbursement Claim
Payment Reimbursement Claim
Universal Claim Forms
Free Universal Claim
Universal Claim for Medication
Custom Claim in MS Word
Expense Claim Form in Excel
What is Warranty Claim Forms
Because of the aim of every business to satisfy their customers, they provide a warranty period for the repair and replacement of their sold items and products. A repair is necessary when the product becomes defective or damaged, and the warranty period varies on what kind of product it is. Typically, larger appliances and equipment have a longer warranty period than most items. In this process, a Warranty Claim Form is used to collect all the necessary information for the repair. You may also see our Notice of Claim Form for other samples.
A Warranty Claim Form contains the following information:
Customer Information: This includes the customer's name and address, and contact details in case the company would need to call for a follow-up.
Product Information: This includes the make and model, color, quantity, brand, and serial number of the item or product. Other information on the product may also be included to further identify the product and make sure that the correct item or product is sent back for repair.
Payment Information: This is necessary for the shipping charges, if ever the company will not take care of the cost. This can also be used if there are charges for parts that have to be replaced and are not included in the terms and conditions of the warranty.
Shipping Information: When the customer prefers the item to be shipped to her home instead of picking it up from the store, then this information is necessary. You may also be interested in our Claim Accounting Forms.
What is Insurance Claim Forms
People are becoming more and more concerned and aware of being prepared during emergencies and accidents. That is why the insurance industry is growing. There are various insurances provided by companies, such as health insurance and travel insurance. An Insurance Claim Form is used by insurance companies to be filled out by their insured members whenever they want to file a claim.
The use of Insurance Claims is important because they allow the insurance company to review the details of the claim to see if it coincides with the terms and conditions of the insured member's insurance policy. This way, they would not have to expend funds for instances that are not even covered by the member's insurance policy. Insurance Claim Forms also require supporting documents to be presented to substantiate the claim. This lessens the risk of insurance fraud, which is not very uncommon. You may also see our Health Insurance Claim Forms for more samples.
What are the types of Claims Form
| Type of Claims Form | Description |
| --- | --- |
| Insurance Claim Form | Used to request reimbursement or coverage for losses covered under an insurance policy, like health, auto, or home insurance. |
| Healthcare Claim Form | Submitted by healthcare providers or patients to insurance companies for the costs of medical services and treatments. |
| Expense Claim Form | Used by employees to get reimbursed for work-related expenses, such as travel, meals, or supplies. |
| Property Damage Claim Form | For reporting damage to property and seeking compensation, often used in home or auto insurance claims. |
| Personal Injury Claim Form | Used to claim compensation for injuries sustained due to accidents or negligence. |
| Warranty Claim Form | Submitted to request service or replacement under a product's warranty terms. |
| Travel Insurance Claim Form | For claiming losses during travel, such as trip cancellations, lost luggage, or medical emergencies. |
| Worker's Compensation Claim Form | Used by employees to claim benefits for work-related injuries or illnesses. |
| Unemployment Claim Form | For individuals seeking unemployment benefits, detailing their employment status and eligibility. |
| Rebate Claim Form | Used by customers to claim rebates offered on products or services after purchase. |
Each type of claim form is tailored to gather specific information relevant to the claim being made, ensuring accurate and efficient processing. In addition, you should review our Liability Claim Forms.
What is the purpose of Claim Forms
What is required before you submit a Claim for Payment