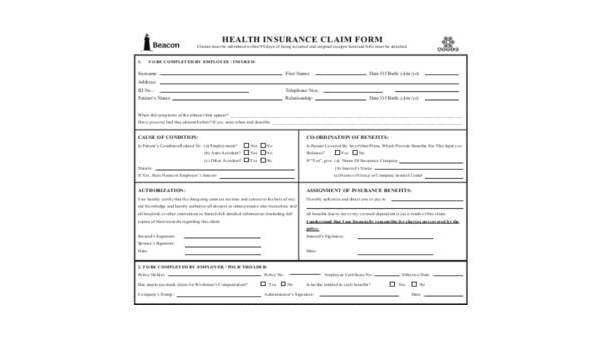 Health insurance providers provide financial assistance for their members during medical emergencies and whenever they require medical treatment. Medical expenses nowadays are very costly and the prices are continually rising, which is why having health insurance really helps a lot. Even employers provide their employees with health insurance because they understand how important it is for the employees to be able to maintain their health.
Health Insurance Claim Forms are documents used to submit claims for medical expenses when you have health insurance. You may browse through our Health Insurance Claim Forms below or look at our Medical Claim Forms samples that you can easily download and use as a basis for your own forms.
United Healthcare Insurance Claim Form
Fillable Medical Claim Form
Health Insurance Claim Form Example
Supplementary Health Benefits Claim Form
Who Can Use Health Insurance Claim Forms?
Private health insurance providers use Health Insurance Claim Forms so that their members can submit medical claims for medical procedures, medical treatments, and prescription drugs. Aside from these, there are also health insurance providers who have a Medical Travel Benefits Program, wherein they provided financial assistance for members who have to travel to be able to receive medical assistance. There are also employers and business organizations who use Health Insurance Claim Forms to keep records for future reference.
The vast use of Health Insurance Claim Forms entails a variety of formats. It is important that the right format is used, with consideration for the target audience and purpose of the Claim Form.
Why Are Health Insurance Claim Forms Important?
Using pre-made Health Insurance Claim Forms can help you save time and resources to allow you to focus more on other productive areas of your company. They are also kept for record purposes for future reference. This is because if a person submits a claim, any record of previous claims will have to be considered as well. Funds in every company are limited, which is why it is important that each claim has to be reviewed properly. You may also see our Health Care Claim Forms for other samples and information.
Blank Health Insurance Claim Form
Medical Assistance Health Insurance Claim Form
Health Insurance Claim Form in PDF
Printable Health Insurance Claim Form
General Health Insurance Claim Form
Information on Health Insurance Claim Forms
Insured Person's Personal Details – This includes his name, address, and contact details.
Insurance Details – This includes the insured person's policy number
Reimbursement Details – This includes the payment currency and bank details where the reimbursement amount will be deposited. Bank details includes the account holder and account number.
Medical Provider Details – These are the details of the medical provider or facility where the insured was admitted or treated, such as the name of the physician, and the name and address of the hospital or medical facility.
Medical Information – This part is to be filled out by the healthcare professionals who attended to the insured. This includes the dates when the insured was admitted or when he visited the hospital, the symptoms the insured was experiencing, the diagnostic tests and medical procedures performed, the physician's diagnosis, and the prognosis of the disease or illness. This should also include the name and signature of the doctor to certify that all information in this section is accurate and complete.
Patient's Declaration and Consent – This is signed by the patient to certify that all information in the Health Insurance Claim Form is true, accurate, and not misleading. It should also be stated that any claims with the intent to commit health insurance fraud will render the insured policy's null and void, and will be subject to legal action. You may also see our Health Insurance Forms for other forms needed by health insurance companies.