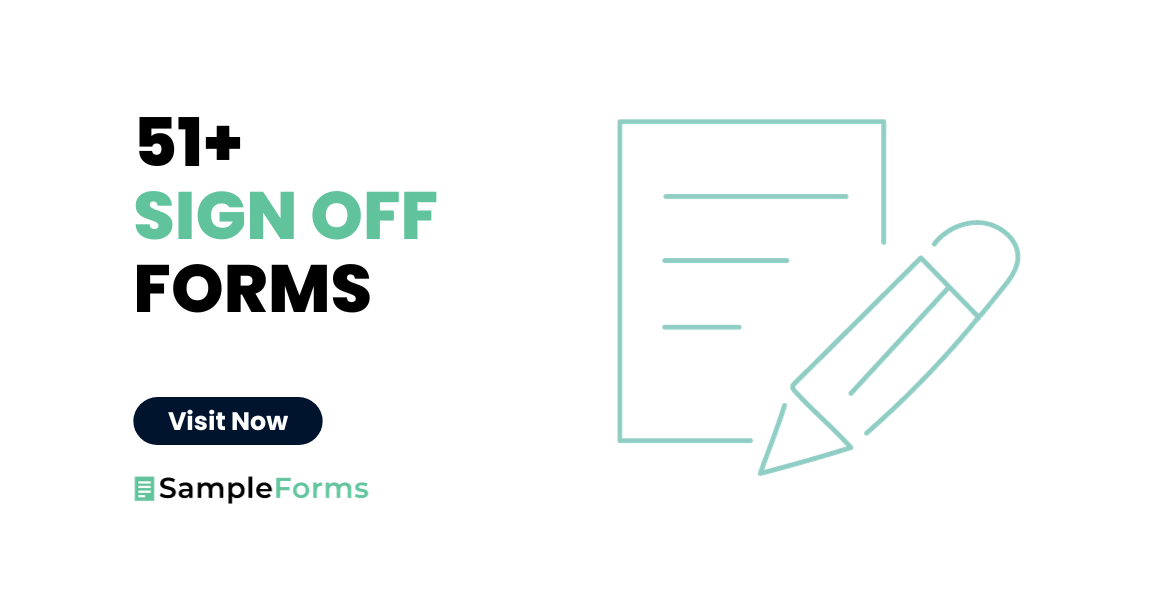 Have you experienced that excitement to spread important news? Yet, it led to a frowning moment since the news wasn't even confirmed? Don't jinx it! Contain your emotions instead and wait for the final word before sharing the details. What to report may be related to completion of projects, acknowledgment of service, or approval. And a great way to announce that is through documentation with sign-off forms. These forms will serve as proof of the confirmation statement and other related information so those are fully verified before jinxing it to turn unofficial or false.
FREE 51+ Sign Off Forms in PDF | MS Word | Excel
What Is a Sign-Off Form?
A sign-off form can be defined in two ways. One, it is a written document that brings an announcement or declaration of ending a service. For example, someone who had work completed deserves getting acknowledged. This idea is to verify that such a person is done with the required tasks to fulfill. This document can work as a way of congratulating people for their completion. Another definition is that of an official form that grants something. Someone who made a construction proposal may require construction project approval with the sign-off sheet. Thus, what got proposed will continue its operations since the form approves it.
While basing on either of the definitions for sign-off documents, what matters is to specify the goal and label on sheets. That way, anyone who views the form will understand if it serves for completion, approval, and the like. The forms also require signatures of all parties involved to ensure that the message is officially verified. By showing the form to announce about finishing work or perhaps, receiving project authorization, at least it is believable already.
What Are the Underlying Benefits of Sign-Off Forms?
A lot of businesses depend on a sign-off sheet for seeing project expectations, agreeing on liabilities, and so much more. Fact is the document is quite beneficial and here is a list of some of its key advantages:
Reliable Source for Verification

Asking for verification is a big deal because maybe a business plans to open for a new store to build at a particular location. After creating a well-thought-out plan on how the process goes, it is wrong to immediately start the operation without the right party's signature to give the go signal. Let the official sign-off sheet dictate its approval until proceeding with the next actions is allowable to do so.

Detailed Reference

Written forms like sign-off documents tend to be very detailed; thus, it makes the message more understandable. If there will be questions raised about particular details, then simply checking the rest of the information in the form is all it takes to answer those. View the sheet again for reference in case something needs confirming, and it is best to keep a copy of its document when it becomes required.

Promotion of an Agreement

Forming an agreement is also how to associate with a sign-off. For example, the sheet gives a final say if clients are happy with the result done by workers. Receiving the form marks a statement that all is well instead of having opposing ideas that something should change along the way. Gathering signatures from all parties is even a sign of a compromise that the ones reading the document have accepted the terms and information stated. Otherwise, anyone who disagrees needs not to place his or her signature on the form.

Visibility of Terms

A sign-off may include policies and terms to ensure clarity. Once a proposed project got approved, who becomes liable for some damages may be discussed on the policy to avoid further complaints in the long run. Even with approved plans, there is also a chance to cease operations when terms get broken. Thus, anyone signing the document must read and understand the policies to avoid a different turn of events.
Smart Strategies for an Effective Project Sign-Off
Sign-off documents for projects are crucial to ensure that concepts and plans will become a successful reality in the outcome. The question is: what makes up an effective sign-off form for projects? Be informed by considering the strategies for project sign-off documents. First, effectiveness is present when clear expectations get managed between the workers and clients of the project. Not basing with realistic and explicit expectations will only make the proposal remain a proposal. Making the plan work in actuality could be difficult, so how long it takes, what processes to fulfill, and how much the budget is will need clarity first.
Liabilities and accountabilities cannot stay forgotten in terms of implementing effectiveness here. A conflict might arise when one people end up blaming each other for specific issues. If terms got prepared, including the discussion on accountability, then this never would have been an issue. Another important strategy is to adapt to possible changes. Indeed, receiving the final thoughts is expected to come from a sign-off document. However, additional instructions might apply over time. To adjust flexibly with proper communication will keep projects guaranteed for success.
What Applications Make Use of a Sign-Off Form?
The sign-off sheet is not only applicable to a single application because that can work in various fields and industries. Take a look at a few examples where sign-off documents turn relevant in particular uses:
Construction Work

When a request for construction is necessary, then authorizing the job can be finalized with sign-off documents. Things need to be thoroughly discussed around here until the endgame reaches to project completion. Workers may hardly know what to establish without following from the instructions in these documents, so the details inside are incredibly significant to prevent failure.

Manufacturing Business

Employees in the manufacturing industry can make use of the form during production planning. How many items to produce, what materials to use, and other considerations will get managed in this business. Forgetting to acknowledge the final plan may end in jeopardy, like creating low-quality products or failing to produce the expected amount of items on time. Follow through what got accepted in the sign-off sheet.

Client Approval

The form can get regarded as a document acceptance for clients who decide if people working on a project or service passed their expectations. A signature sign-off would prove that there is client approval on a process. Without such support, it turns expected for whoever is working on the service to make the necessary changes until clients become happy with the outcome. In other words, reaching customer satisfaction can happen with the document.
How to Create a Professional Sign-Off Form
All sign-off forms must observe professional standards for those to become considered acceptable. Other people might not take the details from the document seriously, so it has to leave a great impression, precisely according to standards. Here are helpful tips in creating a professionally made sign-off document:
Step 1. Define Your Sign-Off Sheet
As a sign-off can have a double meaning, it works best to define the term accurately by inputting the right label on the form. If ending healthcare service is a concern and making a health declaration for it is required, then the sign-off form should receive such a label. That way, people readily understand that the form talks about the ending service from healthcare. In short, make people who use the forms to receive a clear concept about what the sheet is for.
Step 2. Input the Relevant Questions and Details
The content inside these documents is what matters most for anyone checking its information. For example, there should be space given for individuals in jotting down the project name, completion date, project duration, and so much more. Asking who the managers and clients are is another expectation. Once these questions or details are present, lesser questions become asked already since answers will be right beside those once filled out.
Step 3. Improve the Presentation by Adjusting the Format
How the document looks will ultimately leave lasting impressions, and making the best first impression will make it useful. There are numerous templates worth using and downloading, so you grab the opportunity to adjust with these editable and fillable forms. Take a peek at how it possibly looks in reality with the page setup before printing to judge if it looks presentable or not.
Step 4. Keep It Explicit
Following the steps and jotting extended plans would all be pointless when precise information is absent. People might no longer understand what the rest of the content means if there is no organization of the details. Arrange its flow to enhance the content and make it more understandable. Moreover, grammatical errors should get reviewed to have those changed quickly. A brief and concise form marks as an effective result.
FAQs
Use the templates of sign-off forms to confirm the end of projects, completion of services, client approval, and the like before anyone believes another message from unofficial statements or documents. If others think a project got terminated, then others may refuse to believe it without an official or legal document to validate it. Unofficial sheets probably cause a jinxing of events that projects could continue again for not having an official termination sign-off. Why wait for results to change when it can turn official and final with a sign-off form?