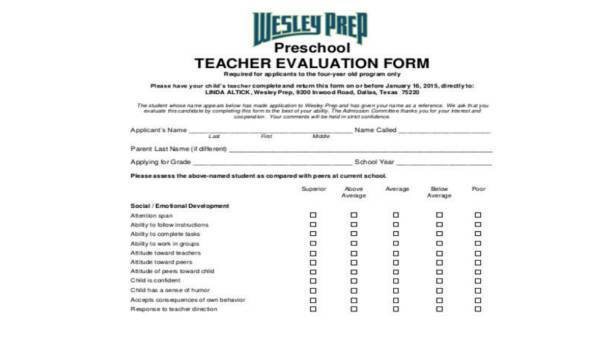 A Teacher Evaluation refers to the formal process in which a school rates and reviews the performance and effectiveness of a teacher in the classroom. The general purpose of a Teacher Evaluation is to ultimately provide feedback to teachers and help them work through their professional growth and development.
The factors used to evaluate a teacher vary according to details and requirements. Traditionally, Teacher Evaluations were conducted through classroom observations by principal or school administrators. In some instances, student's work, teacher's records, lesson plans, and other significant factors were also used to assess a teacher.
Sample Teacher Self-Evaluation Form
Teacher Peer Evaluation Form
Teacher Workshop Evaluation Form
Everyone seems to think that teachers have to be evaluated, but establishing the exact reasons why they should be can be quite unclear sometimes. Below are some reasons why Teacher Evaluations are necessary in school:
Allows Educational Boards to Grant Tenure to Teachers
Boards or Departments of Education typically grant tenure to teachers who have surpassed and completed their probationary period. Most of the time, tenure is granted based on written recommendations written by superintendents or principals. These written recommendations are primarily based on the results and findings of a Teacher's Evaluation and other significant accomplishments.
Provides Constructive Feedback
Teacher Evaluations allow supervisors or administrators the chance to provide feedback relating to the success or the demise of a teacher's teaching method in light of their lesson plans. Lesson plans are important tools used by a teacher. These detail methods that a teacher uses to instruct students in accordance with the mapped outline that follows the specified curricula. Through Teacher Evaluations, teachers and administrators will be able to determine if they were able to meet the written objectives stated in the lesson plan.
Aids in Better Classroom Management
Through Teacher Evaluations, teachers are able to improve and develop their teaching skills to help students learn and understand more in class. Highly effective teachers are able to provide enriching and lifelong educational and career aspirations to their students.
Daycare Teacher Evaluation Form
Teacher Evaluation Form Example
Preschool Teacher Evaluation Form
Teacher Evaluation Form Sample
Student Teacher Evaluation Form in DOC
Studies show that effective teachers do not only promote and enhance learning and understanding in the classroom; they also contribute to an increased rate in student achievement. The following are some of the key qualities of an effective teacher:
Comes to class prepared
Well-trained
Holds a certification in the field she is handling
Caring
Unbiased
Respectful
Fair
Holds oneself in high regard
Maximizes time spent for effective classroom management and organization
Enhances instruction through varied strategies, instructions, and assigned tasks
Monitors student's progress through assessments while providing feedback
Providing refresher courses targeted for students who were not able to achieve mastery
Demonstrates effectiveness despite differing classroom situations and academic diversities
Teacher Evaluation Forms are used to properly outline and document evaluations. You can use our school forms, such as our Student Evaluation Forms and other Evaluation Forms, to help you save time and extra effort and help you make more effective assessments.