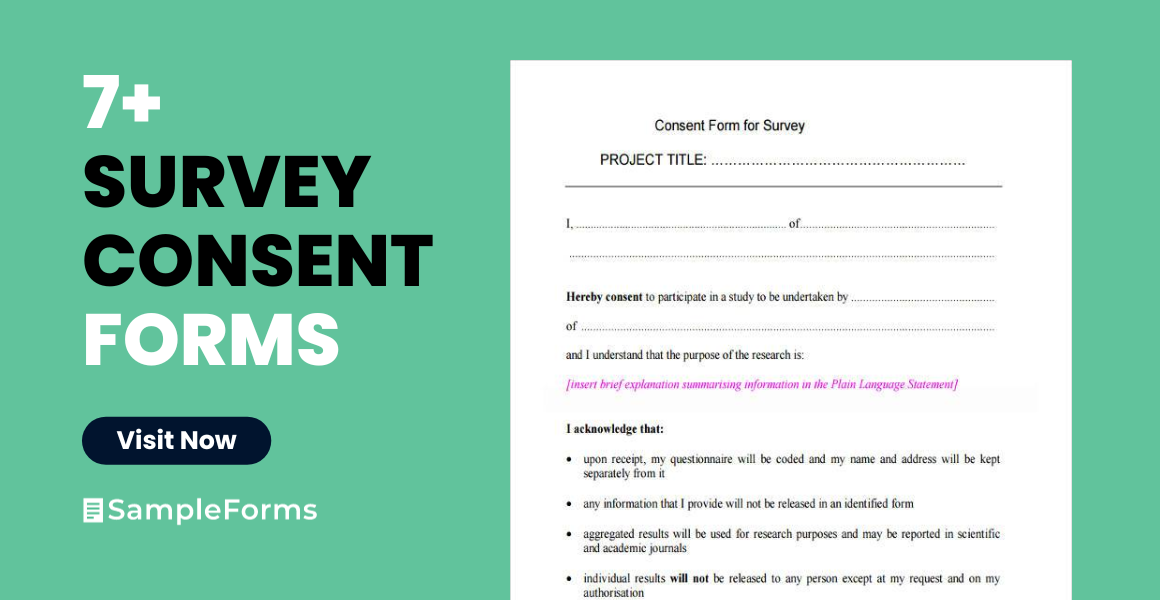 A survey is necessary for various research projects. Without voluntary participants, it would be difficult to do a survey, and you can't just ask someone to be a part of a survey and then start asking them questions then and there. You would need to present Survey Consent Forms and have those signed to avoid liability issues in the future. It can also be a great way to provide information to the participants as to what kind of study they will be participating in. That will surely excite and motivate them to participate.
Survey Informed Consent Form Example
Survey Parental Consent Form
Survey Research Consent Form
Survey Questionnaire Consent Form
Guidelines to Writing a Good Survey Consent Form
Introduce yourself or your group. If you are doing the survey as part of a research project for your undergraduate studies, indicate your course and which university or college you go to.
Indicate the purpose of the research.
It is important that you state that the information will be held confidential so that the participant can feel at ease. Also, state that they have the right to refuse participation at any point in the survey or leave a question blank if they feel uncomfortable answering it.
Specify the estimated time it would take to complete the survey.
Give instructions as to what to do with a completed survey.
Give details about a compensation, if any.
Provide contact information should the participants have any concerns or questions.
As much as possible, use simple and straightforward words in your Survey Consent Forms.
If your participants will be under the age of 18 or are minors, you would also need a Parent Consent Form signed by the parents or legal guardian.
Survey Participation Consent Form
Survey Consent Form Example
Sample Survey Consent Form
Consent Form for Anonymous Survey
Whether your survey would be online or face-to-face, a consent form is very necessary. There are various types of Survey Consent Forms, such as:
Survey Parental Consent Form: This is used to gain consent from the parent or guardian for a participant who is under 18 years of age.
Survey Research Consent Form: This is a consent form for participants for a research study. This is usually more complex than just answering a series of questions.
Survey Questionnaire Consent Form: This is if the survey just involves answering a questionnaire.
Online Survey Consent Form: This is a consent form for online surveys.
A survey really is a great way to record the opinions of people from different walks of life. It's great for doing comparisons and drawing conclusions from a set of data. It can be both exciting and tedious, and writing a consent form is just the first part of your survey. But a Survey Consent Form is more than just a form and a signature. It is a process and an agreement. It is your responsibility to make sure that the participants feel safe and are well-informed. You may also want to check our Questionnaire Consent Forms for informed consent forms for questionnaires.