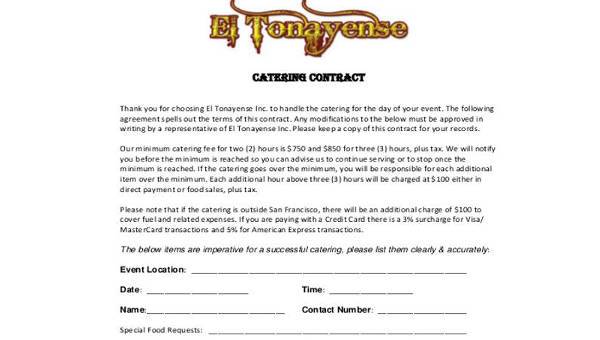 Organizing an event can take a lot of work. A number of aspects have to be taken care of when going about preparations: an organizer will have to see to it that important calls are made, Contract Forms are filled out and signed, venues are visited, and many other tasks that mark the success and memorability of an event are accomplished.
An important aspect that may either make or break an event is food and beverage. The organizer has the responsibility of making sure that all attendees of an event will enjoy every dish that is served. Choosing an excellent caterer is crucial, because after all, no organizer wants their event to be remembered as, "that one function with the horrible food."
Free Catering Contract Form
Food Catering Contract Form
Catering Service Contract Form
Catering Contract Format
Why Choosing the Right Caterer Is Important
The benefits of selecting a good caterer are not limited to getting service that is worth your money. In many affairs, serving sumptuous food is known to play a tremendous role in an event making a lasting impression on its attendees. Moreover, food quality, as well as presentation, depends greatly on the service provider chosen.
It is one thing to avail yourself of any catering service just for the sake of having food and beverage served at your event; however, choosing the right caterer – one that delivers and undoubtedly meets your standards – is another thing entirely. The overall success of your event can rely significantly on your chosen catering service provider. Hence, you have to be critical in making such a decision.
How to Select a Good Catering Service
Before you start browsing your local classifieds in hopes of finding the best caterer, knowing what to look for will prove to be advantageous. Like any other industry, catering service providers differ in terms of product and service quality, as well as the principles they follow. It helps to be aware of the characteristics that make a trustworthy caterer as doing this will allow you to have utmost certainty when you sign that Catering Contract Form.
Generic Catering Contract Form
Catering Contract Form Example
Catering Contract Sample Form
Simple Catering Contract Form
Free Catering Contract Form
Genuine interest in your needs. This particular trait can be identified through a catering service provider's responsiveness. One that will promptly address your inquiries and concerns, and goes out of their way to communicate with you is the caterer to choose. This trait is also especially important if the event organization your are spearheading is bound to run long-term.
Diverse menu options. While standardized menu options allow for easier decision-making, a caterer that is flexible and has diverse menu options is the best choice. After all, you would want the dishes served at the event you are organizing to be anything but plain. Your caterer should be able to present to you a range of options and help you attain your goal of providing a luxurious gastronomic experience to the event attendees.
Provides tastings. In relation to the traits previously mentioned, a good caterer is one who will arrange tastings. It is only sensible that you make sure that the food served during the event is indeed delicious.
A well-defined contract. This particular tool is what seals your relationship with the caterer you choose. Catering contracts can be just as important as House Contract Forms. You have to make sure that the caterer clearly states the inclusions, terms and conditions, cancellation clause, and other essential details.