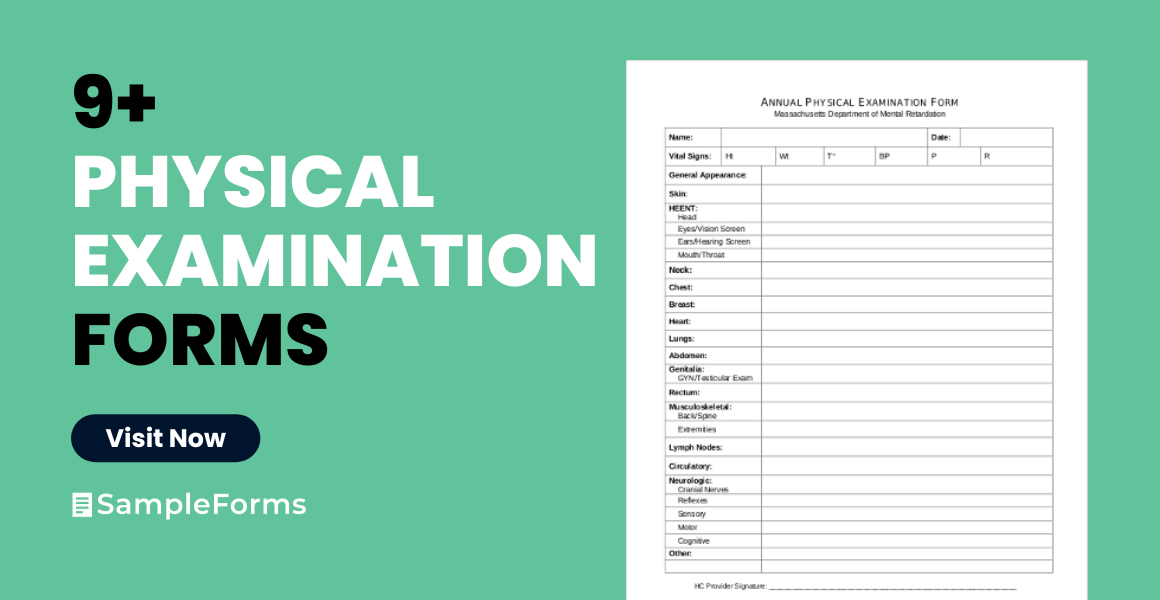 Being fit and healthy is key to a successful you. Even employers want their employees to be physically fit for the work required. A physical examination is typically conducted by the company's healthcare provider for the purposes of investigating the patient's body for any signs of illness, and furthermore, it evaluates if an employee is fit to do the job.
Are you a medical professional? You may check these Examination Forms which will provide you with the necessary check list for a physical examination. These templates have been created for your patient's medical examination needs.
Employee Physical Examination Form
General Physical Examination Form Sample
Medical Physical Examination Form
Physical Therapy Evaluation Form Example
Student Physical Examination Form
For medical practitioners out there, if you wish to get more information out of a comprehensive medical examination, check these Medical Examination Form templates, whether they be for the purposes of employment, athletics, forensic investigation, or for immigration medical exam. This helpful guide will surely help you in issuing medical instructions and straightforward medical exams. This friendly template is professionally formatted and guarantees a high standard as it has been duly reviewed by our panel of medical experts. Plus, it saves you time with its easy-to-interpret medical results.
Check this Health Examination Form, which may come in handy for any of the situations mentioned below:
you may publish this health examination form in your school website to decrease the long queue in the school clinic
for healthcare providers this will help you update your health examination form
can be a helpful tool for camp directors to have information for the campers' health issues
preschool-aged children for daycare teachers
healthcare practitioners for seniors assigned to the shelters for the elderly
This sample template comes in an easy-to-understand health examination data sheet.
Sports Physical Examination Form in PDF
Athletic Physical Examination Form
Annual Physical Examination Form Printable
Nursing Physical Examination Form
General Physical Examination Form
Are you planning to recruit new players for your school basketball team? As a coach, you need to ensure that your players are physically fit for the strenuous activities they will be engaged in. Requiring a physical exam certificate of them is vital for the health of the team. If your school clinic has a long queuing time, you may opt to  download and provide them with these Sample Sports Physical Forms to save valuable time and increases productivity. These physical examination form templates come with an easy-to-fill data sheet. You can edit and customize by adding the school contact information and the team's logo.
In addition, these templates provide you with tips such as:
how to keep the players' physical / medical examination documents for future reference
how to compare the players' previous medical documents
how to give valuable insights as to how your players progress periodically
This collection of health examination forms comes with these features:
MS doc and PDF file formats
easy and quick to download
saves your valuable time
professionally formatted
These health examination templates provide you the most efficient and convenient format possible. They are guaranteed to make your task stress-free.