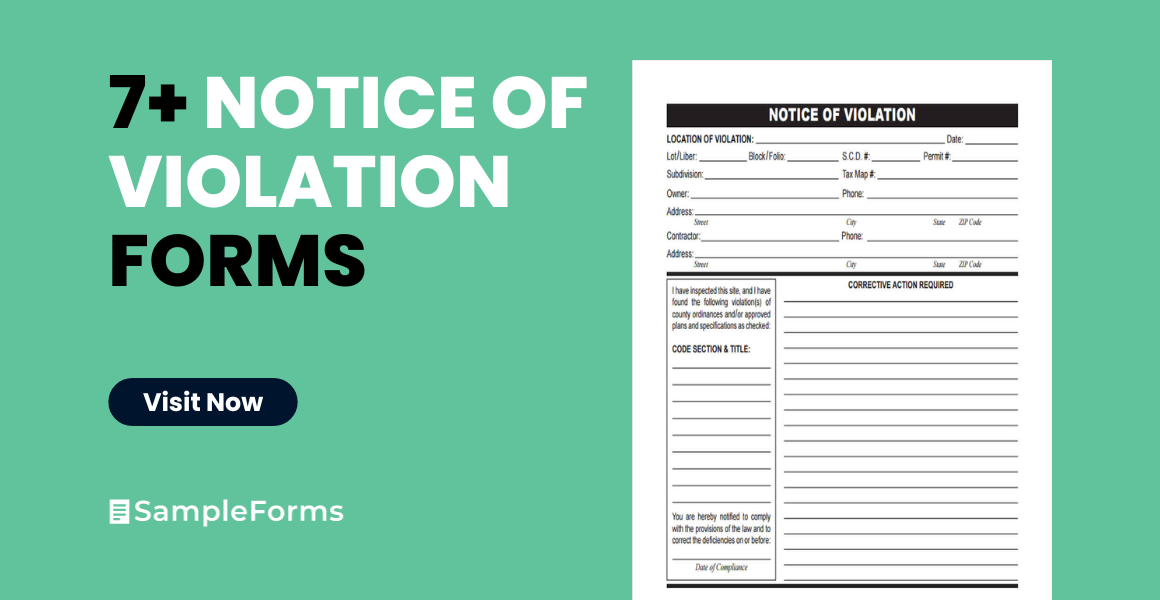 A notice is a great way of informing someone about the details of certain situations. For example, landlords give their tenants two weeks notice before they are evicted from the premises. It gives the tenant information about the eviction as well as ample time to prepare everything that's needed before clearing the area.
These are especially helpful to those that need to perform certain services within certain establishments. If anyone wishes to do work inside any building, or is planning on using certain materials for a job, then these people are required to provide a commencement notice that specifies the job as well as what materials will be used.
Notice of Lease Violation Form
Notice of Violation Appeal
Violation Complaint Notice
Notice of Violation Request
What is a Violation Notice?
A violation notice is something that is received by those people who have violated certain terms and conditions, some of which might be in accordance with the law. These are issued in the event that one manages to observe or has discovered any instances of violation.
A good example would be handing out a violation notice to a tenant in regards to their behavior. If this is not fixed, then there will be consequences, such as being handed Eviction Notice Forms which requires one to vacate the premises due to certain actions.
What to do if you Receive a Notice of Violation?
Depending on the type of violation you have received, it may come with some form of fee which you will be required to pay. If it is similar to a 30-Day Notice to Tenant prior to eviction, then you have a limited period of time to pay the fee.
If you were not responsible for the violation, then it's best that you request for an appeal to overturn your violation. All you have to do is provide the details that prove that you did not cause the violation, and possibly hand out statements that a third party may have done it.
Standard Notice of Violation
Notice of Copyright Violation
Notice of Hearing on Probation Violation
Notice of Violation in PDF
Tips for Answering a Notice of Violation
People try to do what they can in order to avoid violating any policies or rules, but there may be instances where these situations cannot be avoided. So if one plans to respond to a violation notice, then here are some tips to follow:
Look into the reason of the violation, as well as the guidelines and procedures of how you should respond.
Submit a letter that contains the steps that you will take in order to correct any violations that you have caused and the date of when you have complied with the corrections.
If there is more than one violation that you have committed, then be sure to respond to each of them effectively.
Make sure to keep a record of the violation notice.
Include other requirements that might be required of you.
So in the event that you receive forms such as Notice to Vacate Forms which tell you to leave the premises after a set time, then be sure to use these forms to properly respond. However, if you are the person that plans on giving notices to certain people, then view any of our Notice Form Examples and use them for when the opportunity calls for it.