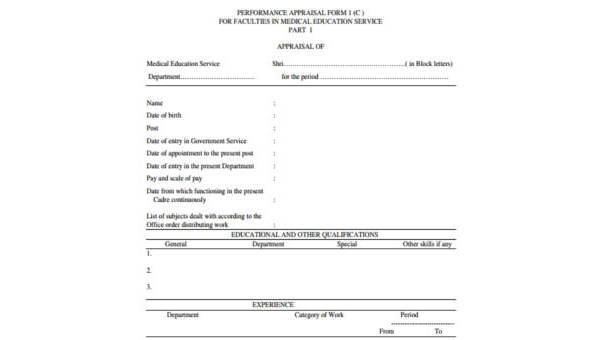 The medical field requires people who have the skills and qualifications to handle many different kinds of medical situations. These people need to be highly trained, and they need to know what they're doing at all times. It's their job to make sure that people stay as healthy as they can be, or to cure those who need their help.
However, how would they know if they're doing a good job or not? Or if they are performing at their best or worst?
There's one easy way for them to find out, and that's by looking through their Medical Appraisal Forms and checking the status of their performance.
Medical Representative Appraisal Form
Medical Performance Appraisal Form
Staff Performance Appraisal Form
Traveller's Medical Appraisal Form
Medical Appraisal Form Example
The Different Kinds of Medical Appraisal Forms
There are various Medical Health Appraisal Forms that allow medical practitioners or professionals to evaluate their performance or even the performance of their own colleagues. Here are some examples of these types of forms:
Medical Representative Appraisal Forms are the kinds of forms that are used to appraise those who are in charge of selling pharmaceutical drugs or even medical equipment. These determine if the medical representative is doing a fine job of selling and is able to answer questions related to the products along with being able to provide product awareness.
Medical Performance Appraisal Forms are forms for those who need to properly evaluate the professional performance of certain medical practitioners. These make sure that the subject practitioner has the knowledge and skills to perform the services required of someone of his profession.
Medical Staff Performance Appraisal Forms are used by those who wish to appraise the staff at certain clinics or hospitals. This makes sure that the staff members are highly skilled and understand what to do in any given medical situation.
Universal Medical Appraisal Form
Preliminary Medical Appraisal Form
Medical Appraisal Guide Form
Medical Appraisal Form in PDF
General Medical Appraisal Form
The Importance of Having Medical Appraisal Forms
It's really important to make sure that people who are in the medical field are properly evaluated. These people are in charge of the health and safety of others, after all, so we have to know if they're qualified to handle the different kinds of procedures that they'll be performing on their patients.
There are forms such as Medical Performance Appraisal Forms which allow those authorized personnel to assess how each and every medical practitioner is able to do their jobs.
These forms help hospitals know which doctors, nurses, or even representatives are doing a fine job and if they're keeping up with the standards of the hospital. If the hospital believes that a certain employee might not have the education or skill to perform this kind of service, they can use these Appraisal Forms to find another person who can.