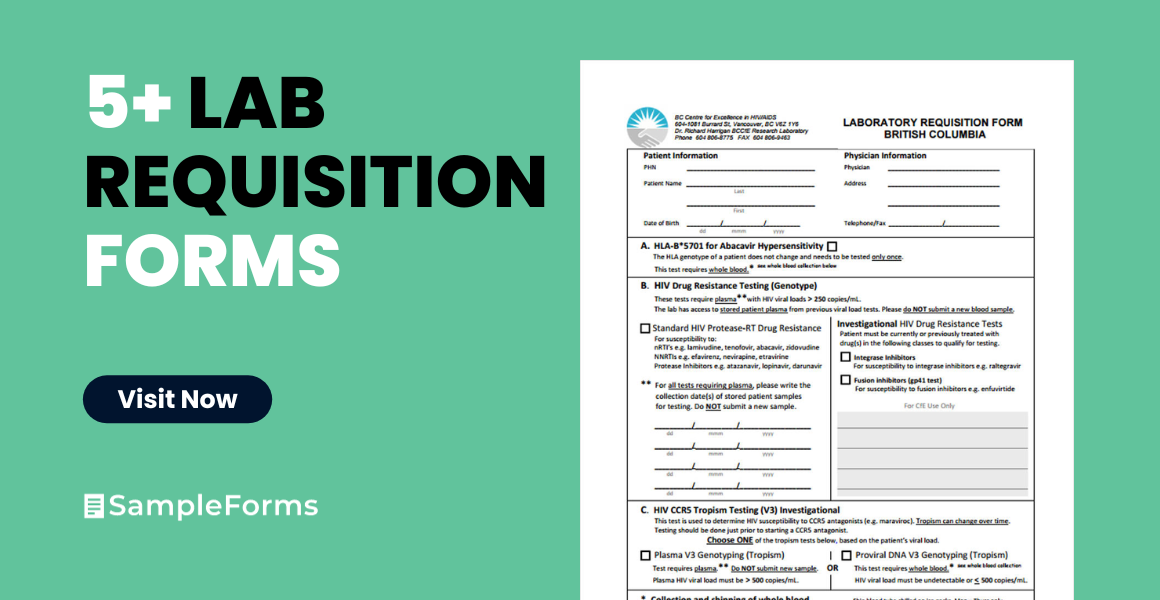 Requiring something is not as simple as walking in to an office and having it in your hands within a few minutes. Accuracy and formality comes into play when one is need of a particular service, object, or information. If an individual is interested in a few items from a supplier, the supplier would want specific details on the purchase, a Purchase Requisition Form is provided to the buyer. To make the objective clearer and the process smoother, requisition forms are important documents duly given and kept by various companies and institutions.
In a laboratory test, technologists, scientists, and technicians perform a variety of tests in correspondence to what is requested and background details of the patient or specimen. Requisition forms uses a format that ensures the information is not only correct but precise as well. It is because of this format that medical professionals have an easier time when it comes to their diagnoses and prognosis.
Laboratory test requisition
Lab Requisition  Sample
Auto Antibody Test Requisition
What is a Lab Requisition Form?
To be familiar with the idea of it, a requisition form is a form that enables a person to formally request whatever service, information, or products they are in need of. This form can apply to various fields such as purchase requisition forms, equipment requisition forms, and Training Requisition Form.
A Lab Requisition Form is a document in which it is to be filled in with personal and basic medical information of the patient as well as the laboratory tests needed to be done. Details on this form are important as they can influence the outcome of the laboratory test results.
How Long is a Lab Requisition Valid For?
Whether it be a hospital or a science laboratory, the process of tests from one patient can require some time before moving on the next patient on the list. At times, circumstances allow some tests to be inserted and cut in the line as it is urgently needed at the moment.
With that, it is possible that you will not be able to acquire the laboratory tests right away. It is important to keep in mind that the lab requisition for one year from the date of issue. After that one year, you must fill in a new Lab Requisition Form in order for it to be considered as a valid requisition.
Outpatient Laboratory Requisition
Private Pay Laboratory
Neurology Test
General Tips in Ordering Lab Tests
Ordering lab tests may seem like a tedious task since it is required to fill in information that stem from basic information to one's medial history. This tedious process extends to business companies where in they use Purchase Requisition Forms, Employment Requisition Forms, Equipment Requisition Forms, and Training Requisition Forms. When looking at a requisition form with a lot of boxes to fill in, it may feel overwhelming or slightly confusing to the individual. Here are some tips to ease out the process when ordering lab tests.
Tip 1: The material it is written on matters since the proper paper used can show people that it is not a fraudulent form. Lab test orders should be using papers that are imprinted with the company's logo or may come from a prescription form of a qualified medical practitioner.
Tip 2: If it is being asked, prepare the related documentation required in order to avail of the laboratory service.
Tip 3: It is important for a physician or a medical practitioner to sign the lab requisition form because the signature indicates that whatever is written is valid and truthful. If the signature cannot be easily identified, a printed name should be found below the signature.