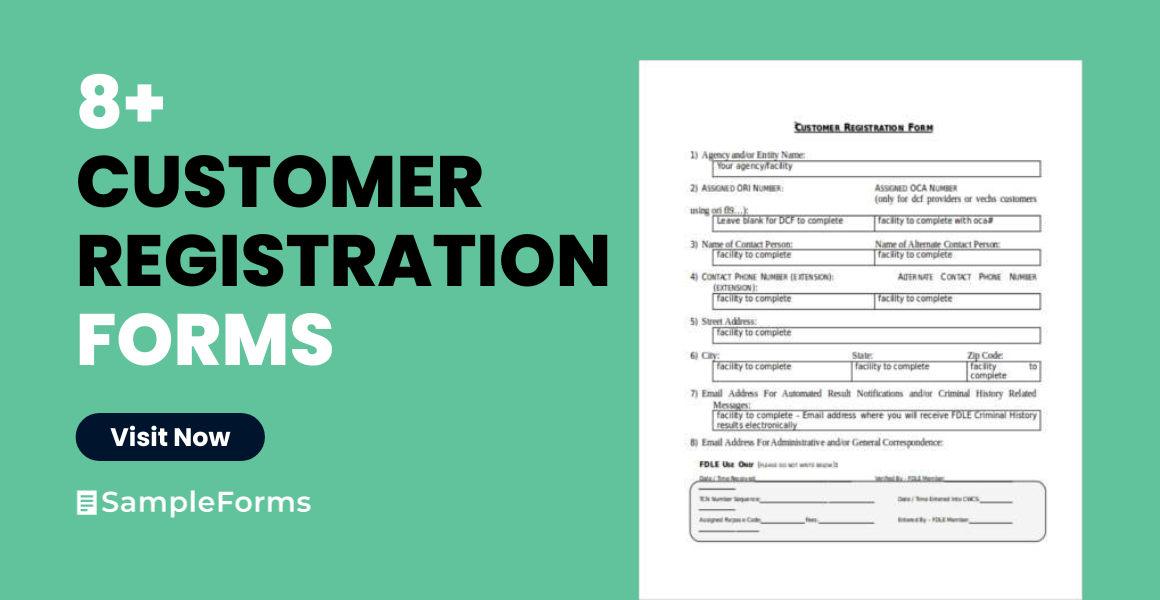 Registration Forms have always been used by companies and organizations for various business purposes, but a Customer Registration Form is specifically filled out by customers of a business to register them for complaints, demography, customer preferences, or sales purposes. A Customer Registration Form can also be a great way for businesses to have a general profile of their customers for marketing purposes. Like any other registration form, each type of Customer Registration Form is tailor-made for the specific needs of the business. You may see our samples below for ideas on how to get started on the Customer Registration Forms for your company.
New Customer Registration Form
Customer Complaint Registration Form
Customer Registration Form in Doc
Individual Customer Registration Form
Importance of Customer Registration Forms
Complaints: A Customer Registration Form can be used to keep track of complaints. This will help to identify what the most common complaints are and formulate action plans designed to target those complaints.
Demography: You can use Customer Registration Forms for statistical purposes. It can serve as a sort of survey form to find out which age group or gender your products and services are mostly used by. This will also help with formulating marketing strategies based on the demographic data.
Customer Preferences: Because you will be asking information from your customers, you will also be finding out what their preferences are. This can help you better understand your customers and their needs, and improve or build products and services that will cater to those needs.
Customer Education: A Customer Registration Form can also be a mode of communication used to inform your customers about certain terms and conditions in using your products and services.
Sales: They can also be useful to keep track of revenue by noting down the services and goods purchased and what payments are due, and to keep track of any refunds as well. This can also help you see how well you are doing, because it provides information on how many customers have registered and used your products and services. If you own a hotel or resort, you may also need to use Hotel Registration Forms.
Customer Registration Form in PDF
Corporate Customer Registration Form
Customer Registration Form Example
Free Customer Registration Form
Simple Customer Registration Form
Important Things to Remember
Only ask for relevant information. Each business is different, and you would need different kinds of information from your customers. Ask only questions or information that are relevant and would actually help your company achieve its goals.
Explain why registration is necessary and what they can get out of it. This may not be necessary for every business, since most customers would understand why registration is necessary, like in banking. If you provide any tokens for the customer for registering, like in online registrations, provide instructions on how they can claim it and when.
Assure the customers that any information they give out will be treated as confidential, and will only be used for business purposes and not for any unintended purpose. If you want, you may include information on what the information will be used for.
It doesn't matter if a business is a small one or even a big corporation. Each business can benefit from using Customer Registration Forms to help them get to know their customers. This is important because the customers are the backbone of every business, and their needs and wants are the very reason why businesses exist. For organizing events, you may also use Event Registration Forms.