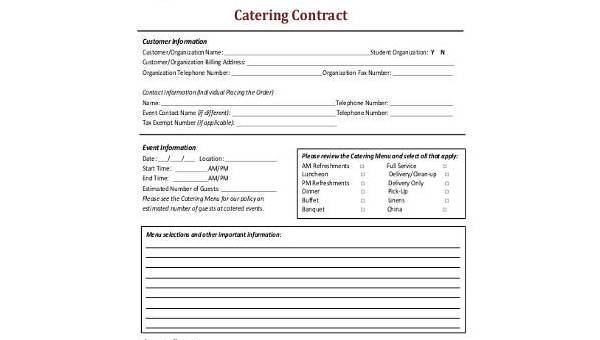 Caterers are vendors who can make or break your event. A catering service can complement the type of impression you want to give your guests, and you must therefore make it a point to ensure that your choice of caterers clearly understands every aspect of your event.
Each client who requires the services of a catering company has different needs. Setting up a Catering Contract will help you give a thorough outline on the specific type of service you expect from them. Our Contract Forms include a wide array of Catering Contract Forms that you can choose from to help you structure the perfect agreement between you and your caterer.
Standard Catering Contract Form
Wedding Catering Contract Sample
Catering Business Contract Form
Food Catering Contract Form
Printable Catering Contract Form
How to Whip Up a Perfect Catering Contract
Caterers are usually called for when hosting big events such as weddings or company parties. When drafting a contract for a catering business, it is important to allow clients to clearly and thoroughly express their expectations to make the event a successful one. Below are tips on how to present your client with a Catering Contract Form that can help you provide them with excellent service.
Provide Details
Your Catering Contract should provide a list of all the necessary items needed in the contract: details such as the name of your client, the type of function being hosted, the location of the venue or the reception, the number of guests, and the menu to be served during the event.
Deposits and Reservations
The next crucial part of a Catering Contract is to indicate the reservation of the event's date and the amount required for deposit in order to close the reservation. Some catering businesses usually require at least a 50 percent deposit of the total bill to enforce a reservation. Your contract should also state when the final payment is due. Outlining this information helps to avoid misunderstanding and misinformation between you and your client.
Free Catering Contract Form
Catering Service Contract Form
Catering Contract Form Example
Catering Contract Form in PDF
Set Proper Terms for Cancellations
Be sure to indicate a clear and transparent policy pertaining to cancellations. Refunds for a cancelled event will normally depend on the gap between the date of the event and the time it was cancelled. If the reservation was cancelled at least 3 months or more prior to the said date, then you still have ample time to book another client and give a bigger refund.
Left overs
Some clients prefer to take home leftover food after the event. However, certain health regulations in some states prevent the caterer from giving away leftovers to clients. Check with the laws indicated in your state so that you are able to set proper expectations for your clients after the event.
Liabilities to Suppliers
Food is not the only aspect that makes an event. Other vendors and suppliers will also be needed to provide equipment or other essential party needs. Make sure that your clients are able to sign Rent Contract Forms for the use of rental equipment, and make sure you indicate a clause in your contract that removes you from any liability of damaged equipment that was not returned.
Signatures and Contact Details
As with any other contract, you and your client's signature should be affixed at the bottom part of the agreement. It would also be a smart idea to include your contact details for when the client wants to get in touch with you for any additional changes to the planning of the event.