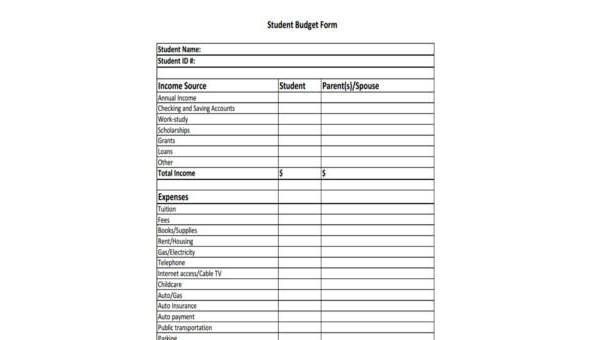 Learning how to budget is a smart and useful practice for you to be able to properly control the amount of money that you spend and not waste it on unnecessary things. Budgeting when done right enables you to plan for your future, pay off debts, and leave you with an ample amount of money to put into your savings.
Budgeting, however, can be quite a challenging task. Controlling yourself not to buy the things that are not included in your budget or stopping yourself from impulsive buying is not as easy as it seems. One way to properly manage your money is to utilize Budget Forms. Our Sample Budget Forms are just the thing you need to help you properly manage your money and spend it wisely.
College Student Budget Form
Student Budget Planner Form
Student Budget Form in PDF
Printable Student Budget Form
Budgeting for Students
Students can find budgeting to be more of a challenge, especially since they are merely relying on the allowance allotted to them by their parents or money they earn from part-time work. Below is a list of aspects where you can make budgeting easier.
Make a List of Expenses
With the use of our Sample Budget Forms, write down your income and list your expenses. Actually seeing the physical figures of your expenses creates more weight on your psyche and helps you become more aware of how much money you spend every month, which items are a priority, and which areas can be cut back, such as learning to cook your own food instead of relying on fast food joints, or making your own coffee instead of buying.
Organize Your Finances
Income, allowance, or loans are usually given in lump sums. Separating your money and putting them into different savings accounts can help you organize your finances and allow you to properly segregate the money that you need to use for different purposes.
Student Budget Form in Word Format
Free Student Budget Form
Student Budget Form Example
Generic Student Budget Form
Professional Student Budget Form
Maximize Your Resources
Maximizing your resources could help your income and your allowances go a long way. One way for you to save is to learn how to cook instead of constantly eating out, or selling old textbooks and unwanted presents online or on campus noticeboards.
Manage Your Debt
Be cautious when applying for credit cards and student store cards. It would help you maximize your funds more if you apply for cards that offer 0% interest rates. Remember that having a pile of debt can be your biggest hindrance to proper budgeting and saving.
Monitor Your Expenses and Learn How to Cut Back
Carrying less cash and having more of it in the bank helps you spend less and makes you monitor your expenses more. Another way to save money and maximize profit is to learn to cut back on unnecessary expenditures such as cigarettes or an over-indulgence of shoes or clothes.