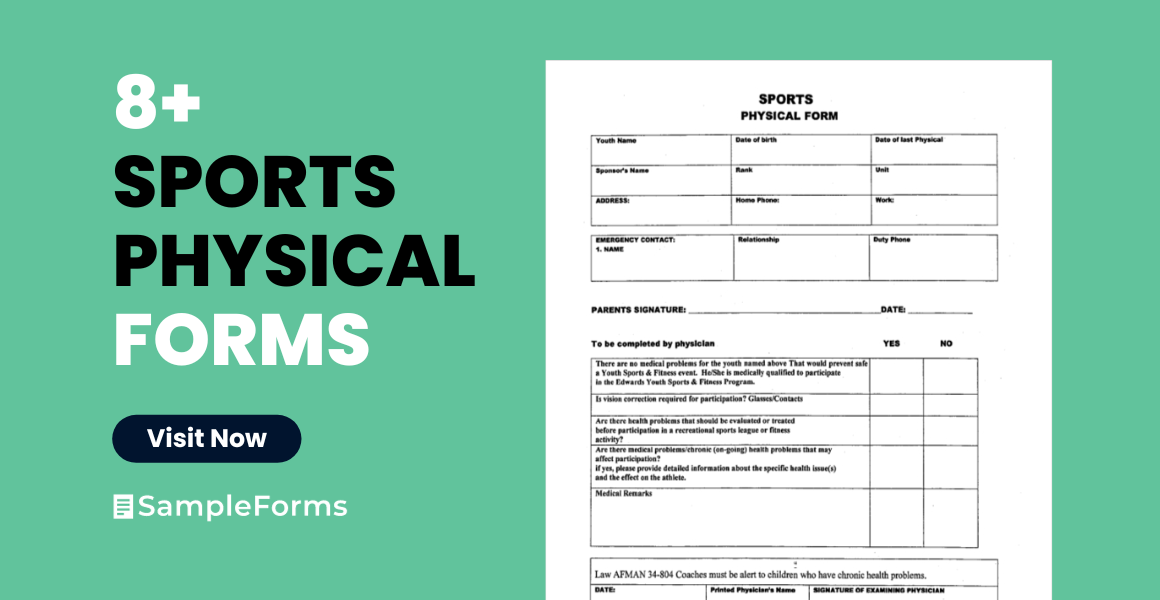 Going to the field for the next big game is one of the greatest ways to entertain oneself. But before you can really take your team out there, it is important to analyze each member to make sure they are physically fit and healthy enough to take part in the coming games. Of course, the assessment should not take much of your time really, because, the best thing us, you can use the following Physical Forms to make the checking process rather simple.
High School Sports Physical Form in PDF
You need to assess each student in the team and see if they are physically fit enough to take part in the coming game. Here is a sample file that will get you enough information about every individual.
Sample College Sports Physical Form
College teammates must be assessed before they are allowed to take part in a match. The pre-participation examination will help you do that in the shortest time possible. You can download this file by clicking the following link. You may also see Physical Examination Forms.
Youth Sports Physical Form Format
Young people under your team leadership nerd medical assessment before they can take part in any future game. Here is a form you can use to collect as much health information from them as possible.
Downloadable Standard Sports Physical Form
This form is suitable for the examination of any team level. So, if a general sample template is what you are looking for, this one will make your work a lot simpler. And it is free to download. You can also see Physical Assessment Forms.
Generic Sports Physical Form
The purpose of this file is to help you assess the health condition of every member of a sports team. You want to be sure that they have a clean bill of health before you can allow them on the field to play.
Athletic Physical Form
Creating this form from the ground up is not going to be easy. And because that's the case, it is important that you consider downloading an existing form as an alternative. Here is a form that is good for you. You may also see Sample Medical History Forms.
Sports Qualifying Physical Examination Clearance Form
The only best way to determine whether a player in your team is fit to take part in a game is by conducting a physical assessment. Here is a sample file that you can use to do just that. you can also see Medicare Forms.
Physical Examination Clearance Form
Physical examinations are conducted to determine whether a team member is physically fit to take part in an upcoming match. Here is a sample template that you can download for free and use for the assessment.
Sample Preparticipation Physical Evaluation Form
If you are wondering how a physical examination form for sports looks like, here is a sample file that you will find useful. The file gives you a complete idea on how to structure your own form although you can use it as is to save time.
What are The Uses of The Physical Forms?
Every form in this thread has one purpose: to enable you to examine your team members' physical health, and then use the results to decide whether they are fit to take part in a match. Of course, it wouldn't make sense to take someone who is not fit into the field, whether for a small game or a tough match. You need to make sure that each member of your team can play every game without any health complications. You may also see Health Examination Forms.
The examination process also helps you to develop an effective health plan that will enable you to look into the health status of team members who are not fit for the games.
The Benefits of Physical Forms
Creating these files yourself is not going to be an easy task. In fact, it may take you a lot of time to get a single page done. Downloading a built form just saves time, and it is the best thing to do overall.
An important thing to remember is that these forms don't cost a dime. And you do not require any license to use them for personal and well as commercial projects. So, feel free to download the forms, customize them, if need be, and use the wherever and whenever necessary. you can also see Sample Medical Examination Forms.
One of the best things about examining your team is that it helps you put the right people in the field. With the right people in the field, you can be sure that a game that you've spent a lot of time training the team form will not just start well but also finish well.