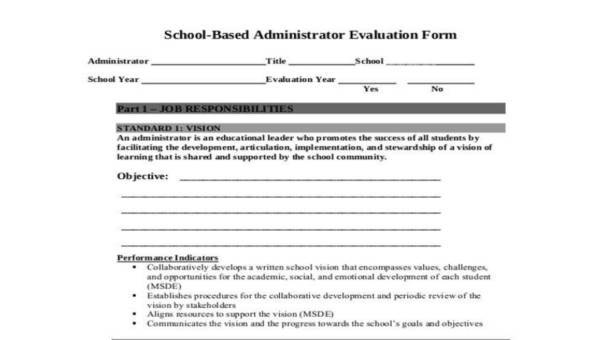 An Evaluation is a constructive tool that is used in school or in an office setting in order for management, administrators, or teachers to calibrate the level of performance of an individual or an organization. A lot of people dread evaluations because they neglect to see the positive effect that it contributes.
An Evaluation is typically done and documented using an Evaluation Form. An Evaluation Form helps those who are conducting the evaluation properly document their assessments and allows them to follow a systematic process of determining an individual's worth and performance, based on a standard set of criteria.
School Self-Evaluation Form
School Evaluation Instrument Form
Head Of School Evaluation Form
Summer School Evaluation Form
Sunday School Evaluation Form
High School Counselor Evaluation Form
Student Evaluations
A Student Evaluation is an assessment tool used by teachers to gauge a student's level of performance. Teachers will usually look at a broad range of activities and tasks such as observations, worksheets, essays, presentations, group works, performances, and exams in order for them to determine this. 
Teachers do not just conduct Student Evaluations in order to evaluate a student's level of knowledge and understanding; they also conduct assessments in order to see how effective their teaching methods are, to calibrate their teaching processes in order to improve the way they inculcate their students, and to help them determine in what areas do students need to work more on.
Forest School Evaluation Form
School Nurse Evaluation Form
School Principal Evaluation Form
School Superintendent Evaluation Form
School Administrator Evaluation Form
A Student Evaluation can be based on different areas of school activities or school work. Below is a list of examples:
Tests or Exams
Testing your students is a diagnostic tool that helps you determine the type of information that your students already know and at the same time gives students feedback. Test or exams can be given to students in different formats:
Presentations
Presentations allow teachers to gauge a student's way of delivering the things that he has learned. This does not only assess the acquired knowledge of a student, but it also enhances his confidence and his ability to perform in front of an audience.
Oral Participation
Oral participation helps to let a teacher assess the student's interaction skills as well as his preparedness and knowledge in class.
Group Activities
By allowing students to learn and present topics through group activities, teachers will be able to gauge an individual's social skills and his ability to work together with a team. Group activities enhance sportsmanship as well as social interaction among students.
Conducting an Evaluation in school requires proper documentation in order to provide organized and accurate feedback to parents, students, or administrators. You can download our Student Evaluation Forms and Teacher Evaluation Forms to serve as your assessment guide and save you from the hassle of having to whip up an Evaluation Form from scratch.