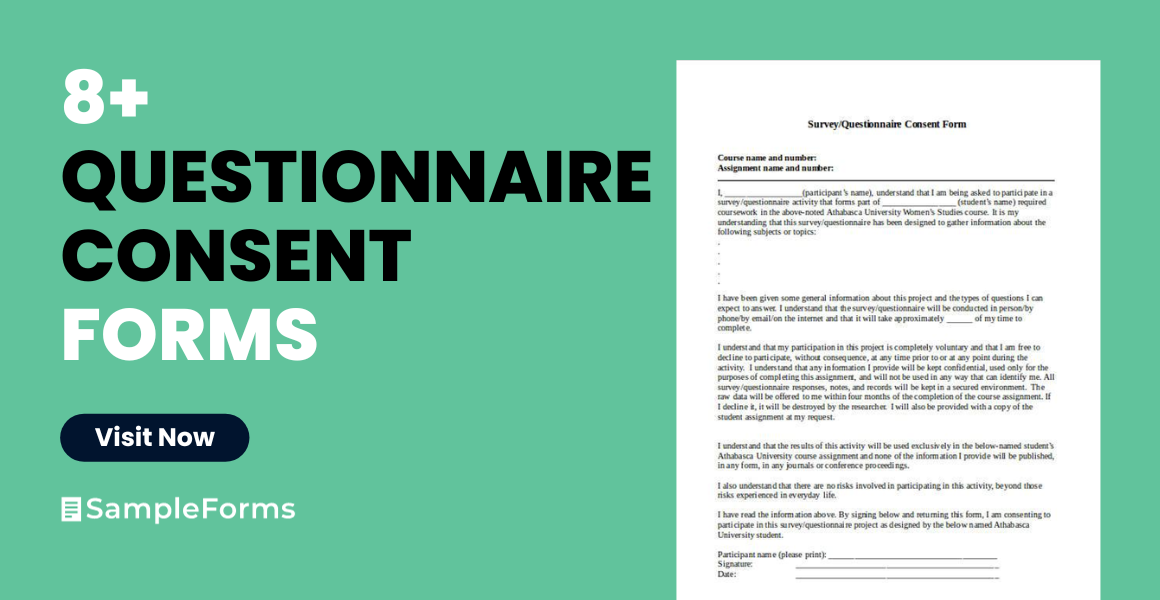 Are you conducting a research? Do you require participants to collect data for your research? If so, you would need Questionnaire Consent Forms. A questionnaire is a set of questions with a choice of answers used to collect data for statistical purposes. Before you can ask someone to answer one, you would need a Questionnaire Consent Form to outline the details of the research study you are doing so that the participants will be well-informed and so you can properly gain their consent. This also provides participants with information as to what extent their participation will be. Aside from research purposes, a Questionnaire Consent Form can also be used for vaccination screenings and health screenings.
Research Questionnaire Consent Form
Survey/Questionnaire Consent Form
Health Questionnaire Consent Form
Questionnaire Informed Consent Form
Uses of a Questionnaire Consent Form
Research: Questionnaire Consent Forms could serve as a tool to inform potential participants, and remind them of their applicable legal rights. It can also serve as an outline for the collection of data and all the information that has to be conveyed to the participants before they actually start participating in your research study.
Vaccination Screening: Before a person can be vaccinated, he would be required to answer a checklist to assess which vaccines may be administered. This questionnaire also serves as a basis if further questions must be asked prior to vaccination. In this use, a Questionnaire Consent Form also indicates acknowledgement statements that have to be signed by the patient, which includes acknowledgement that the patient understands the benefits and risks of the vaccine among other things.
Health Screening: A Questionnaire Consent Form can also be used to assess a person's fitness prior to joining a new sport, exercise regimen, or physical activity. This helps to prevent any illness or injury that can be triggered from an underlying medical condition by limiting the activities to be performed by the person, if necessary. It also protects the organization that conducts said activities from liability issues, should there be injuries that occur during said activities.
Questionnaire Participant Consent Form
Screening Questionnaire Consent Form
Free Questionnaire Consent Form
Survey/Questionnaire Consent Form
Elements of a Good Questionnaire Consent Form
It is essential to state and have the participants acknowledge that their participation is voluntary and can be revoked at any point in time during the research study or activity.
There must be information provided on the purpose of the study and all the procedures that have to be done to achieve that purpose, so that the participant will be knowledgeable of the extent of their participation in the study. Doing this can avoid misinformation and misunderstandings, which could lead to legal liabilities.
It is important to outline the benefits and risks associated with the study.
Lastly, it is very vital to indicate that the researcher will keep the participants anonymous and the information collected through the questionnaires will be kept highly confidential and only used for research purposes. This part can be in the form of an acknowledgement statement that has to be signed by the potential participants.
Gaining someone's consent is not just purely for legal purposes, but serves a moral reason as well. It is only right to make sure that people make informed decisions before they participate in any activity, and not go into it blindly. You can also check our Survey Consent Forms for more samples on consent forms.