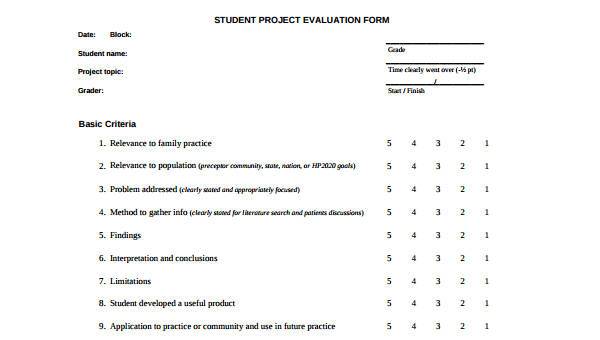 Projects are being done every day. Schools can make students do certain projects that will further develop their education. Company managers can even start projects or have employees conduct different kinds of projects that could improve the state of the business.
However, how would these students or employees know if the project being done is beneficial? How would they know if the project will do anything to contribute to their education or the success of the business?
Schools and Companies can use Project Evaluation Forms to assess whether or not these projects are worth the time and resources.
Post-Project Evaluation Form
Research Project Evaluation Form
Project Team Evaluation Form
Sample Student Project Evaluation Form
Post-Project Evaluation Form Example
The Different Kind of Project Evaluation Forms
There are various types of forms that can be used to evaluate the different types of projects of schools and organizations. It all depends on the type of project being conducted and the type of form needed. Here are some examples of these kinds of forms:
Project Team Evaluation Forms are used by those students or employees who propose and start projects that require more than one person. These are usually used by a team of any number and evaluate how well all the people in the project coordinate with one another.
Post Project Evaluation Forms are forms used to evaluate the project after it has been finished. It assesses the final output of the project and determines if it was beneficial or not.
Research Project Evaluation Forms are used mostly by schools to evaluate the kind of research the students are doing for their project.
Final Project Evaluation Forms are mostly used in schools for students who need to conduct final projects for a class. These assess the quality of the final project and assess if the students are ready to enter the next level of education.
Group Project Evaluation Form
Peer Project Evaluation Form
Team Project Peer Evaluation Form
Final Project Evaluation Form
General Project Evaluation Form
The Importance of Evaluating Projects
A good project is determined by how well the research is done, how relevant the topic is in today's modern society, and how well it's executed. If it's a team project, then it's a leader's job to assess how well his teammates contribute to the project with the proper Peer Evaluation Forms.
A project needs to be properly assessed because the information gathered from it could very well prove essential in the advancement of education, or it could even lead to breakthroughs.
Companies need to assess what resources a project needs, otherwise they could end up wasting resources that could have otherwise been used for other projects. It's all about improvement and if done right, these projects could improve learning processes and businesses.