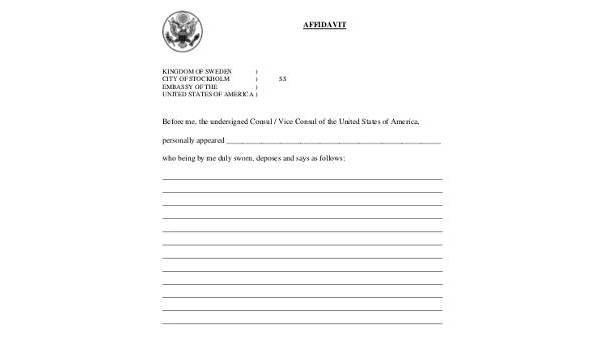 An affidavit is a written document that contains an affiant or a declarant's sworn and factual details. Affidavits are typically used in the process of presenting evidence in a court hearing and are usually provided by individuals who are supplying supporting details in relation to a case.
Our ready-to-use Affidavit Form templates are available for download in .doc and .pdf formats. These easily accessible affidavit templates are extremely useful and handy for lawyers in court or even individuals who are applying for visas or school and college admissions.
Printable Blank Affidavit Form
Free Blank Affidavit Form
Blank Financial Affidavit Form
Blank General Affidavit Form
Why Do You Need an Affidavit?
An affidavit is deemed necessary to be presented in the following situations:
When an individual whose identity or whose proof of identification has been stolen or used without his/her permission
When there is a need to provide proof that a statement is real especially in legal cases
When organizations are needed to be informed for name changes, death, or any kind of changes and/or updates that are essential to be recorded
When a company or any entity asks for residency confirmation
When there is a need for claims, receipts documentation, and legal statements to be verified
An affidavit should be voluntarily given by an affiant, and the details that are contained in an affidavit need to be genuine. Since most affidavits are used in legal, professional, and/or business processes; it is important for statemetns to be put together accordingly. It should also be well-formatted and easy to understand so assessment of details will be easier. Any false statements contained in the affidavit are subject to perjury charges which may result to penalties, community service, or even imprisonment. Attorneys can download our Blank Affidavit Forms to help them save on time in generating an affidavit for clients. Simply download the files, customize them, and print them out!
Blank Name Affidavit Form
Blank Sworn Affidavit Form
Blank Affidavit Form Example
Generic Blank Affidavit Form
Free Affidavit Form in Word Format
Simple General Affidavit Form
Types of Affidavits
A Sworn Affidavit Form differs according to its use. We have listed a few types of affidavits below so you can identify which one to use on particular situations.
Death Affidavit – A death affidavit is important to be created to ensure that entities who needs to be aware of a person's death will be given information about it. This document is usually needed by the employer of the deceased, organizations where the individual is affiliated with or a member of, and government offices/agencies that provide benefits to the family of the deceased.  
Identification or Personal Information Theft Affidavit – This sort of sworn statement is typically utilized as a part of the notwithstanding clause when a person's documents that serve as proof of his identification have been stolen or compromised.
Financial Affidavit – A Financial Affidavit is a type of affidavit that provides details supporting a person's financial status such as the amount of money they have on savings, the amount of salary they make each year, as well as their material assets. These types of affidavits are commonly used in divorce cases.
Affidavit of Name Change – This type of affidavit is commonly provided to employers or government agencies to notify them of a person's change of name.
Affidavit for Small Estates – These types of affidavits provide the legal consent for an individual or a family member of a deceased person to distribute any assets that have been left behind in the event the deceased person has not left a will.
Affidavit of Residency Confirmation and Verification – If you need a proof of residence, an affidavit of residency is one of the documents that you can use. This is a written document that ensures entities that you are truly living in the location that you have specified. It is very important to present this document in processes relevant to employment, education, and tenancy.
Affidavit of Support – Living in the United States require a foreign entity to supply the necessary documents for immigration. One of these documents is the affidavit of support. This document is very important as it allows the government to confirm that there is an American sponsor that can support the travel and other needs of the individual who will reside in the country.