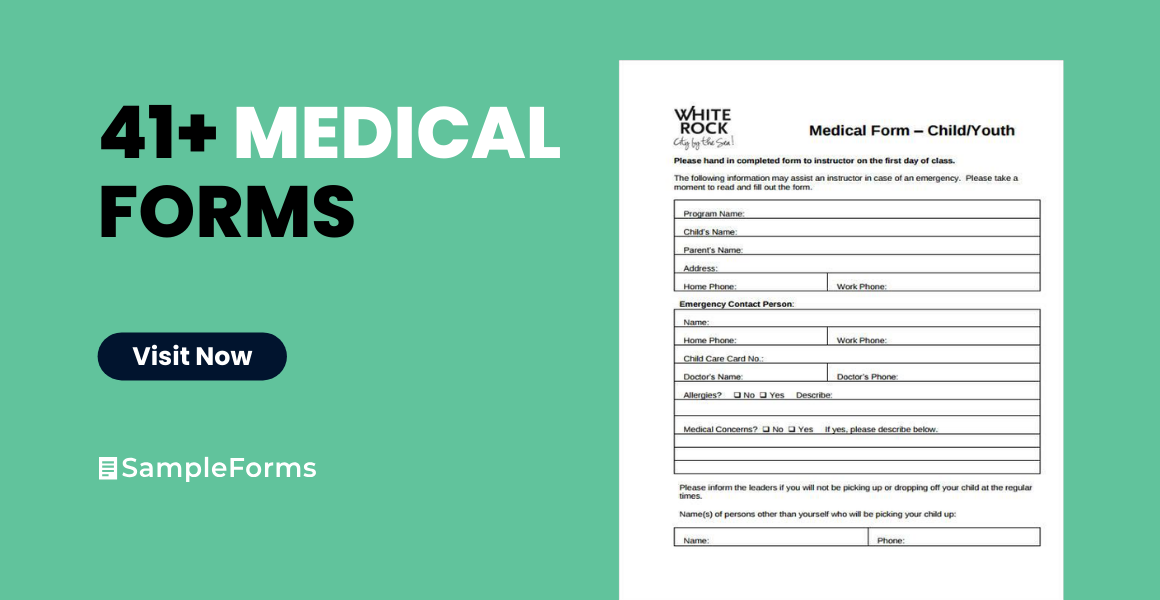 When it comes to the health and well-being of a person, one cannot be too careful especially when someone's life is on the line. Healthcare workers and clinicians need to take extra precautionary measures in order to guarantee that everything is in good order, is organized, and is painstakingly documented to guarantee the veracity of the data being stored and the information that is being used as a reference.
Accuracy is essential when dealing with medical issues. In order to minimize errors, especially in documenting medical concerns or medical-related issues, different forms can be utilized. Medical Forms are forms that spin around the purpose of recording any type of information or data involving healthcare.
Printable Medical History Forms
Free Printable Medical History Form
New Patient Medical History Form
Medical History and Screening Form
Medical Office Forms
Medical Centre Registration Form
Medical Information Communication Preference Form
Medical Office Assistant Application Form
Medical Billing Forms
Medical  Insurance Claim Form
Medical Office Billing Designation Form
Health Insurance Claim Form
Medical Release Forms
Event Medical Release Form
Player Medical Release Form
Medical Treatment Release Forms
Printable Medical Excuse Forms
Request for Medical Excuse Form
Physical Education Medical Excuse Form
Hospital School Excuse Form
If you are a physician, a clinician, an insurance company staff, or a hospital administrative staff, and you are looking to print out forms that you can use for paperwork and documentation, you can use our sample medical forms. You can choose from a wide array of medical forms ranging from Medical History Forms, Medical Billing Forms, to Health Insurance Claim Forms. Our sample forms come in Doc and PDF formats for your easy access and convenience to help you save on time and money.
Medical forms are utilized by hospitals, healthcare providers, and medical institutions every day. There are various kinds of medical forms which are usable for recording medical findings, documenting the information of patients, assessing results and reviewing previous treatments for specific medical conditions. Hence, each form has a different use and purpose. Below are some commonly used Medical Forms:
Medical History Forms
A medical history form is a form that is filled out by a patient so that they can provide information on their medical history. This is especially true for new patients or patients who seek consultancy from outpatient departments.
Medical history forms provide valuable information to doctors so that they can be privy to a patient's medical history, risk factors, and care requirements. Each medical history form varies according to medical institutions or clinics; however, a basic Medical History Form usually asks about a patient's previous and current doctors, any medications being regularly taken, sexual practices, whether the patient smokes or drinks, as well as yes or no questions such as, "Do you or anyone in your family have a history of…" followed by a series of medical conditions such as diabetes, high blood pressure, heart diseases, etc.
Patients who fill out a medical history form should disclose all information. This is for the physician to get a better and clearer picture about your health status and determine if there are any potential risks. Also, falsifying information on a medical history form may constitute fraud, especially if false pretenses were made to obtain an insurance claim.
Medical Office Application Form
When it comes to the hiring and the recruitment process of medical staff, it is important to follow a rigid hiring procedure to make sure that competent people are being employed. Dealing with medical cases is not just a sensitive case; it also deals with a lot of risk for both the employee and the patient.
Healthcare workers and staff need to undergo proper training and should have the proper credentials in order to be allowed to provide treatment or consultation services. Doctors and nurses, for example, should be licensed while people who work for the billing department need to have a degree in accountancy or in any related course. This is to make sure that the service they deliver is professionally and ethically delivered. In the medical field, you just cannot afford to make mistakes.
Standardized Application Forms are the best way for human resources to determine if an applicant is viable for the job. This is because inconsistencies and false data are easily spotted on application forms rather than on resumes. Resumes are usually created by applicants in the convenience of their homes where they have ample time to design their data in a way that will make it look more appealing to employers. A Job Application Form, on the other hand, is usually filled out on the spot and lets applicants input the information off the top of their heads. Any inconsistent data on the resume and on the application form can then be used as a ground for questioning the candidate further about it.
Medical Clearance Forms
Medical Clearance Forms are forms that are used when a person goes through a Medical Clearance Exam. A Medical Clearance Exam is a common type of medical exam and is usually required when one wants to get into an institution such as a sports league, or when applying for a job, or to attend a school. It is also necessary and important to have medical examinations before a major surgery or operation. A Medical Clearance Form is a form used as tangible proof and is submitted to an institution to show that a person is physically fit and healthy enough to participate in a given activity or a job.
A Medical Clearance Exam is also known as a Physical Exam. These types of check-ups are a great way for you to check on the status of your health. As an individual, you need to be responsible for your own health. You need to ensure that you will undergo examinations and tests that can help you prevent illnesses. It is always better to be preventive rather than face life-threatening health conditions and shell-out a lot of money to be cured. Physical assessment is important as your body mass index and other factors like vital signs, heart and pulse rate, body temperature and even your blood pressure can help measure how your body is currently doing in terms of your overall health.
During a medical exam, you need to be honest with how you answer the questions of clinicians in relation to your health background and history. Previous illnesses, family-related medical conditions, particular allergies and your medicinal consumption are all needed to be recorded accordingly so doctors can easily assess most of your health concerns.  You also need to provide details about health recommendations from previous or current doctors, or any personal medical complaints that you have such as a strange lump in your throat or that cough you've been nursing for almost a month now. Parts of your body will be examined so that proper medical assessment can be done. There are times that it is based on physical signs by which doctors can truly identify problems that affects your health condition.
As soon as the doctor has finished the physical examination and no life-threatening illness or medical ailment that poses a serious concern is detected, a Medical Clearance Form will then be provided to show as tangible proof that you are physically fit and healthy to continue with your employment or the position you applied for in an institution.
Medical Record Forms
Request to Release Medical Records Form
Dental Medical Records Release Form
Doctor Medical Records Release Form
Medical Claim Forms
Medical Insurance Claim Form
Medical Claim Application Form for Central Govt Employees
Public Service Medical Claim Form
Printable Patient Medical Forms
New Patient Registration Information Form
Patient Information Medical  Form
Patient Registration and Medical Summary Form
Emergency Medical Forms
Emergency Medical Authorization Form
Student Emergency Medical Form
Emergency Medical Consent Form
Medical Release Forms
Information pertaining to a person or a patient's medical records is considered confidential. Nurses, doctors, therapists, and clinicians are not allowed to divulge information about a patient's medical file or laboratory results. This principle is also practiced in the release of medical documents or results. Hospital staff and clinicians are prohibited from releasing these types of confidential and sensitive information to people other than the bearer.
A Medical Release Form is important if the patient or the bearer cannot be physically present to claim test results and other medical files. Using an authorization letter can give access to another individual whose name has been specified in the form. This way, the needed medical documents can be claimed without any worries even without the presence of the patient due to varying circumstances that unable him/her to go to the medical institution.
Medical Consent Forms
An Informed Medical Consent is the document used to provide authorization to medical institutions to continue the implementation and/or execution of medical procedures, operations or any other health intervention. It is important, even just for a therapeutic plan, to be approved by the patient first so that he/she will be aware of various information like the risks and benefits of the process where he/she will undergo. The regulations and policies of the medical institution should be reflected on the medical consent form. This is to ensure that the rights of both the business and the patient are protected and considered.
Because of the sensitivity of the issues revolving around health, medical issues, or medical procedures, obtaining Medical Consent is very much integral in the decision-making of clinicians to save them and the hospital from lawsuits or legal liabilities.
An Informed Consent Form is the best and proper way to make sure that a patient's given consent is properly documented. An Informed Medical Consent Form is a written document that serves as a tangible proof of consent and will prove that consent was indeed given.
Medical Leave Forms
A Medical Leave Form is otherwise known as a Sick Leave Form. A Sick Leave or a Medical Leave is time spent away from work where an employee uses to rest at home or in the hospital in order to address their health needs or to recuperate from an illness. A Medical Leave is typically a paid leave and is a statutory requirement for most employers worldwide.
A Sick Leave Form or a Medical Leave Form is typically filled out by an employee if he wishes to go on sick leave. The sick leave is then submitted to the human resources department for approval.
Child Medical Consent Forms
Medical Consent Form to Treat Minor Child
Child Care Medical Emergency Consent Form
Medical Treatment Authorization Form
Medical Waiver Forms
Medical Waiver Form for Kids
Health Insurance Waiver Form
Child Medical Waiver Form
Employee medical Waiver Form
Medical Verification Forms
Request for Medical Verification Form
Medical/Clinical Verification Form
Medical School Verification Form
Medical Examination Forms
Medical Examination Form Sample
Medical Examination Report Form
Student Medical Examination Form
Staff Medical Questionnaire Form
Medical Service Form
Child Medical Consent Forms
A child medical consent form is filled-up by parents to ensure that their children can still have access to medical care even without their presence. There are emergencies that may occur where the presence of the parents may not be available. The usage of a Child Medical Consent Form is very beneficial in the following instances:
When a child will be traveling with a legal guardian
When the parents of the child will be going somewhere for business purposes and the child will be left with a guardian
When the child will go to a field trip and the teacher of the child is held responsible for the safety of the child
These instances do not entail full-assurance that the child will not be in any emergency in terms of health. A Medical Consent Form is essential to be present as it can give the guardian of the child the authority to decide on what to do for a particular medical condition that a child experiences. Therefore, parents should be keen on ensuring that they will authorize a responsible individual to take care of their child for a particular time being.
Medical Certificate Forms
A medical certificate is usually needed by companies to ensure that an employee who has been absent for a particular time period is already physically fit to go to work. However, the usage of such document is not limited to the specified matter. Medical certificates can also be used for the following purposes:
To claim medical benefits and reimbursements
To get medical treatments based on insurance regulations
To apply for work functions where physical health is very much considered
To ensure appropriate compensation based on sick leave credits
A comprehensive Medical Certificate guarantees that an employee will be able to receive their entitlements and that treatment procedures are not delayed.
Typically, when an employee calls in sick, they have to inform their employers ahead of time and specify when they will be able to report back to work. When an employee comes back to work after a sick leave, employers may ask an employee to provide substantial evidence to support the reason why they were away from work.
Depending on a company's code of conduct, employees who are not able to provide evidence such as a Medical Certification may not be entitled to be paid for their incurred sick leave.
The use of a Medical Certificate does not stop merely with employers, insurance companies, or agencies. Medical Certificates may also be a requirement to some applications such as an eye examination when applying for a driver's license. Some companies or work positions also require Medical Certificates to be issued.
Medical Physical Forms
An annual medical physical examination or annual check-ups, as these are commonly dubbed, is the general process of having your body physically assessed by a healthcare worker, such as a nurse or a physician, to determine if you have a medical condition, an ailment, or a diagnosis that needs to be prevented, cured, or poses a potential health risk in the future.
Physical Forms are used to properly record the results of a physical examination. This kind of form is commonly needed by employers and academic institutions. A physical form needs to have the precise and accurate findings during a medical examination to ensure that proper prescription will be given to those who need one.
Regardless of a person's sex, race, age, color, or level of activity, it is important to visit your doctor at least once a year to have yourself physically checked. You would be surprised to find out that a lot of people who appear healthy have at least a 50% chance of having a medical condition that is unbeknownst to them.
Medical forms are useful in our everyday lives, especially in hospitals and insurance agencies. Be sure to provide your patients and clients with these forms to help you gather correct data and ensure proper analysis. You can download our online sample forms or have them printed out to save you from a lot of hassle and inconvenience.