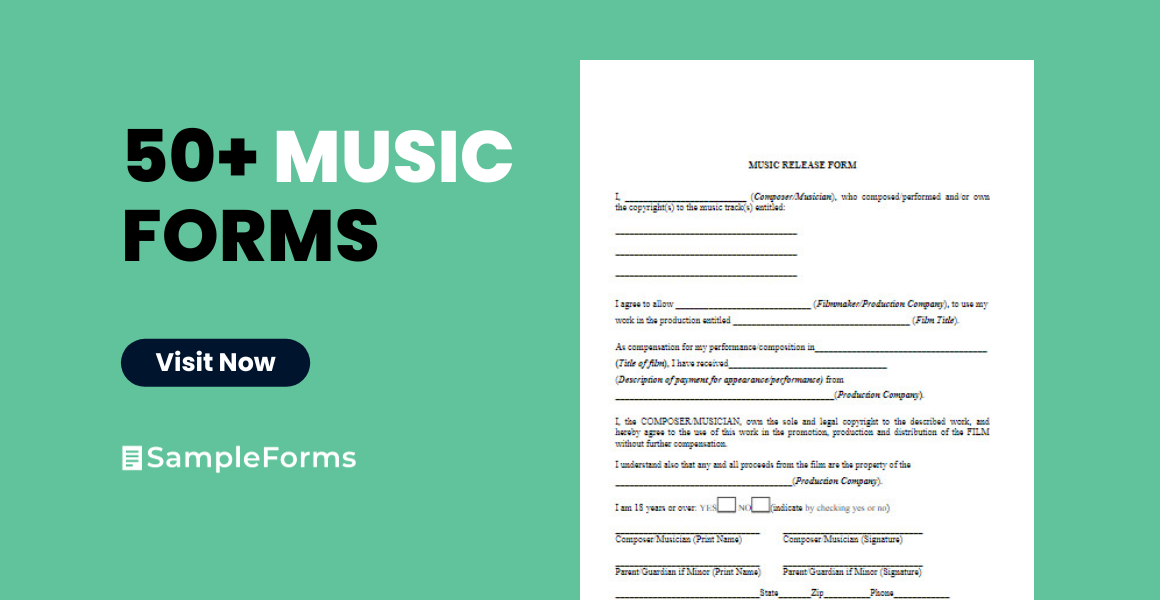 After she moonwalked passed Michael Jackson's record, Taylor Swift was hailed as the Artist of the Decade during the 2019 American Music Awards. This makes Swift AMA's most awarded Artist of all time with a total of 29 awards. Meanwhile, today's pop music princess, Ariana Grande, set the record for the very first female artist to snatch all top three spots on the Billboard Hot 100 with her "Thank U, Next" album singles "7 Rings," "Break Up With Your Girlfriend, I'm Bored," and "Thank U, Next."  However, their successes are not 100% self-made. Swift and Grande had to sign-up for record labels and contract forms that brought them fame and worldwide recognition. Find out more about these music forms below.
FREE 50+ Music Forms in PDF | MS Word | MS Excel
What Is a Music Form?
A music form is a document that has several functions. Because it can easily gather different types of details, some organizations use a music form to communicate with their clients and transfer information from one file to another. Hence, a music form is used as a registration form, appointment form, or admission form in music schools, workshop evaluations, recitals, camps, etc.
What makes this document distinct is it can be a printable form and a fillable form at the same time. Also, a music form contains required fields of instructions that guide the users along the process. Sometimes a music form is associated with music resumes, wedding music programs, audition assessments, instrument check-out form, music release, music recommendation form, musical equipment rental form, and music request form.
Music and Award Shows Madness
A music award is an annual show recognizing the musical achievements in the industry. It also includes performances by known artists. Here are some of the most significant music award ceremonies: the American Music Awards, MTV Music Awards, and the Grammy Awards.
The Grammys Is the Biggest of Them All
The fact that the influence of this music award show is not only western, there is no denying that the Grammy Awards, also referred to as the Grammys, is the most significant music award shows ever to date. According to Statista, artists who were Grammy nominees in the category for "Album of the Year" gained a 291 percent additional sales release after the ceremony in 2017.
Ever since the Grammys began in 1958, the number of award categories has grown from 28 to more than a hundred from 2009 to 2011. There are 84 current award categories, as of 2018.
Who is the most Grammy-nominated artist of all time? It is the music director, Quincy Jones, who has 79 nominations. And the most Grammy-award winning artist of all time is the Hungarian-born orchestral conductor, Sir George Solti.
Over the years, the viewers of music awards are increasing. Based on a survey, Statista found out that the number of Grammy Awards viewers pegged to around 19.81 million in 2018—making the average cost of a 30-second commercial to over one million dollars.
The AMAs and Other Award Shows
The American Music Award is another popular music award show that is an alternative for the Grammys. The number of viewers peaked 9.05 million ever since its creation in the 1970s, based on a report by Statista.
Other known music award presentation ceremonies include the Latin Grammy Awards, recognizing Spanish and Portuguese records. It is reported in 2017 that the Latin Grammys viewers pegged at around 1.3 million people aged 18-49. The Korean Music Awards, JUNO Awards, and David di Donatello Awards are also music award shows held in different parts of the world.
Sing and Hum: A Soothing Harmony
Apart from entertaining you, music also has significance in molding your identity. According to the Harvard Health Publishing website, one of the most fundamental attributes of humanity is music. It said that most cultures—primitive and advanced—make music. The fact that it is true based on history makes it evident in every person's lifespan. Several studies prove that the human brain and the nervous system are wired to distinguish music. Does it serve a purpose, or is it just a biological accident? Let us find out below.
Bodily Stress
According to Northshore.org, listening to music triggers biochemical stress reducer, which can relieve bodily stress. It can also boost the production of dopamine in the brain, which relieves anxiety and depression. The reason is, the processing of music goes directly to the amygdala—the part of the brain that is involved in mood and emotion. So when you are feeling down, tune in to your favorite tracks to pick you up.
The Brain
The sound waves arrive at the ear, including music. As this wave hits the eardrum, it makes vibrations that will travel along the nerves, and the brain will perceive it. Hence, the brain plays a big role in tuning our bodies. Based on studies using magnetic resonance imaging (MRI) and positron emission tomography (PET), a human's brain is tasked to decode and interpret music. Accordingly, a healthy brain can perform more complex tasks to perceive music. However, a musician's brain works more finely compared to ordinary humans.
Healthy Heart, Less Pain
Many studies have proved that music makes our blood flow easily. This way, it reduces our heart rate, lowers blood pressure, decreases cortisol, and increases the level of serotonin and endorphin in the blood. By reducing the stress hormones, our brain can manage the pain signals to our brains. It will ultimately reduce the feeling of intense pain, especially in intensive care or palliative medicine.
Your Mind
Scientists from the University of California observed that musicians have a high mathematical ability compared to others. Thus, this leads to investigate how music impacts cognitive functions.
They conducted the first study and let students answer standardized questions. Then they start comparing those who spent 10 minutes listening to classical music and Mozart's sonata with a group that had been waiting in silence. The team found out the Mozart seems to help the students in answering the questions.
Though there were no measurable facts about the cognitive performance of the student, the study showed enough evidence to conclude that music helps organize the stimulation of nerve cells. It warms up the brain, allowing it to process information effectively.
Music and Memory
Study shows that listening to music can help you remember things, according to the Greater Good Berkeley website. Tuning in to music elicits the release of dopamine, which is tied to motivation. Several pieces of evidence prove music as a good memory-booster. A study with students who are studying foreign languages found out that remembering a foreign language is better when spoken rhythmically than merely speaking it.
Music in Sports
Listening to music is more than just a hobby because it also boosts our overall physicality. According to sports researchers Peter Terry and Costas Karageorghis, "Music can capture attention, lift spirits, generate emotion, change or regulate mood, evoke memories, increase work output, reduce inhibitions, and encourage rhythmic movement—all of which have potential applications in sport and exercise."
How Do You Craft a Music Form That Works?
Music forms have different purposes. Because of these variations, you have to be more specific if you are to make one. It will be helpful to come up with a plan firsthand. It will help you establish actionable measures to complete the task. After planning, look for forms you can use as references. There might be similar documents in the library or on the internet, but you have to ask permission first. Then you can continue with a draft. More on this below:
Step 1: Draft the Music Form
The draft is your temporary framework, which means you can try incorporating binary ideas into it. Then, look for the things that could work well with its structure. Take note, this part of the task is trial and error. Hence, you can discard the ideas that are not suitable for the form. Furthermore, drafting will establish a visual presentation of the form. With that, you can organize the content and let everything fall into place.
Step 2: Provide Relevant Fields
A music form, along with a ,sales and purchase form, and business registration form, is an effective tool for gathering relevant data. It is a good communication tool between tasks too. Apart from initiating actions, it also records transactions and reports data. That said, only provide what are relevant for the form. All these will contribute to its efficiency as a working tool. Moreover, think about the portions as critically as possible because you might include unnecessary sections. It is also essential to keep the form's content relatively connected.
Step 3: Download a Template
Like agreement forms, authorization forms, permission forms, and notice forms, you can also create a music form using a template. If it seems challenging to start from scratch, you can download this ready-made document. The advantages of using a template are the convenience in completing the task, the time you spend with the task will be shortened, and the final output will look professional. However, a template is not for everyone. If you are one of the people who are more comfortable working manually, you can begin the form straight from your hand.
Step 4: Make It Simple and Appealing
A simple form is friendly to look at. Also, if the form is easy to understand, it is easy to use as well. Knowing that, keep the form as refined as possible. Remember, many people can access the document at any time, so avoid incorrectness and errors. The way around this is putting the header, required fields, comments, and signature in the right place. It will organize the form. Plus, it makes the form look appealing.
FAQs
As a listener, we sometimes think that an artist's music is 100% self-made. However, your favorite artists had to work with people behind the curtains—managers, representatives, and other professionals in the music industry. On top of that, an artist must sign several music forms, recording contracts, and artist management forms for a known recording label to acknowledge them; unless, the artist wants to be independent. All these contribute to making an artist's successful and record-breaking career.