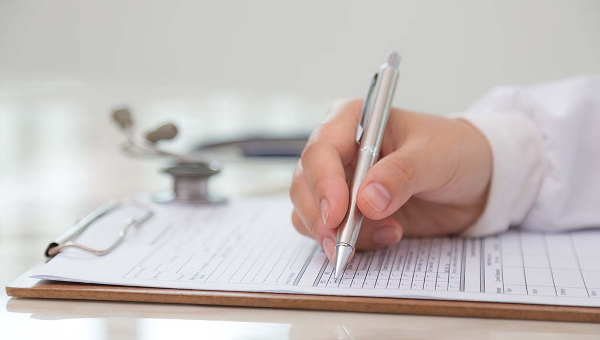 Medical documents are critical to the management and handling of a medical facility. The method of keeping and organizing data that is relevant to a person's well-being can help alleviate stress, chaos, and disorder, especially in times when time is of the essence, or in emergency situations.
Proper documentation of medical paperwork also helps to guarantee that the information, diagnosis, or medical details that are provided are accurate. Medical forms range from various types of forms and paperwork that require or collect data from patients or clinicians. Examples of medical forms are medical clearance forms, medical insurance forms, and medical consent forms. You can download from our plentiful options below for your easy perusal and convenience.
Medical Clearance Form
Medical Clearance Form for Dental Treatment
Medical Clearance Form for Surgery
Medical Clearance Form for Employment
Medical Clearance Form for Exercise
Medical Fitness Form
Medical Fitness Assessment Form
Self-Declaration Of Medical Fitness
Medical Certificate Fitness Form
Medical Leave Form
Medical Leave Application Form
Medical Leave Of Absence Form
Family Medical Leave Request Form
Medical History Form
Personal Medical History Form
Family Medical History Form
Medical History Form for Dental Office
Army Medical History Form
Medical Release Form
Medical Records Release Form
Medical Information Release Form
Medical Authorization Release Form
What Are Medical Forms?
Medical forms are oftentimes utilized by employers, health care agencies, medical facilities, clinicians, and insurance companies. These forms are vital for documentation, used to record or note down assessments and results, used to fill out forms for insurance claims or benefits, or used to gather consent from patients and their families when medical treatment is necessary.
A lot of medical forms are used by employers, organizations, hospitals, health-care providers, and insurance companies. These forms are used to document findings, results, or claims related to the medical condition of a person. Each form has a different use and purpose. Below are some commonly used medical forms:
Medical Clearance Forms
Medical clearance forms are forms that are provided to a patient who has undergone a medical exam, otherwise known as a physical exam. These types of medical exams are usually a prerequisite for joining sports leagues or when applying for institutions or companies.
An employment physical exam, for example, is a common prerequisite for newly hired employees. This is done in order for the employer to be assured that an employee is not constantly absent from work due to health issues.
A sports medical exam is also a requirement for students or applicants who wish to enroll in a sports league. Sports medical exams are required to ensure coaches that an individual is physically fit to play a sport.
As soon as an individual passes a medical clearance or a physical exam, a medical clearance form is provided to serve as a tangible proof that the individual was deemed "clear" of any medical ailments or condition that could preempt him from fully functioning in his role.
Medical exams should be done periodically and not only when they are required. This is to make sure that a person's state of health is in perfect form and that there are no medical issues that are a cause for concern.
Sick Leave Forms
Sick leave or medical leave is the amount of time that is spent away from work. This is usually done when an employee is sick or is deemed to be unfit for work. An employee, for instance, may have gone through a medical surgery and has been advised by the doctor to rest and to recuperate for several days, weeks, or months—this depends on the severity of the medical treatment. As such, depending on the laws of the state, an employee is entitled to receive compensation for those days when he/she was unable to report for duty. Filling out a sick leave form or a medical leave form notifies human resources of the reason why an employee was absent from work. In most cases, a sick leave needs to be supported by a medical certificate.
A medical certificate is a type of document that is provided and signed by a licensed physician. Ideally, this should be the doctor with whom you have consulted with during the time when you were sick. Medical certificates usually bear information about the time and date that a patient checked in for a consultation, the diagnosis, the treatment plan, and any other recommendations, such as "The patient has been advised to rest."
Medical Release Forms
In the event when medical documents or paperwork need to be released, such as when asking for a medical abstract, it is a common practice for health-care professionals and clinicians not to expose confidential information blatantly. This is when a release form becomes useful. Release forms are also used for admitted patients who are due for release.
Medical Consent Form
Child Medical Consent Form
Medical Consent Form for Grandparents
Medical Consent Form for Minor
Medical Reimbursement Form
Medical Charges Reimbursement Form
Medical Claim For Reimbursement Form
Medical Reimbursement Form Example
Medical Certificate Form
Medical Self-Certification Form
Medical Records Certification Form
Medical Examiner Certification Form
Medical Choice Form
Medical Dental Choice Form
Medical Healthcare Choice Form
Medical Choice Enrollment Form
Medical Consent Forms
Informed medical consent is the process of obtaining authorization from a person before going through or providing a healthcare intervention, a medical procedure, or a therapeutic plan. Informed consent is collected based on guidelines from the fields of medical and research ethics and should only be given right after the subject of medical scrutiny has clearly understood and appreciated the facts, implications, and consequences of the medical procedure.
Because of the sensitivity of the issues revolving around health, medical issues, or medical procedures, obtaining medical consent is very much integral in the decision-making of clinicians to save them and the hospital from lawsuits or legal liabilities.
An informed consent form is the best and proper way to make sure that a patient's given consent is properly documented. An informed medical consent form is a written document that serves as proof that consent was indeed given.
Informed Consent Form and Informed Refusal Form
Informed consent is a necessity prior to conducting any sort of medical procedure or treatment, such as during an operation or when a patient needs to undergo dialysis, chemotherapy, etc. These types of medical procedures can sometimes involve risks or disadvantages that a patient needs full disclosure for. For example, chemotherapy can result in heart failure. While it can be a cure for cancer, it can also lead to a series of other consequences that could lead to medical failure.
Informed consent forms need to be signed willfully by a patient to ensure that they are aware of all the possibilities that could transpire during the medical procedure. This helps to protect medical facilities, physicians, and clinicians from any form of lawsuit that could be filed against them, lest the treatment goes wayward.
The following information needs to be clearly explained or provided to the patient before he/she signs an informed consent form:
The advantages of the treatment
The risks associated with the treatment
Other available  options for treatment
The risks and benefits of the other treatment options
The freedom to ask questions and receive clear and accurate answers about the treatment options
The freedom to make willful decisions, regardless if these decisions do not coincide with the patient's best interests
Medical Records Release Form
Dental Medical Records Release Form
Doctor Medical Records Release Form
Health Partners Medical Records Release Form
Legal Medical Records Release Form
Medical Waiver Forms
Medical Insurance Waiver Form
Basketball Medical Waiver Form
Child Medical Waiver Form
Medical Examination Forms
Certificate of Medical Examination
Annual Medical Examination
Driver's Medical Examination Form
Medical Verification Forms
Medical Insurance Verification Form
Medical Eligibility Verification Form
Health Care Professional Verification Form
Medical Report Forms
Annual Medical Report Form
Medical Examination Report Form
Medical Report Consent Form
Child Medical Consent Forms
In some situations, consent cannot be directly provided by the person himself due to a lot of factors such as the incapacity to make mature and responsible decisions or when an individual is underage and is not old enough to formulate mature and wise decisions. In the case of children, for example, the consent of a parent or a legal guardian is essentially needed when making medical decisions. This is when a child medical consent form becomes useful.
A child medical consent form is a type of consent form that is given by a parent to a guardian to make temporary medical decisions on behalf of the parent. For example, when parents leave a child in the care of a sitter or when a child travels with his grandparents but without his parents. Having a medical consent form ready can come in handy when emergencies arise and immediate decisions have to be made in order to save a child's life.
Who Can Provide Child Medical Consent?
The child's mother or father
The child's legal guardian
A person with a residence order for the child
A person with a protection order for the child
A person who has been designated by local authorities to look after the child
Medical Certificate Forms
Medical certificates give out pertinent information that will determine an individual's claim for compensation, claim on benefits, incapacity entitlements, getting medical treatment, and excusing an employee from work.
Most insurance companies or health agencies that are responsible for workplace safety, rehabilitation, and compensation will usually require a medical certificate that contains sufficient information of the medical condition in order to avoid delays in terms of support and compensation for an employee.
A comprehensive medical certificate guarantees that an employee will be able to receive their entitlements and that treatment procedures are not delayed.
Typically, when an employee calls in sick, they have to inform their employers ahead of time and specify when they will be able to report back to work. When an employee comes back to work after a sick leave, employers may ask the employee to provide substantial evidence to support the reason why they were away from work.
Depending on a company's code of conduct, employees who are not able to provide evidence such as a medical certification may not be entitled to be paid for their incurred sick leave.
The use of a medical certificate does not stop merely with employers, insurance companies, or agencies. Medical certificates may also be a requirement for some applications, such as an eye examination when applying for a driver's license. Some companies or work positions also require medical certificates to be issued.