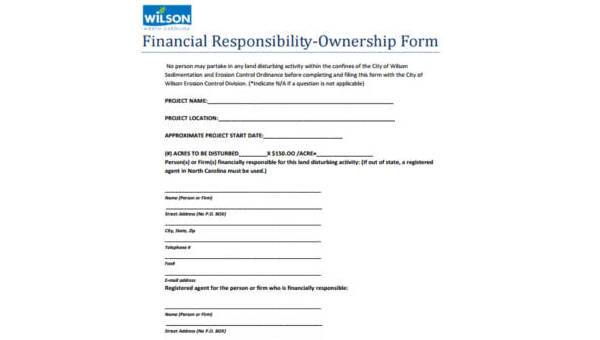 Financial responsibility is needed to be considered whenever making decisions especially in relation to the spending, accounting, and financial needs of an organization or a business. More so, financial responsibility can also be observed in the daily undertakings of individuals, groups, and families. The ability of an entity to manage money and assets, as to what financial responsibility is mostly about, can affect the productivity and effectiveness of business operations or the efficiency of one's lifestyle. Basically, you'll need to practice financial responsibility if you're going to make sure that there's enough money to take care of everyone's needs and your own.
There are companies that need to make sure that the employees designated to take charge of the company's funds know how to properly handle them and guarantee that the company spends only what needs to be spent on.
To make sure that this happens, they have Financial Responsibility Forms to keep these people on track.
Patient Financial Responsibility Form
Financial Responsibility Waiver Form
Financial Responsibility Release Form
Financial Responsibility Agreement Form
Financial Responsibility Ownership Form
The Various Types of Financial Responsibility Forms
There are lots of different types of these forms, such as Financial Statement Forms, which allow just about any person or company to make certain that they understand what kind of financial stability they should maintain and how they're going to maintain it. Here are some examples of these types of forms:
Guardian Financial Responsibility Forms are the kind of forms that are utilized by those people who acts as guardians and who need to make sure that they understand how well they should manage their finances. These make sure that the guardian, and the child being taken care of, are in a stable state in terms of finances.
Patient Financial Responsibility Forms are for those patients in hospitals to understand that they know what medicines and treatments they're spending for and are made aware of how these will affect them financially.
Personal Financial Responsibility Forms are made or issued by just about anyone when they need to know how much they're spending and earning, as well as how they'll need to manage their funds to cover for themselves and their family members.
Guardian Financial Responsibility Form
Product Sales Financial Responsibility Form
Personal Financial Responsibility Form
Financial Responsibility Form in PDF
Simple Financial Responsibility Form
The Importance of Having Financial Responsibility Forms
Everyone needs to make sure that they understand how they're going to handle their income and expenses. They'll want to see how they're going to take care and manage the one thing that keeps their lives as comfortable as possible.
This is why there are forms like Financial Affidavit Forms, to help out these people. These even help out companies in understanding what they're doing with their money. It lets them know as to what they should spend on that should benefit and improve the state of the company.
If you're someone who understands, or needs to understand, what to do with your money, then it's best to have these forms ready.