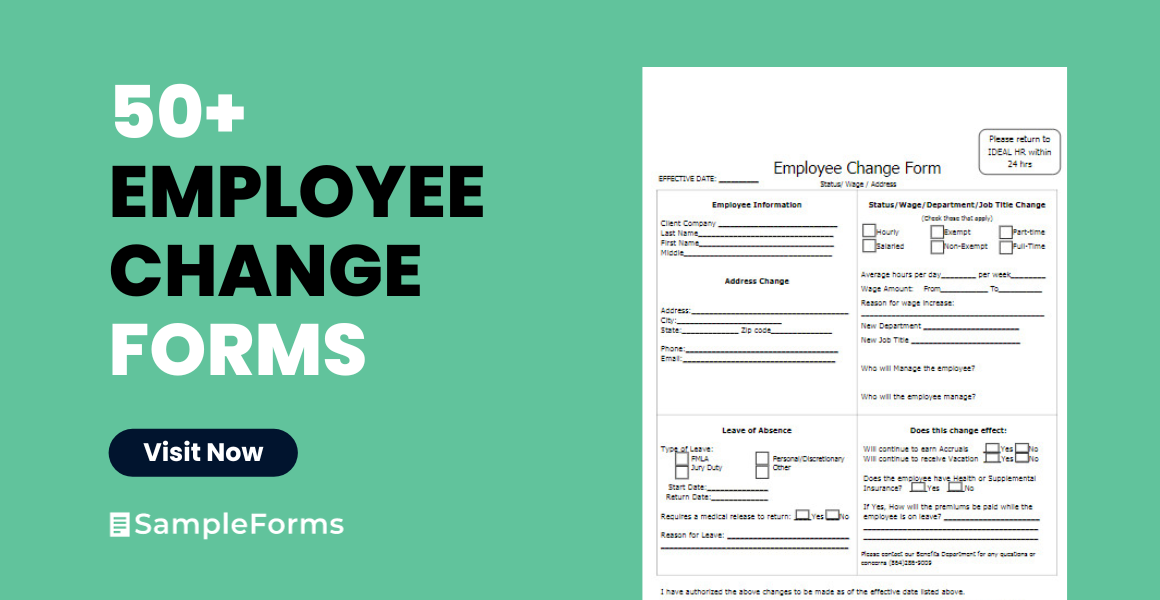 An Employee Change Form is an integral tool in the HR arsenal, bridging communication gaps between departments when changes occur in an employee's status, role, or personal details. These forms ensure the consistent and accurate relay of changes, safeguarding both the employee's rights and the organization's compliance. As diverse as the changes that can occur within a professional journey, there are several types of this form, each serving a distinct purpose. Crafting one requires a keen understanding of both the employee's needs and organizational requirements. Dive deeper to explore its essence, variations, and best practices.
What is an Employee Change Form ? – Definition
An Employee Change Form is a standardized document used by organizations to record and communicate any changes in an employee's job status, personal details, or other relevant information. This form serves as an official record for HR and administrative purposes, ensuring that employee records are accurate and up-to-date. Changes can include alterations in job title, department, salary, contact information, benefits, or other essential employment-related details. The change form in PDF streamlines the process of updating internal systems and ensures consistency in documenting and communicating changes within the organization.
What is the Meaning of an Employee Change Form?
The meaning of an Employee Change Form revolves around its role as a pivotal tool for human resources and administrative functions within organizations. Essentially, it acts as the official conduit for documenting and communicating any variations or updates in an employee's professional or personal information. This might encompass a wide range of changes—from shifts in job designation, salary adjustments, and departmental transfers to updates in address, marital status, or emergency contacts. By centralizing this information on a dedicated form, organizations ensure that all departments, such as payroll or benefits administration, receive consistent and accurate data, thereby reducing discrepancies and ensuring seamless operations.
What is the Best Sample Education Change Form?
While the specific details on an Education Change Form (assuming you meant Employee Change Form) will vary based on the organization's requirements and the type of changes being documented, here's a generic sample of an Employee Change Form for your reference:
Employee Details:
Full Name: [First Name] [Last Name]
Employee ID: [Unique Employee Number]
Department: [Current Department]
Position: [Current Position]
Change Details (Please tick and fill out the appropriate changes):
New Position/Title: ____________________________
New Department: ____________________________
Salary Adjustment:

Current Salary: __________
New Salary: __________

Change in Work Hours:

Current Hours: __________
New Hours: __________

Contact Information Update:

New Address: ____________________________
New Phone Number: ____________________________
New Email: ____________________________

Emergency Contact Update:

Name: ____________________________
Relationship: ____________________________
Contact Number: ____________________________
Reason for Change (Optional):
Effective Date of Change: [Date]
Approvals (To be filled out by the respective authorities):
Immediate Supervisor: ____________________________ Date: _________
Department Head: ____________________________ Date: _________
HR Representative: ____________________________ Date: _________
Employee Acknowledgment: I hereby confirm the above changes to my employment records.
Signature: ____________________________ Date: _________
It's important to note that this is a basic template. Depending on the organization's size, industry, and specific needs, the form can be more comprehensive. It's advisable to customize the form to cater to specific organizational requirements, ensuring all relevant fields are included.
FREE 50+ Employee Change Forms in PDF
51. Employee Verification Change Form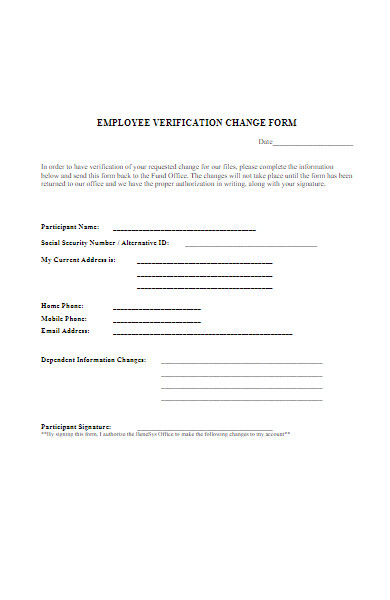 Can I fill out the Employee Change Form online?
Whether or not you can fill out the Employee Change Form online depends on your organization's technological infrastructure, processes, and policies. However, with the growing emphasis on digitization and streamlined HR processes, many companies nowadays offer the following online solutions:
HR Management Systems (HRMS): Many organizations use HRMS or HR Information Systems (HRIS) that allow employees to log in and make changes directly to their profiles. Such systems often have built-in workflows to send these changes to the appropriate parties for approval.
Online Form Tools: Companies might utilize online form tools or platforms, such as Google Forms, Microsoft Forms, or other specialized software, to create and distribute digital versions of the Employee Change Form.
Intranet Portals: Some larger companies have dedicated intranet portals where employees can access, fill out, and submit forms related to various HR processes.
E-signature Solutions: If an electronic signature is required, tools like Adobe Sign or DocuSign might be integrated into the process to facilitate digital approvals.
Email: In some cases, while not the most secure method, organizations might distribute fillable PDF versions of the form via email, which can then be completed, saved, and returned by the employee.
If you're unsure about the online availability of the Employee Change Form in your organization, it's best to check with your HR department or consult the company's employee handbook or intranet. Always ensure that you're using secure methods, especially when transmitting personal or sensitive information. You can also check our Printable Check form.
What happens if I make an error on my Employee Change Form?
If you make an error on your Employee Change Form, the implications and rectification process depend on the nature of the mistake and at what point it is identified. Here's a general overview of what you can expect:
Identification of the Error: The sooner the error is identified, the easier it is to rectify. Often, the HR department or the approver will catch mistakes during the review process. Sometimes, the employee might realize the error after submission and proactively inform HR.
Correction before Processing: If the error is identified before the changes have been processed or implemented, it's usually straightforward to correct. You might be asked to fill out a new form or provide the correct information.
Correction after Processing: If the mistake is caught after changes have been processed (e.g., after a payroll run), rectifying the error might require additional steps. For example, compensation-related mistakes could result in adjustments in the subsequent pay cycle.
Notification: Depending on the nature of the error, you might be contacted by HR, your manager, the payroll department, or another relevant department to inform you of the mistake and discuss the necessary corrections.
Documentation: Any changes or corrections to the form should be documented. This ensures there's a clear record of what was originally submitted, what the error was, and how it was rectified.
Potential Delays: Mistakes can lead to delays in processing the requested changes. This might impact timelines for things like role transitions, compensation adjustments, or other benefits.
Validation: After rectifying the error, you might be asked to review and validate the corrected information to ensure no further errors exist.
It's essential to approach errors with a proactive and transparent attitude. If you realize you've made a mistake, it's best to inform the relevant parties immediately. Regularly double-checking the information on your form before submission can help reduce the likelihood of mistakes. Our Change Request Forms is also worth a look at
Who should I contact if I have issues with the Employee Change Form?
If you encounter issues with the Employee Change Form, your first point of contact should typically be the Human Resources (HR) department, as they are usually responsible for overseeing and processing these forms. However, depending on the nature of your issue, you might need to reach out to different individuals or departments:
HR Generalist or HR Representative: For general queries or concerns regarding the form, or if you need clarification on how to fill it out or what certain sections mean.
HR Manager: If you have more complex issues or if you feel that your concerns were not adequately addressed by other HR personnel.
Payroll Department: If your issue pertains to changes in compensation, deductions, or benefits that will impact your paycheck.
Immediate Supervisor or Manager: If the form requires their approval or if there's a discrepancy regarding job-related changes such as role, responsibilities, or working hours.
IT Department: If you're facing technical difficulties accessing, filling, or submitting the form online.
Benefits Coordinator or Administrator: For concerns related specifically to changes in benefits or enrollments.
Legal or Compliance Team: If you have concerns about how the information on the form will be used or stored, or about your rights and responsibilities related to the changes.
Training or Development Team: If your change form involves new training, certifications, or professional development needs.
Always make sure you keep a record of any communication related to the fillable form – whether it's emails, phone calls, or face-to-face conversations. This can be useful for reference in case of disputes or if you need to follow up on your concerns.
Is the information on my Employee Change Form kept confidential?
Yes, the information on your Employee Change Form is typically kept confidential. Organizations understand the importance of safeguarding employee data due to both ethical considerations and legal requirements. Here's how confidentiality is usually maintained:
Limited Access: Only authorized personnel, such as specific members of the HR department, payroll staff, or management, will have access to the details on your form. Role-based access controls are often implemented in electronic systems to ensure that only those with a legitimate need can view the data.
Secure Storage: Physical forms are generally stored in locked file cabinets within secured HR offices. Electronic forms are saved on protected servers, often with encryption measures in place.
Data Protection Policies: Most organizations have data protection and privacy policies in place that dictate how personal and professional information about employees is handled, stored, and shared.
Legal Regulations: Many countries have stringent data protection laws (like GDPR in the European Union or CCPA in California, USA) that impose strict rules on how personal data is managed. Non-compliance can lead to heavy penalties for organizations.
Data Retention Policies: Companies often have policies outlining how long specific types of data are retained and the protocols for safely disposing of or deleting information once it's no longer needed.
Training: HR professionals and other personnel who handle employee data typically undergo training on maintaining confidentiality and adhering to data protection standards.
Audits and Checks: Regular audits or checks may be performed to ensure that data handling and storage practices are compliant with internal policies and external regulations.
If you have concerns about the confidentiality of your Employee Change Form or any other HR-related document, it's a good idea to speak with your HR department. They can provide clarity on the measures in place to protect your information and address any specific concerns you might have. In addition, you should review our name change forms.
Do I need to provide supporting documents with my Employee Change Form?
Whether you need to provide supporting documents with your Employee Change Form largely depends on the nature of the change being requested and the policies of your organization. Here are some scenarios where supporting documents may be required:
Change of Name: If you've legally changed your name due to marriage, divorce, or any other reason, you might need to provide a copy of the legal document that verifies the name change, such as a marriage certificate or court order.
Change of Address: While not always required, some organizations might request a utility bill, lease agreement, or another document to verify a new address, especially if the change affects job-related benefits or relocations.
Change in Marital Status or Dependents: If you're updating your marital status or adding/removing dependents, supporting documents like marriage certificates, birth certificates, or adoption papers might be needed.
Educational or Professional Credentials: If you're updating your qualifications or certifications, copies of diplomas, transcripts, or certification documents might be required.
Change in Banking Details: For changes related to direct deposit of paychecks, some companies might ask for a voided check or a letter from the bank confirming account details.
Change in Tax Status: If there's a change that affects your tax withholdings, documentation supporting the change (e.g., tax exemption certificates) might be necessary.
Change in Job Role or Responsibilities: If there's a change in your job role that's initiated by a different department or because of an inter-departmental transfer, there might be documents or memos detailing the change.
Medical or Disability Accommodations: If you're requesting a change due to medical reasons or disability accommodations, medical records or a doctor's note might be required.
Always check with your HR department or refer to the instructions on the Employee Change Form to determine what supporting documents, if any, are needed. Make sure to provide clear and legible copies, and retain the originals unless instructed otherwise. If sending sensitive documents, always use secure methods to ensure your personal information is protected. You may also be interested in our legal name change forms.
How to Create an Employee Change Form?
Creating an Employee Change Form requires a structured approach to ensure it captures all necessary details and remains user-friendly. Here's a step-by-step guide to help you craft an effective form:
Determine the Purpose: Understand why you need the form. Is it to capture address changes, job role shifts, salary modifications, or other changes? Knowing the purpose will guide the information you include.
Choose a Format: Decide if your form will be paper-based, digital, or both. Tools like Microsoft Word, Google Forms, or specialized HR software can be used for digital versions.
Header Information: Start with a clear header indicating the form's purpose, like "Employee Change Form". Also, include space for the employee's name, employee ID, department, and date of submission.
Section for Change Details:

Type of Change: Create a checklist or dropdown menu for the user to select the type of change, e.g., address, name, banking details, etc.
Current Information: Provide space for the employee to indicate their current details.
New Information: Allocate space for the employee to input the updated information.

Supporting Documentation: Include a section that outlines any required supporting documents based on the type of change. This ensures the employee knows what additional materials they must submit.
Reason for Change: Leave a space or provide options for the employee to indicate the reason for the change, if applicable.
Date of Change Effectiveness: Ask when the employee expects the change to take effect. This can be particularly relevant for job-related or salary changes.
Signatures: Provide space for the employee's signature and date. Depending on the nature of the change, you might also need spots for managerial or HR signatures.
Instructions: Offer clear instructions at the top or bottom of the form. Outline how to fill it, where to return it, and any other essential steps.
Confidentiality Note: Consider adding a note or disclaimer ensuring the employee that their information will be kept confidential and will only be used for its intended purpose.
Contact Information: Offer details for who the employee can contact if they have questions or concerns regarding the form.
Feedback Loop: Especially for digital forms, consider incorporating a feedback mechanism where employees can suggest improvements or report issues.
Testing: Before finalizing the form, have a few employees test it out. Collect feedback on its clarity, comprehensiveness, and ease of use.
Review and Compliance: Ensure the form complies with any applicable laws and regulations, particularly if it gathers sensitive or personal information.
Launch and Distribute: Once the form meets all requirements, launch and distribute it to the necessary departments or across the organization. Ensure it's easily accessible.
Regularly review and update the form based on feedback, regulatory changes, or organizational shifts. This will help ensure it remains effective and relevant.
Tips for creating an Effective Employee Change Form
Creating an effective Employee Change Form requires attention to detail and a focus on user experience. Here are some tips to ensure your form is both functional and efficient:
Keep it Simple: Use clear and concise language. Avoid jargon or overly technical terms that might confuse employees.
Logical Flow: Organize the form in a way that feels intuitive, typically from general to specific information.
Use Consistent Formatting: Maintain a consistent font, size, and layout throughout the form. This not only looks professional but also helps employees navigate the document.
Categorize Changes: Group similar types of changes together. For example, all personal information changes (name, address, contact details) could be in one section.
Provide Examples: Include examples for fields that might be confusing. This can be especially helpful for formatting requests, like dates or phone numbers.
Include Clear Instructions: Offer step-by-step guidance on how to fill out the form, any required supporting documents, and the submission process.
Opt for Checkboxes or Dropdowns: Where possible, use checkboxes or dropdown menus to streamline the input process and minimize errors.
Add a Review Process: Especially for significant changes, ensure there's a system in place for review and approval. This can help catch errors or fraudulent requests.
Ensure Accessibility: If the form is online, ensure it's accessible to individuals with disabilities. Also, consider translations for organizations with multilingual staff.
Maintain Confidentiality: Reassure employees by including a confidentiality statement. Ensure any digital platforms used for submission are secure.
Keep it Updated: Periodically review the form to ensure it aligns with current company policies and any regulatory changes.
Seek Feedback: Encourage employees to provide feedback on the form and its process. This can help identify areas for improvement.
Test the Form: Before rolling it out, test the form with a small group. Use their feedback to make necessary adjustments.
Provide Contact Information: Always have a point of contact listed on the form so employees know where to turn with questions.
Digital Enhancements: If using a digital form, incorporate features like auto-fill for known information, tooltips for clarity, and the ability to attach supporting documents directly.
By keeping the user experience at the forefront and continuously seeking ways to simplify and clarify the process, you can create an Employee Change Form that serves its purpose efficiently and effectively.