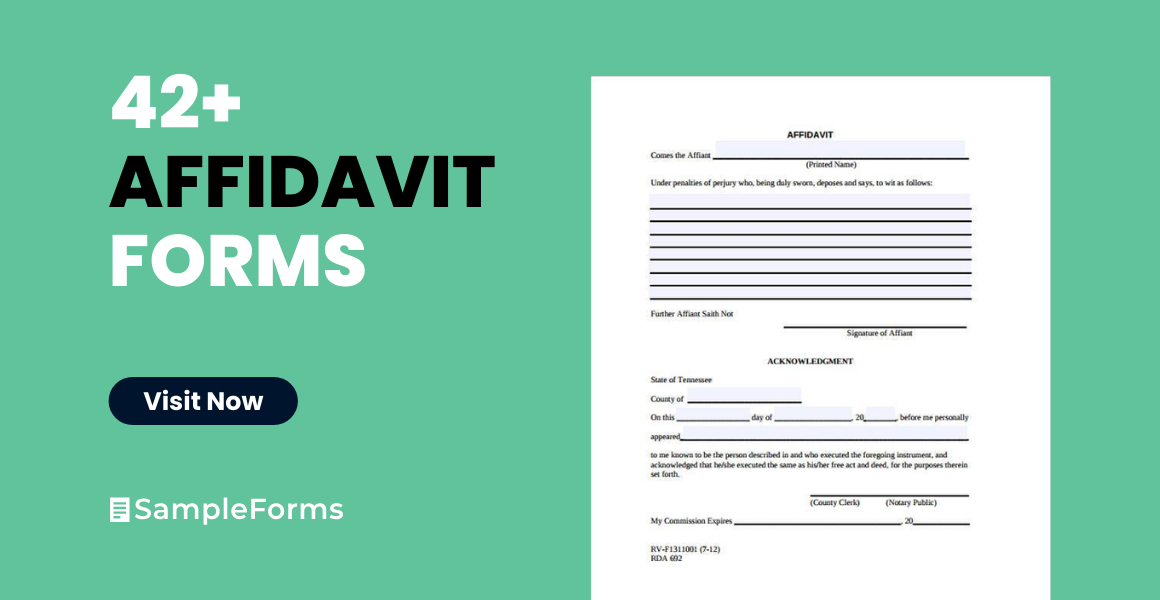 Affidavits are a mainstream type of document used in everyday life. You hear about it in court, in newspapers, on television, and even in business. The word itself makes you think of something really serious brewing, yet despite its frequent overuse, a lot of people are still unaware of its meaning and its purpose.
Affidavits are sworn written statements that carry factual information and details. Filing an affidavit is usually the first step to presenting evidence in the court of law. You can download from our wide range of Affidavit Forms such as General Affidavit Forms and Sworn Affidavit Forms for Passport. Our Affidavit Forms come in a wide array of choices and are available in PDF format for your customary use.
Blank Affidavit Forms in PDF
Sample Blank Affidavit Form
General Affidavit Form
Name Affidavit Forms in PDF
Change of Name Affidavit Form
Similar Name Affidavit Form
Sworn Affidavit Forms in PDF
Sworn Affidavit Form for Passport
Sworn Financial Statement Form
Sworn Affidavit Form by Supervisor
Anti Ragging Affidavit Form in PDF
Anti Ragging Affidavit Form
 Affidavit Form by Student Example
Hardship Affidavit Forms in PDF
Hardship Affidavit and Financial Form
Short Sale Affidavit Form
During a hearing or a legal session, there is always a need to present an affidavit to make sure that the evidences and/or statements that have been presented by a witness are real. An affidavit serves as a written proof that all the details that have been discussed are backed-up and supported by legal conditions. An affiant is the person who swears to an affidavit. As soon as this is done, the affidavit is then notarized by a notary public to legitimize the authenticity of the affidavit and the statement sworn within it.
There are tons of reasons and instances wherein an affidavit may be sought. As a matter of fact, there are a lot of legal purpose that can be enumerated wherein an affidavit is essential, such as the following:
1. Divorce Cases (Separation Agreement)
2. Visa Application
3. College Application
4. Property Litigation
5. Settlement of Debt
6. Bulk Money Transfers
Using an affidavit can help a person in a lot of ways possible. Since this document contains relevant and real information, a person can use affidavits as a support to prove that the claims that he/she specified are not fabricated. It is essential for an affidavit to be formatted accordingly with the content layout mostly in mind. It shall be organized based on the flow of the statements and how they are related to each other.
Some instances, occurrences, procedures and/or processes where an affidavit is beneficial to be used are as follows:
1. When there is a need for an individual or any entity to claim ownership, may it be of properties or assets
2. When a proof is necessary to be presented to assure the receipt of official documents
3. When third parties must be aware of the changes with a circumstance or  a process
4. When third parties should be informed or notified with regards the death of an individual affiliated with them
5. When there is a need for an address to be verified for business purposes
6. When the residency of an individual must be confirmed as a part of employment processes
7. When the facts that serve as evidences need to be confirmed for it to be fully used during legal proceedings
8. To assure that an individual has been a victim of identify theft and that his/her real identity has been affected by the transaction where his/her name and/or details has been used
With all the usages of affidavits that have been written and mentioned above, an affiant needs to make sure that he/she will provide all the factual details needed to create the document so a lawyer or an attorney can draft the affidavit accordingly. More so, make sure that the affidavit is notarized for it to fully take effect.
Ready-to-use affidavit form templates are available for download in Doc and PDF formats. These easily accessible affidavit templates are extremely useful and handy for lawyers and attorneys or among individuals who are applying for visas or school and college admissions. Other forms that are crucial for business and employment are also available such as Action Forms, Agreement Forms, and Application Forms.
An Affidavit should be voluntarily and willfully provided by an affiant. The declarations that are given by an affiant in a testimony are thought to be articulations given under oath and are utilized for confirmation purposes. When an affiant attaches his mark willfully on a sworn statement, it then turns into a lawfully restricting report and any false proclamations consolidated in the affirmation are liable to prevarication charges, which may result to punishments, community service, and even detainment.
Affidavit of Truth Form in PDF
Affidavit to Invoke Right to Travel Form
Sample Affidavit of Truth Form
Affidavit of Loss Forms in PDF
Affidavit of Loss of Passport Form
Blank Affidavit of Loss Form
Saps Affidavit Form in PDF
Sample Affidavit Format Form
Marriage Affidavit Form
General Affidavit Forms in PDF
General Affidavit Form in PDF
General Affidavit Form Free
Notary Affidavit Forms in PDF
Date of Birth Affidavit Form
 Affidavit to Correct Form for Birth Certificate
What Are the Types of Affidavits?
Since a testimony is a broad term for a genuine, sworn, and composed proclamation, its substance and reason can change from time to time.There are many sorts of affidavits or testimonies; however, the most common ones are clarified below:
Affidavit of Support – An Affidavit of Support is an authoritative report that is created by an American sponsor who can give affirmation to the government that a visa candidate has enough monetary support and can be permitted to go to another nation.
Affidavit of Death – An Affidavit of Death is especially useful or used during the time spent in notifying an organization, an association, or an administrative office of a relative's passing. Most of the time, informing these offices is important when asserting advantages or qualifications,or while doing bank or fund exchanges for the beneficial claims of an expired relative. An Affidavit of Death ought to contain the name, the date of birth, and the date of death of the expired.
Financial Affidavit – A Financial Affidavit is a type of affidavit that gives points of interest supporting or relating to a man's budgetary status; for example, the measure of cash they have on investment funds, the measure of compensation they make every year, and also their material resources. Financial or Monetary Affidavits are regularly utilized as a part of separation situations wherein a couple chooses to divide their assets and when money-related support is being sought by the parent who is primarily taking care of the child.
Affidavit of Name Change – A person who went through a legal process to change his/her name should present an affidavit of name change for transactions concerning his/her past name to be honored or for the changes to also be applied in the record of the businesses that the individual has transacted with. Most affidavit of name change are used by women who got married. Since their last names are already changed, there is also a need to update their records may it be in government offices or the company where they are currently working.
Affidavit for Identification Theft – If the personal information of an individual has been used or stolen, an affidavit for identification theft is needed to protect the individual's security and identity. Valid proof of identification that has been used by another person can also be one of the main reasons why an affidavit for identification theft is necessary. This document can provide the details that can validate that it is not the individual who own the proof of identification that immersed in a transaction where his/her details has been used. Identification theft has been rampant in transactions that involve business deals, finances, loans, and banking processes.
If your identity or any proof there of has been used or stolen, using an identification theft affidavit can help you to provide a sworn statement which can allow you to transact with businesses without being worried or bothered about the issue of identify theft. When making this kind of affidavit; make sure to indicate your basic personal information, how it has been compromised and used, and the reason why you should be permitted by both private and government offices to recover, renew, or reestablish your identification cards as well as other documents.
Small Estates Affidavit – The usage of small estates come to practice when there is a need for family members of a deceased person, who was not able to leave a will, to distribute his/her assets in a legal manner.
Proof of Residency Affidavit – There are a lot of reasons why an affidavit for proof of residency is needed. This affidavit can be required by companies to check the background of their employees. It can also be used to verify the address of a community member for him/her to be able to apply for privileges and benefits.
Witness Affidavit Forms in PDF
Witness Statement Affidavit Form
Marriage Witness Affidavit Form
Accident Witness Affidavit Form
Financial Affidavit Forms in PDF
Financial Disclosure Affidavit Form
Affidavit of Financial Support for International Students
Affidavit Forms for Marriage in PDF
Affidavit Form of Common-Law Marriage
Affidavit Form For Marriage
Witness Affidavit Form of Freedom to Marry
Affidavit of Service Forms in PDF
Affidavit of Service Form Federal
Affidavit of Personal Service Form
Affidavit for Service of Process Form
Affidavit of Support Forms in PDF
Affidavit of Support and Consent Form
Affidavit of Child Support Form
Notice of Response and Affidavit in Support
What Are the Basic Contents of an Affidavit?
For the most part, unique sorts of testimonies or affidavits call for various points of interest to be constituted into them, especially since they all require distinctive sorts of data. Be that as it may, affidavits do have essential points of interest that should be joined inside every one of them with a specific end goal in order to make them lawfully authoritative, for example:
The complete name of the affiant
The complete address of the affiant
The detailed facts and reasons for the affidavit
The signature of the affiant
The date signed
The signature of the notary public
Other details required by court or by a third party
All the information that you will place in the affidavit should be based on facts. Make sure that the discussion present in the document does not contain any made-up stories as it can affect the usability of the affidavit. Keep in mind that affidavits can serve as legal evidences so you need to ensure that there are no misleading details that are presented may it be in your statement or in any area of the document.
Because affidavits are presumably sworn statements of facts, phrases such as "I believe that" or "I think that" should not be used or incorporated into it. Opinions are only allowed to be provided by experts who have been called to witness, such as a mental health professional.
How Do I Create an Affidavit?
An Affidavit should be drafted by a legal counsel or an attorney, especially since affidavits can be a tricky and challenging task to do. Lawyers and Attorneys can easily use our wide array of affidavit templates and sample forms to help them provide quick affidavit resolutions in less than a minute, minus the hassle and the inconvenience. Below are some tips to help you make solid affidavits:
1. Indicate the Date and the Case Identification. The basic information about the cause should be fully indicated – Aside from the details of what the case is all about, an affidavit should also contain the date when the document was made and the information about the case identification. As a formal document, affidavits should be formatted in a professional manner and it must also have a recognizable case number. usually, case numbers are seen on the document's upper right corner.
2. Specify the people involved in the case and the kind of involvement that they have. Make sure to be precise and accurate when listing down the people involved in the affidavit. Correct spelling of names must always be looked at for proper addressing.
3. The sworn/written statement of the individual who needs the affidavit must be provided. The declaration of the affiant is very important to be included in the affidavit. This will allow legal entities to have a basis on why the affidavit is necessary to be made and be given.
If there are statements or other information that are not from main or firs-hand sources, do not worry as you can still include them in the affidavit especially if this will help in the process where the affidavit will be used. However, you need to make sure that you will cite the source of the statement, the individual who relayed the information, the date that the statement was specified, and the reason/s on why the statements are considered factual.
4. Have a Statement of Affirmation. A statement of affirmation is the clause of the affidavit that puts the affiant under oath. If the affiant supplies information within the affidavit that is not true, the declarant can then be subject to a perjury case.
5. Let the Affiant and the Witness Affix Their Signatures. Right below the affidavit, the names of the affiant and the witnesses should be stated along with their signatures as a form of providing consent or Authorization. Witnesses to an affidavit may be a notary public or an official commissioner.
Contractor Affidavit Forms in PDF
Independent Contractor Affidavit Status Form
Final Contractor Affidavit Form
Small Estate Affidavit Forms in PDF
Small Estate Blank Affidavit Form
Small Estate Affidavit Form Sample
Relationship Affidavit Form in PDF
Domestic Relations Affidavit Form
Short Form Domestic Relations Affidavit
Business Relationship Affidavit Form
When preparing an affidavit, the writer should remember the following key principles to make sure that the document looks, sounds, and appears as legitimate as can be. If you are a lawyer, you might want to take note of the following tips:
1. Be sure to maintain a complete sense professionalism in your affidavits. Keep it brief and do not include any melodramatic or inflammatory words that could affect you or the affiant's name professionally or legally.
2. Double-check your grammar and your spelling to make sure that it is free of any errors. An affidavit that is brimming with grammar and pronunciation mistakes may cause a negative impact on your credibility.
3. Sworn statements can be a drag to peruse, which makes it less appealing for individuals who are trying to comprehend them when missing expressions or key sentences. Make sure to keep your affidavits clear and composed by giving heading or visual cues, and in addition, by utilizing plain and short sentences to ensure that not one detail gets passed up.
4. It will be best if you will review the content of your affidavit. Proofreading the document can help you ensure that proper and precise details are specified. More so, it can help you to identify errors so you can correct them the soonest time possible. Mistakes with regards the statements of an individual should be addressed right away as it can affect the effectiveness of using the affidavit. If an affidavit with an error has already been issued, may it be signed or not, we suggest for you to replace it with another updated affidavit.
Where Can I Seek Legal Advice for an Affidavit?
Just like when writing Consent Forms and other kinds of Business Forms, making an affidavit will be more effective and easier if the insights of professionals with expertise in using the specified document are taken into consideration. Since an affidavit is a document that needs to be sworn in the presence of a legal entity, it will be best if you will ask for the objective opinion of any of the following:
The legal counsels residing or having office in your community
A notary officer/lawyer
The legal aid office within your locality
Lawyers and practitioners in private law offices
If you want to know more information about the content of different kinds of affidavits and how they are put together, then there is nothing wrong if you will look at Sample Affidavit Forms. This will help you identify structure, format and content guides that can be useful if you will be needing an affidavit in the future or if the use of one is applicable to the situation that you are currently on.