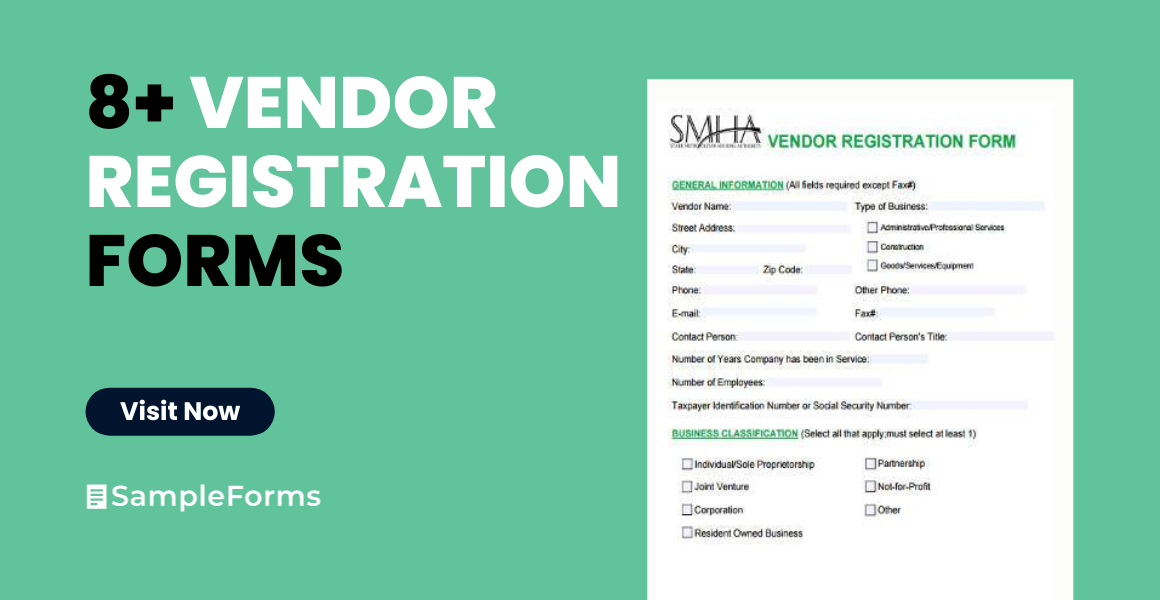 Vendors are people or companies that have something to offer to anyone that's willing to purchase them. A vendor is also known as a supplier; they're either an individual or company that sells goods or services to someone else in the economic production chain.
Vendors are really useful. Imagine if you were holding an event, but you needed to make sure that you have the right stalls to sell food products to your participants. You have the option of hiring a person or company that can provide these people with the food that they need.
However, before these people can actually be vendors, they need to make sure that they have the proper Vendor Registration Forms to conduct business first. They'll have to register themselves as vendors before they can conduct any sort of business. Otherwise, they'll be facing some serious legal issues.
New Vendor Registration Form
Free Vendor Registration Form
Vendor Registration Form Example
Vendor Registration Supplemental Disclosure Form
Different Types of Vendor Registration Forms
There are lots of these types of forms that allow just about anyone to guarantee that they're able to officially conduct business as a vendor; these include:
Event Vendor Registration Forms are the kind of forms that are utilized by those who want to register themselves as vendors for any kind of event. Events always have a lot of people that participate in them, and these people or companies can use these as an opportunity to sell their products to a large number of people. This helps guarantee that they gain profit, but these can also help out these event organizers as they're able to make sure that they get a cut of these profits.
New Vendor Registration Forms are for those people who wish to set themselves up as a vendor of just about any product they can sell to the public. Being a vendor requires that these people have the right documentation and all the requirements necessary so that they may be approved by the right governing officials. These registration forms make sure that they're able to conduct their business legally, assuming that they were authorized to do so beforehand.
Event Vendor Registration Form
Vendor Registration Form in PDF
Non-Gaming Vendor Registration Form
Vendor Registration Form in Doc
General Vendor Registration Form
The Importance of Vendor Registration Forms
If you were to hold an event, even you would like to know the kind of people or companies that decided to take up shop during the event, right? These forms make sure that these businesses are registered as official vendors. It also helps these event organizers know what kind of business they will be conducting, and the kind of terms and conditions they can make that will benefit them both.
These forms are somewhat similar to Camp Registration Forms. In the latter forms, you're singing up so you may participate in the different types of activities and engagements that a camp has to offer. It's the same as a Vendor Registration Form wherein a person uses these to register themselves as a vendor so that they will be able to see the privileges available to them.
The information that should be placed on these forms includes the name of the vendors and the kind of products they want to sell. If they're registering for an event, then these should also include the location of their stalls and the payment that they'll be receiving. People or Businesses that want to register themselves as vendors may use any of the available forms here to help them out.