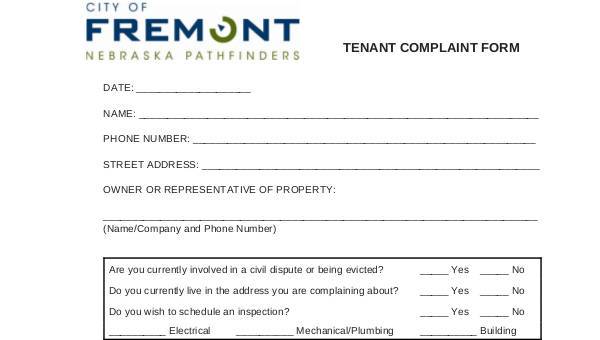 There are those people who can't afford to buy their own homes. So what do they do? They rent apartments. Some people find this easier as they only have to pay rent on a monthly basis that's agreeable with their current salary, and they can use it as a temporary place to live in. However, being a tenant comes with its own problems, such as noisy neighbors, electrical issues, possible health hazards, and so much more.
So how do tenants deal with these problems? They can use Complaint Forms to make sure that their landlords are aware of the problems going on in the establishment.
Landlord Tenant Complaint Form Sample
Tenant Noise Complaint Form Example
Tenant Petition Complaint Form
Tenant Statement of Complaint Form
Tenant Overcharges Complaint Form
The Different Kinds of Tenant Complaint Forms
Tenant Complaint Forms are, in a sense, similar to Customer Complaint Forms. If a customer isn't happy with the product or feels as if there's something wrong with it, in the same way a tenant isn't happy with an apartment for whatever reason, then that person would raise their concerns. There are various forms a tenant can use to ensure that their landlord is aware of these problems happening within the building. Here are some examples of these types of forms:
Tenant Harassment Complaint Forms are for tenants who have undergone different kinds of harassment (from physical to sexual and so much more) from either other tenants or even the landlord.
Tenant Noise Complaint Forms are used by tenants to inform the landlord of the continuous disruptive noise that another tenant may be producing.
Tenant / Landlord Complaint Forms are forms that are used when either the tenant has a problem with the landlord or if the landlord has a problem with the tenant. These forms usually help solve the issues between both parties.
Tenant Overcharges Complaint Forms are used by tenants who feel that they have been overcharged by their landlord. An example would be if their rent payment might be actually higher than initially agreed.
Tenant Harassment Complaint Form
Verified Tenant Complaint Form Example
Tenant Assertion and Complaint Form
Tenant Complaint Form in Doc
Tenant Complaint Form Example
The Importance of Tenants Filing Complaints
Tenants need to make sure that their landlords are aware of the different problems occurring within the building. Matters such as this won't just affect a single tenant, but everyone in the building as well, including the landlord. It's not just tenants who can file complaints; employees can too. There are Employee Complaint Forms for those who work in the building, such as security guards or cleaning crews, and wish to raise their concerns to the landlord.
All these concerns can improve the living conditions within the building. If a landlord uses these complaints as a way to improve the building, then it'll also improve the reputation of the establishment and even translate to good business for the landlord.