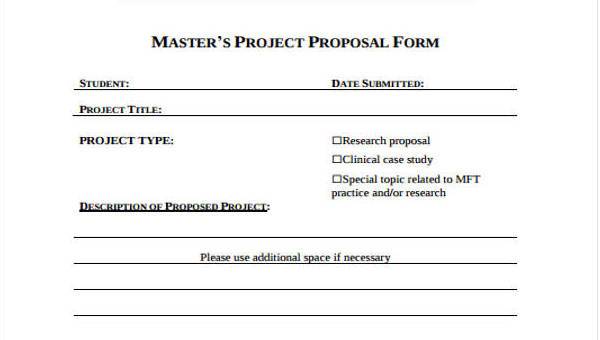 A proposal is defined as a concept that is being presented for consideration. It can be presented to a single individual or a group, depending on the nature of such proposal and what it aims to do. It doesn't really have to be formal, but when you propose something and you need confirmation to a certain degree, then you will need to make a Proposal Form. Through such forms, readily available here, you can detail everything that you wanted to accomplish, along with specific time frames.
New Project Proposal Form Sample
Master's Project Proposal Form
MBA Program Project Proposal Form
Field Project Proposal Form Example
Science Fair Project Proposal Form
A Project Proposal Form is a detailed description of a series of activities aimed at providing solutions for certain situations. It can be for the purpose of doing business, investing, studying, or loaning money. Drafting this kind of form helps demonstrate to the stakeholders your sincerity in carrying out the programs that you wish. You might want to consider writing a proposal that is brief and crisp.
A simple proposal should contain an introduction, background, and procedure in undertaking the steps to address certain issues and, of course, an estimated amount of budget. It can also contain a timeline marking which phases of the project must be completed at certain points. However, there is really no standard way of creating a proposal as it may vary depending on what it aims to do. Moreover, it is just as important that you include all necessary information in creating a proposal so as not to mislead your audience or create confusion.
Research Project Proposal Form
Council Project Proposal Form
Digital Project Proposal Form
Engineering Project Proposal Form
Science Project Proposal Form
Simple Project Proposal Form
Graduation Project Proposal Form
Every student or educational institution will have to create a way in which learning is made fun and easy. This helps the students absorb more easily what they have read or seen and in return, the institution can take pride in being able to create the best students. A science fair, for example, can foster learning among students even outside their classroom. They will have to create and submit Science Fair Proposal Forms.
This form should contain an introduction, explaining the purpose and focus of the proposal, as well as how the project seeks to address certain problems in our lives. It should also outline the objectives of the project and identify significant solutions that you hope to uncover. The methodologies as well as all necessary resources used must also be noted. A detailed schedule and presentation of the project should also be taken into consideration, as well as a general overview of the project that summarizes everything.