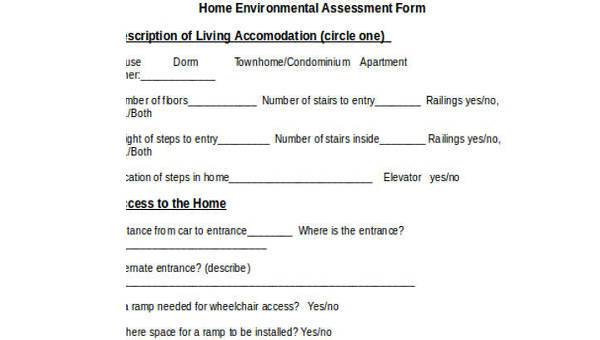 There is no denying that industrialization and urbanization have an impact on the environment. Such a biophysical impact brought about by human activities can be categorized into three: immutable, restorable, and impending. Over the past decades, effects that fall under the first two categories have significantly accumulated, and until today, they are evident in many parts of the world.
Though the number of grave environmental consequences has increased, the amount of people who have conscientiously converted their concern into action has also grown. Many individuals from all over the globe have looked to creating organizations and advocacies catering to the protection of the environment. Such efforts go beyond research and produce environmental Assessment Forms, as preserving Mother Nature involves thorough knowledge and strategy.
Sample Full Environmental Assessment Form
Home Environmental Assessment Form
Environmental Assessment Form Example
Short Environmental Assessment Form
The Importance of Environmental Impact Assessment
Corporations and organizations, particularly those in construction or real estate development, as well as in the marine, chemical, and energy industries, hold the responsibility of seeing to it that their operations do not pose a threat or hazard to the environment. When a company proposes a project or program that is bound to significantly affect the environment, it is standard protocol for administrative law to intervene.
This intervention comes in the form of an environmental impact assessment. Such a procedure, which has become an international standard, serves to evaluate and determine the potential environmental effects of a proposed action. It is part of the decision-making process on whether or not a project or plan should push through.
In a nutshell, an environmental impact assessment aims to address and ultimately prevent the effects that fall under the third category (impending). However, the possibility of remedying issues in the second category (restorable) can be achieved with an environmental impact assessment.
The procedure is systematic and can only be done by verified and authorized persons. They must work with the organization proposing the action. From the completion of Environmental Risk Assessment Forms to conducting field research, both entities are responsible for carrying out the process efficiently.
New Environmental Assessment Form Sample
School Environmental Assessment Form
Environmental Condition Assessment Form
Free Environmental Assessment Form Sample
New Environmental Assessment Form
Simple Environmental Assessment Form
The Process of an Environmental Impact Assessment
Commonly, an EIA starts with a screening. It is in this first step that the proposed action is categorized; after which, it is determined if an assessment is necessary. Scoping is the second step and is the most crucial. It is where prospective issues are identified and subsequently studied. To some extent, participation by the community may be required in fulfilling this step. Key groups and individuals may be tasked to answer Safety Assessment Forms or surveys.
After potential effects and issues are identified, purveyors of the EIA can proceed to the third step, which is prediction and mitigation. This step involves most of the technicalities of an EIA; from developing diagrams to mathematical modeling, technical methods relevant to the procedure are conducted. Management and monitoring come next, and this is where a detailed plan on handling potential effects is produced.
Once the EIA is implemented, an audit on the entire process will take place. The purpose of this step is to analyze the various aspects that go into executing an EIA, such as the technicalities, decision-making, and the procedure itself.
Apart from expertise and strategy, an environmental impact assessment also requires teamwork and accountability. With the presence of these characteristics, the success of such a procedure is guaranteed.