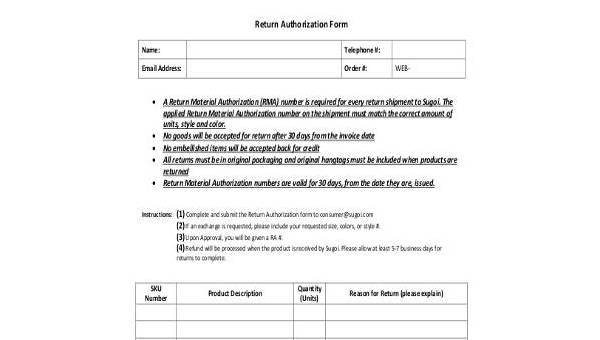 When you paid for and received a damaged or defective product, it is only right that you return it so that the manufacturer can rectify this issue for you. However, before any returns can be made, there is a certain process that has to be followed. One of which is that you would need to obtain a Return Authorization Form from the manufacturer by contacting them. They would have to authorize the return because there are also preliminary criteria that have to be considered for the return to be valid. You may also see our other Authorization Forms for more samples.
Return Material Authorization Form
Return Goods Authorization Form
Return to Work Authorization Form
Tax Return Authorization Form
Free Return Authorization Form
There are only two reasons why a consumer would want to return an item – either it is damaged, which means there could be a scratch or dent on the product, or it is defective, which means the product is not working at all. But here are the three solutions consumers are looking for when they request a return from a manufacturer:
Refund for the exact amount, if eligible
Repair of the item, if the item is outside the return and exchange period but is still within the warranty period
Replacement of the item, if the customer still wants the same item
Because returns cost money, manufacturers would want to make sure that they are not just simply authorizing returns without proper basis. Certain conditions would have to be met before authorization is given.
For example, for refunds and replacements, it would have to be within the return and exchange period.
For repairs, it would have to be within the warranty period.
In both scenarios, the return and exchange period and the warranty period differ per company and with each item that the customer has purchased. For example, large appliances would normally have a longer warranty period than most electronic items, and items in a wedding registry typically have a longer return and exchange period. Aside from this, the cause of the damage or defect would also have to be looked into and considered. You may also see our sample Prior Authorization Forms for health insurance purposes.
Return Authorization Request Form
Return Authorization Number Form
Return Authorization Form in PDF
Return Authorization Form Example
Return Authorization Form Sample
Return Merchandise Authorization Form in Word
Other Types of Return Authorization Forms
Return to Work Authorization Form: This is signed by both an employee and his attending physician to certify that the employee has fully recuperated from an illness or injury, and is fit enough to go back to work.
Tax Return Authorization Form: This is a form used to provide consent to release an individual's income tax return information to authorized parties indicated in the form for whatever purpose that is also indicated. Only those parties and purposes indicated in the form are authorized, therefore any use outside of those indicated are unauthorized and unlawful.
Although it can be quite tedious and expensive for both the company and the consumer, returns are necessary for the continuity of every business, because every consumer has to feel safe with their purchases. They have to know that if the product they purchased fails to meet the expectations set by the manufacturer, they will be presented with choices as to how the issue will be rectified, and that at the end of the day, they can still get their money's worth. You may also see our Medical Authorization Forms for the purpose of giving consent to get medical treatment.