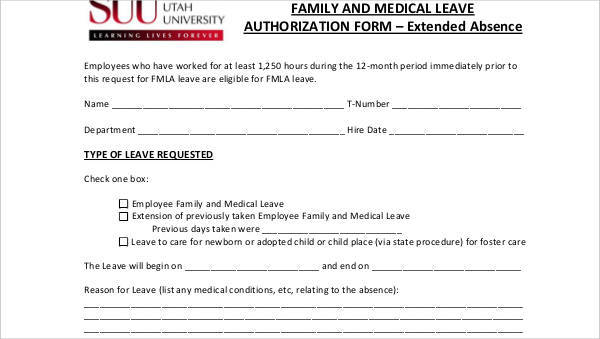 Employees need to take a leave every now and then. It could be that these employees are having a bit of personal problems, or that there are issues that compel them to take a short break. Or it could just be that these employees need a little rest and relaxation to get them back in the working mood.
However, before these workers can take any form of absence, they'll need to be authorized first.
They'll need the proper documents of authorization if they're going to take any sort of leave, and one thing that can help them guarantee that they get them is through the use of Leave Authorization Forms.
Leave Request Authorization Form in PDF
Overtime and Leave Authorization Form
Sick Leave Authorization Form
Leave Authorization Deduction Agreement Form
Employee Leave Authorization Form
Vacation Leave Authorization Form in DOC
Leave Request and Travel Authorization Form
The Different Types of Leave Authorization Forms
There are lots of these types of forms, such as Work Leave Authorization Forms, that allow just about anyone to guarantee that they get the short or long leave from work. Here are some examples of these types of forms.
Sick Leave Authorization Forms are the kind of forms that are utilized by those that need to take leave due to problems with their health. There are some cases wherein there are employees that catch diseases or fevers so bad that it actually prevents them from doing any form or work. So long as they have the proper medical certificate when they come back, these leaves are usually authorized.
Overtime and Leave Authorization Forms are used by those that want to request overtime and for those who need to take leave at the same time. Some companies require their employees to push out overtime before they're allowed to take even a short leave.The overtime is done to compensate for the days that the employee will be gone.
Vacation Leave Authorization Forms are mainly used by those employees who wish to be granted a vacation leave. It could be because the employee has paid his or her dues, and is applicable for a long and overdue break. Although, there are also those who try to apply for vacation leaves even without a proper reason, which is why these companies have to asses them first before they can grant any employee any sort of vacation leave.
Physician Leave Authorization Form
Health Leave Authorization Form
Leave Transfer Authorization Form
Leave Signature Authorization Form
Shared Leave Donation Authorization Form
Advanced Sick Leave Authorization Form
Leave Activity Authorization Form in PDF
Family Leave Authorization Form
The Importance of Having Leave Authorization Forms
If you were working more than nine hours a day, even you'd want to take a short break, right? That's why there are forms such as Leave and Travel Authorization Forms, to guarantee that these employees get that well-deserved break.
These are also really useful for the company managers who issue these leaves. They have to go through these forms if ever an employee decides that he or she needs a little bit of rest from work. These managers can see if the employee truly does deserve a break or not. Maybe the employee hasn't put in enough time to be granted a leave, or maybe the employee is long overdue for one. Point is, these forms can help out in seeing that. It also serves as material for record-keeping purposes.