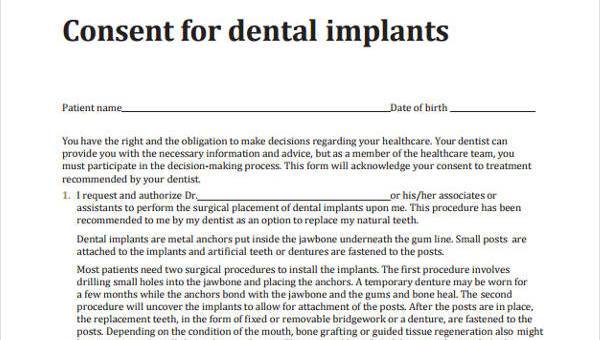 According to Wikipedia, consent occurs when one person voluntarily agrees to the proposal or desires of another party. A Consent Form is used to legally document a person's consent. There are various activities and procedures that require a Consent Form beforehand, which is why there are also various types of Consent Forms. A Consent Form's purpose is not just to acquire the consent of the participants for liability reasons, but also to inform them of the benefits and risks of the activity or procedure, and to protect the safety of the participants. Aside from our downloadable samples below, you may also see our Basic Consent Forms for simpler samples.
Free Medical Consent Form
Free Printable Medical Consent Form
Free Child Medical Consent Form
Emergency Medical Consent Form
Free Travel Consent Form
Free Child Travel Consent Form
Free Parental Travel Consent Form
International Travel Consent Agreement Form
Free Photo Release Consent Form
Photo Release Consent Form in PDF
Parental Consent Form
Army Parental Consent Form
Parental Consent Form to Travel
Parental Consent Authorization Form
Informed Consent Form
Informed Consent Form Example
Human Informed Consent Form
General Informed Consent Form
The Benefits of Consent Forms
Consent Forms basically protect an organization or facility from liability issues whenever there are disputes or complaints after the activity or procedure. This is especially true for procedures wherein there may be unforeseeable events or circumstances that the facility cannot prevent, which could lead to an undesirable effect or event for the customer. Consent Forms are good for safekeeping when, in the future, the need to present a written consent would arrive.
Aside from liability reasons, Consent Forms are also there to protect the safety of a patient or customer, and to keep them well-informed of the risks and benefits of the procedure they are going to undergo. Examples are Vaccination Consent Forms and Medical Consent Forms. This is important so that the participant or patient will not be going into the procedure blindly. This is not just a legal obligation, but a moral obligation as well.
Medical Consent Forms
Unless it is a medical emergency, a doctor or healthcare practitioner is not allowed to provide treatment to a patient without him signing a Medical Consent Form first. It is a legal requirement that was put in place to protect patients who are to undergo a medical procedure or operation. Here's why:
Before he undergoes such procedures, a patient would first have to be informed of the risks and benefits of the procedure so that he can make an informed decision if he wants to go through with it or not. Although medical treatments are recommended by doctors for the good of the patient, it is not uncommon that there are risks and side effects that come it, so it is the doctor's or health practitioner's legal and moral obligation to inform the patient of these risks and possible side effects.
Whenever a minor or a child under the age of 18 is not in the care of his parents, a Child Medical Consent Form needs to be signed by the parents or lawful guardian for the child to be able to receive medical treatment in the event that the parent or guardian, or any alternative emergency contacts, cannot be reached. Educational institutions, such as schools and universities, are required to have an updated one on file at all times. Also, babysitters should probably also have one. A Child Medical Consent Form also contains information on the preferred healthcare facility and health insurance information.
Background Check Consent Form
Generic Background Check Consent Form
Rental Background Check Consent Form
Criminal History Background Check Consent Form
Free Dental Consent Form
Dental Implant Consent Form
Dental Treatment Consent Form in PDF
Dental Implants Consent Form
Free General Consent Form
Sample Participant Consent Form
General Photo Consent Form
General Surgery Consent Form
Free Minor Consent Form
Free Minor Medical Consent Form
Free Minor Travel Consent Form
Minor Consent Form in PDF
Free Tattoo Consent Form
Free Printable Tattoo Consent Form
Tattoo Removal Consent Form
Health Consent Form in Word Format
General Parent Consent Form
Child Travel Consent Form
A Child Travel Consent Form is required to be signed by a parent or guardian if a minor or child under the age of 18 is to travel alone, with only one parent or guardian, with relatives or friends, or with a group. This was put in place because of the rising incidents of child abductions during custody cases and children becoming victims of human trafficking. Such acts are alarming and every effort has been made, including the implementation of Travel Consent Forms, to eliminate or lessen such cases.
Components of a Travel Consent Form
At the first part of the Consent Form, the name of both parents or the guardian of the child should be indicated. The address and contact information may be included as well.
Then the child's information, which includes his name, birth date, birthplace, and passport information, should be indicated.
Afterward, the travel details should be given as well. This includes the mode of transportation, destination, and dates of departure and of return. If the child will be staying with another adult during his stay, the name, number, and contact details of that adult should be properly captured as well.
It is also imperative to include the name, address, and contact number of the adult that the child will be travelling with, if he is not travelling alone.
Lastly, there should be an explicit statement of the parent or guardian giving consent for the child to travel. To make the Travel Consent Form official, it has to be signed by both parents or guardians, along with the date. Include the name and signature of the witness/es and the notary public, if necessary. You may also see our samples of Letters of Consent for more information.
Parental Consent Form
The format for Parental Consent Forms is a lot like the Child Travel Consent Forms, but there may be some adjustments and modifications to fit its specific purpose. These forms are used to acquire parents' and guardians' consent for children to be able to enlist in the army, travel alone or with a relative, and to be able to receive medical treatment if the parent or guardian cannot be reached. You may also see our downloadable Parent Consent Forms for more specific examples.
Informed Consent Form
By the name itself, an Informed Consent Form is more than just a form where participants sign. It is also a form to attest that the participant is informed, hence the name. This is used prior to performing medical procedures and conducting research experiments or surveys that involve the participation of human subjects. For medical procedures, it is a legal document that proves that the patient is informed of the benefits and risks or possible side effects of the procedure. For research, it is used to prove that the participant knows the significance of the research study and the extent of his participation in it. In both instances, an Informed Consent Form acts as proof that the participant or patient's decision to proceed is an informed one.
Free Video Consent Form
Video Consent Release Form
Generic Video Consent Form
Students Video Consent Form
Audio Video Consent Form
Free Facial Consent Form
Facial Treatment Consent Form
Facial and Wax Consent Form
Facial Peel Consent Form
Photofacial Rejuvenation Consent Form
Free Guardian Consent Form
Child Guardian Consent Form
Parent Guardian Consent Form
Guardian Medical Consent Form
Free Consent Order Form
Blank Consent Order Form
Sample Consent Order Form
Background Check Consent Form
There are many instances wherein a background check is necessary. One example is before an employer hires someone, he will conduct a background check to verify the reliability and credibility of the person. Another example is when someone wants to rent or purchase something like a car; a background check is done to ensure that the information presented by the person is true. Without a signed Background Check Consent Form or Background Check Authorization Form, companies are not allowed to disclose any personal information because this would be an infringement of a person's right to privacy.
Dental Consent Form
This a type of Informed Consent Form that is used by dental clinics and dentists. It is necessary to keep records of these consent forms in today's legal and risk management requirements. Dental Consent Forms are used by dentists to lower the risks in their practice. In today's world where nearly everything is mobile, there may be instances when someone from another city would come to your dental clinic for treatment of his dental problems. Because he lives in another city, it is very likely that this person cannot come back whenever a complication would occur. So a written consent form will protect you from complaints by proving that the person has agreed to the procedure in question and is fully aware of the risks and benefits of his treatment. This is important because in today's society, everybody would sue anyone for just about anything.
Tattoo Consent Forms
Before getting a tattoo on his skin, one is required to sign a Tattoo Consent Form to protect the artist and the tattoo shop from liability issues in the future. This is to prove that the person went through the procedure on his own volition.
Consent Forms are also required to be signed for people who want to get piercings on their body. This is because getting a piercing is very painful and depending on the person's physiology and how they care for the pierced area, it could lead to infections that could get really ugly. Caring for the pierced area, so it does not get infected, is the sole responsibility of the person who gets the piercing, so the piercing shop would have to be absolved from such legal responsibility if they arise. Also, minors are required to get a Consent Form if they want to have a tattoo or a piercing. This is also true for tattoo removals.
Video Consent Forms
When one is the subject of a video, a Video Consent Form would have to be signed so that the company or producer of the video can release the video to the public and use it for the intended purposes stipulated on the Consent Form. If there is a fee involved for the video production, that should be included as well.
This protects both the producer and the subject of the video. It protects the subject of the video in that the producer can never use the video for any other use aside from what is stated on the Consent Form, and it protects the producer of the video in that the subject releases all claims and rights to use of the video to the producer, so the video is not his legal property even though he is the subject.
This is not only used for videos but for photos as well. In these Consent Forms, the names and signatures of both parties should be indicated, along with the location, date and time of filming, and the name of the project. This is important so that the videos and photographs involved in the forms can be identified.