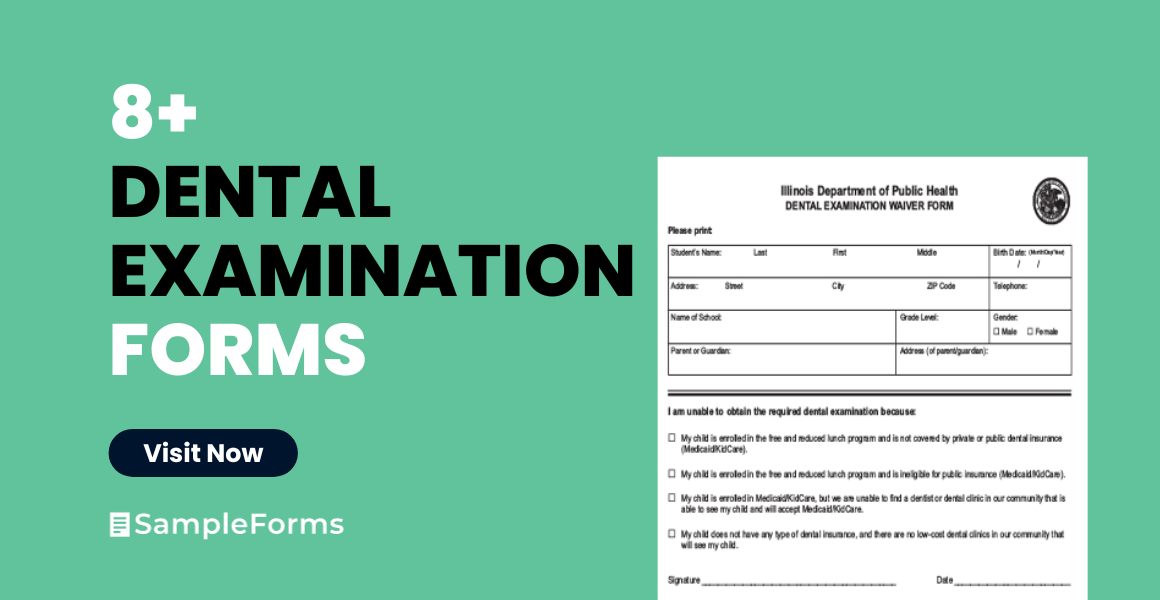 It's always nice to have healthy teeth. You wouldn't want to have any problems chewing or eating anything now, would you? That's why you always go to your dentist to have those checkups that you'll need every now and then.
What if you feel that you have a huge dental problem that you didn't know about? What if you think there's a certain tooth you think needs to be extracted? Such cases are when you need to visit the dentist.
These dentists need to conduct thorough examinations before they do any sort of action, and to help them keep records of their proecdures, they have Dental Examination Forms.
Dental Clinical Examination Form
Sample Dental Patient Examination Form
Dental Implant Examination Form
Dental History and Examination Form
Simple Dental Examination Consent Form
The Various Types of Dental Examination Forms
All establishments need to make sure that their employees are in tip-top shape. That's why there are forms such as Physical Examination Forms and Medical Examination Forms. But even they need to make sure that they're keeping up with their hygiene, which is why there are Dental Examination Forms. These help in determining just how well treated these patient's teeth are. Here are some examples of these forms:
Dental Implant Examination Forms are the kind of forms that are used by dentists in determining whether the patients who have undergone implant treatment are okay or not. They need to check the status of the implant and if they need to make any changes or fixes.
Dental History and Examination Forms are used to check on the patient's dental history, such as how many operations he or she has had or even the different kinds of dental problems he or she has experienced in the past.
Military Dental Examination Forms are for military establishments to make sure that the teeth of all their soldiers are in good shape. They wouldn't want any of their troops having a toothache during training regiments now, would they?
Printable Dental Examination Waiver Form
Military Dental Examination Form Free
Physical and Dental Examination Form
School Dental Examination Form Example
The Importance of Having Dental Examinations
The reason as to why Dentists need to have forms such as Dental Health Examination Forms is because they need to make sure that everything is all right with their patients and that there are no more problems. They have to be as accurate as possible when conducting these examinations, otherwise there might be issues that might happen or reoccur in the future.
These also help them out in knowing what kind of action they should be taking. They might find something during these examinations that might need to be treated as soon as possible.
So if you're someone who has a serious dental problem, go straight to your nearest dentist and get that checkup.